Network:

ABC

Series Premiere Date:

Jun 1, 2005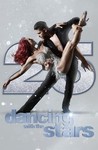 Starring:

David Alan Grier

,

Joey McIntyre

,

Jennie Garth

Summary:

Dancing with the Stars is a unique series that pairs up celebrities with professional ballroom dance partners in an intense competition -- live -- in front of a studio audience and the nation. Each season has a select number of celebrity/professional dance pairs. The pairs are then judged by

Dancing with the Stars is a unique series that pairs up celebrities with professional ballroom dance partners in an intense competition -- live -- in front of a studio audience and the nation. Each season has a select number of celebrity/professional dance pairs. The pairs are then judged by a panel of expert judges (Bruno Tonioli, Carrie Ann Inaba, Len Goodman) as well as by the viewers at home. One team will be eliminated each week. The couples must maintain their focus, grace and composure while learning precise movements and maneuvering in extravagant costumes. Will they remain compatible during the course of the competition?Dancing with the Stars has broad appeal, offering viewers dazzling costumes, dancing, celebrity gossip, behind-the-scenes training and contemporary music performed by a live 15-piece band. The format has already been an international hit in several countries.Dancing with the Stars is the U.S. installment of the international smash hit series, Strictly Come Dancing.

…

Expand

Genre(s):

Reality

,

Game Show

,

Arts
Season 1 premiere date:

Jun 1, 2005

Episode Length:

120
Please enter your birth date to watch this video:
You are not allowed to view this material at this time.
It's all so much fun, in fact, that I propose Dancing viewing parties: Break out the wine and crackers and let ABC provide the delicious, calorie-free cheese.

Maybe it's the heat, but it's difficult to imagine anyone disliking Dancing With the Stars, so far the most entertaining new series of TV's off-season. [22 Jun 2005]

It's just what TV viewers want in summer -- fun. [23 Jun 2005]

You get the absorbing pleasure of watching celebrities try a demanding art form that could leave their toes blistered and their egos bruised. It also has the potential to make them look like dorks. [9 Jun 2005]

Like the millions of other emotionally unstable imbeciles who tuned in, I found myself strangely drawn to the idiotic flair of the whole thing. Watching this show is like traveling back in time, to a simpler era, when most of our pop culture was considered foolish and sad.

While mildly amusing, what the show lacks is charm. And humor. And tension. [2 Jun 2005]

Everything looks tacky: the set, the costumes, the lighting, the script (one host actually says, "The tension mounts") and above all the dancing, with its tiresome emphasis on tricks over human contact, or the dancing illusion thereof.
Fun to watch, new challenges, and celebrities, bring this reality TV show to work well. "Dancing with the Stars" won't disappoint if you enjoy

Fun to watch, new challenges, and celebrities, bring this reality TV show to work well. "Dancing with the Stars" won't disappoint if you enjoy celebrities taking on new challenges.

…

Expand

Love This Show! Although It Seems Like Sometimes The "Stars" Are Not Really "Stars" I Think They Could Get Better Celb's On The Show... But

Love This Show! Although It Seems Like Sometimes The "Stars" Are Not Really "Stars" I Think They Could Get Better Celb's On The Show... But Still A Good Show

…

Collapse

This season was the first season of the so far 12 aired seasons. Overall, I would have to say, the winner was crowned unfairly, since the

This season was the first season of the so far 12 aired seasons. Overall, I would have to say, the winner was crowned unfairly, since the winner had a way worse dance score average than the second place finisher.

…

Expand

the first negative review for dancing with the stars. I just hate dancing so much! it's just weird and I watched the show and guess what? drum

the first negative review for dancing with the stars. I just hate dancing so much! it's just weird and I watched the show and guess what? drum roll! (drum roll) I hated it! please put on something good TV but not this!

…

Expand