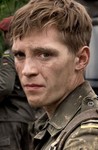 Starring:

Jonas Nay

,

Maria Schrader

,

Alexander Beyer

Summary:

Set in 1983, 24-year-old East German Martin Rauch (Jonas Nay) is sent by the Stasi to spy on the West as an aide to a West Germany General (Ulrich Noethen) in this German-language drama.

Genre(s):

Drama

,

Suspense
Superb characterizations and riveting action are leavened by wry humor, making Deutschland delightfully addictive.

The series is imbued with retro cool and, similar to the winking hindsight of Mad Men, takes pleasure in mixing a complicated past with a keen sense of pop. [19 Jun 2015, p.57]

Deutschland 83 is a stylish take on the spy genre that carefully balances its humor with high stakes, and with Nay as an anchor, promises that this is a spy caper worth a few summer weeks.

Beneath the light moments and the spy-versus-spy stuff, the series has a perspective that makes it refreshing.

It's serious and it can be stark, but it's also funny and brisk, a coming-of-age story with a sense of adventure.

What really makes this eight-episode series stand out is its setting, because a family divided is more impactful than strangers going at each other.

It's certainly entertaining and well-done but, based on the first two chapters, the viewers are going to have to swallow quite a large helping of implausible sauerkraut to attain their suspension of disbelief.
This review contains spoilers

, click expand to view

. I thought that Deutschland 83 was well made and kept me engaged. I found the acting to be top notch and the story totally believable. I was in Germany in 1983 and was in the US Army, some of the events in this story, I was present for and remember well. It was nostalgic, accurate and worth the watch. I give this mini-series ten stars, a knife and a fork and two thumbs up.

I hope that they will view the success of Deutschland 83 as an indicator that the United States is a market for German shows. Oh, the Generals Daughter and Martin's Fiance, are SMOKING HOT! I could look at more of them being hot.

…

Expand

After hearing about this online I was wondering how an all German language spy thriller could ever play out in North America, I would watch it

After hearing about this online I was wondering how an all German language spy thriller could ever play out in North America, I would watch it but I know a lot of people who switch stations as soon as they see a sub come up witch is to bad. Now about the show, I've only seen one episode but WOW..I loved it. It's great to see this subject being portrayed by the nation that went through it and doing it so well and with a rye sense of humor. I can't wait to see what happens with the relationships with General Edel his family and Martin. It looks like he's already feeling guilty about spying on him. Everyone becomes a person once you get to know them right.

…

Expand

Just completed the first season and what an incredible roller-coaster ride it was! Nail-biting, riveting, and compelling. I have grown to

Just completed the first season and what an incredible roller-coaster ride it was! Nail-biting, riveting, and compelling. I have grown to love The Americans, but this show is like Americans on speed. Packs more suspense, tension, and spine-tingling moments in 8 episodes than Americans does in 13. 100% worth watching and I hope there is more to come!

…

Expand

This show is excellent. Great German actors, great plot & accurate historically speaking. Got me hooked straight away! A must see for

This show is excellent. Great German actors, great plot & accurate historically speaking. Got me hooked straight away! A must see for everyone. Love it!

…

Expand

It's a fine plot-driven program. The story arc is believable, the characters behave as you think they should, and the setting really feels

It's a fine plot-driven program. The story arc is believable, the characters behave as you think they should, and the setting really feels like 1983. I enjoyed the first half of the season more than the second half, but it's all worth a watch. It kept my interest throughout.

…

Expand

The show is a hell of a lot of fun. At first, as someone from the West,it's tough getting our bearings on the East/West German thing, and

The show is a hell of a lot of fun. At first, as someone from the West,it's tough getting our bearings on the East/West German thing, and keeping alliances straight. But in a way, it's a nice companion piece to The Americans, in that the main characters are not your traditionally sympathetic protagonists. You're "rooting" for people who are the traditional enemies. But it makes things fun and fresh.

…

Expand

Looks great, did not make it past the first episode. The English subtitles are useless. Honestly, the worst I have seen even couting ones from

Looks great, did not make it past the first episode. The English subtitles are useless. Honestly, the worst I have seen even couting ones from the 70s and 60s. The translation is fine, but who uses white on white subtitles in this day and age?! They are also very small and move too fast. If you are someone already annoyed with STs, this will make you angry.

…

Expand