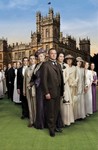 Starring:

Dan Stevens

,

Rob Collier

,

Phyllis Logan

Summary:

Season three begin in 1920 as Mary and Matthew prepare for their wedding, Carson trains O'Brien's nephew to take over as the new footman, and Lord Grantham's investments threatens the estate.

Genre(s):

Drama
Creator:

Julian Fellowes

Season 3 premiere date:

Sep 16, 2012

Episode Length:

60
Please enter your birth date to watch this video:
You are not allowed to view this material at this time.
Downton has returned with all its powers intact, not least its power to mesmerize its armies of devoted fans.

To anyone who has followed the ups and downs of Downton Abbey, the good news begins with those first strains of John Lunn's lustrous score, and doesn't abate until Fellowes and company have wrung every last ounce of emotion from these finely embroidered characters.

Through it all, though, Downton Abbey is still superior entertainment on a grand scale.

The melodrama is deliciously engrossing and occasionally wrenching--two episodes in the middle of season three may empty local Rite-Aids of Kleenex--but in the end, it's a light series: "light" as in the opposite of dark, not insubstantial; warm, hopeful, inspiring.

This is put-your-feet-up, pour-a-brandy television, a tasty import that's good company for a culture undergoing its own sometimes dizzying shifts.

On the one hand, our love of the characters makes it more than possible to overlook the sloppiness of the scripts. On the other, though, it's because we do know these characters so well that we notice the inconsistencies in the first place. Again, none of this detracts significantly from our enjoyment of the series.

Plotting is not Fellowes' strength, but Downton's appeal is visual.
Julian Fellowes has done it again. Series 3 of Downton Abbey is just as excellent as its predecessors. The first season was absolutely

Julian Fellowes has done it again. Series 3 of Downton Abbey is just as excellent as its predecessors. The first season was absolutely incredible, with every storyline providing a wonderful story by itself. The second season, while still fabulously written and well acted, was too founded on melodrama to make me truly love it, though I still liked the series greatly. This current series, the third series, is just as good, if not better, than the first series.

Maggie Smith still anchors the cast with her deliciously snarky performance as the Dowager Countess, with Elizabeth McGovern and Hugh Bonneville continuing their great work as the Earl and Countess of Grantham. Jim Carter, Joanne Froggatt, and Phyllis Logan continue their strong work, as do Jessica Brown-Findlay, Rob James-Collier, Siobhan Finneran, Lesley Nicol, Sophie McShera, Amy Nuttall, Kevin Doyle, and Allen Leech. Michelle Dockery, after giving brilliantly subtle, emotionally suppressed performances in the first 2 series, gives by far her most emotional characterization this season, especially in the series' first episode. Mirroring her, Dan Stevens also amps up his acting, providing some scenes that are simultaneously heartbreaking, infuriating, and emotionally painful. After becoming somewhat a character of annoying habits and nitpicks, Penelope Wilton's Cousin Isobel receives a welcome role renewal and is allowed to show her underrated acting abilities once again. Laura Carmichael is also terrific in showing the pain agony her character must endure and then trying to find herself and her place in the rapidly changing world. Unfortunately, the more and more episodes I watch, the less and less I like Mr. Bates and the more and more I like Anna. My distaste for Bates comes not from the character himself, but from Brendan Coyle's monumentally annoying portrayal of him. His constant whispering is maddening at best and downright infuriating a good portion of the time. Coyle's annoying characterization aside, this show has left behind any negative parts of its melodramatic streak in series 2, and has blossomed anew. Shirley MacLaine's presence is brilliant and every one of her lines is perfectly delivered. Her banter with Maggie Smith is a high point.

Period detail-wise, the show just keeps delivering. The costuming is spot on every time. Even if I had no idea of the point in history when I began, I knew immediately it was the 20s when Mary donned her blue proto-flapper dress and hat in the first episode. John Lunn's fabulous music is still just as terrific as always, and Nigel Willoughby's cinematography is just as beautiful as always. The tracking shots are possible the best since Thomas Schlamme's flawless walk-and-talk one in Aaron Sorkin's works, especially The West Wing.

I don't know how many series are ahead, but all I can say is I hope it never ends.

…

Expand

By far the best series yet. Downton Abbey series 3 has all the elements that makes the show a great entertainment for all the family. Downton

By far the best series yet. Downton Abbey series 3 has all the elements that makes the show a great entertainment for all the family. Downton makes us cry, laugh and enjoy at the same time. It is very recommendable.

…

Expand

Returned drama and fashion and aristocracy in the third season, but went some heroes presidents "and the death of Lady Sybil convincing a

Returned drama and fashion and aristocracy in the third season, but went some heroes presidents "and the death of Lady Sybil convincing a large" but the strike was in Matthew Crowley, but overall still impressive Downton

…

Expand

It's impossible not to be transported through this series. Even at its worst you will laugh, you will cry, you will long, you will ache, and

It's impossible not to be transported through this series. Even at its worst you will laugh, you will cry, you will long, you will ache, and you will hurt through the longings, aches, and hurts of these characters, some of which are just so likable, it's almost unfair to suffer with them.

…

Expand

Cómo la web me pide un mínimo de 150 caracteres, y necesito hacer el review para poder tenerla archivada en mi perfil, pues suelto este rollo

Cómo la web me pide un mínimo de 150 caracteres, y necesito hacer el review para poder tenerla archivada en mi perfil, pues suelto este rollo y mi votación es de 7. Un saludo.

…

Collapse

This review contains spoilers

, click expand to view

.

The season 3 finale was AWFUL!! Really? Kill off Sybil in Season 2 finale (around childbirth) and now let's kill off Matthew in the Season 3 finale (on the day of the birth of his child). Lacks originality or thought or creative writing..... ridiculous, sooooo disappointing. UGH!! Not sure that I will continue watching and I have been an avid fan....

…

Expand

Season 3 is wretched. I'm not sure I've ever witnessed a show decline so much from a first season to a third. I can't imagine watching a

Season 3 is wretched. I'm not sure I've ever witnessed a show decline so much from a first season to a third. I can't imagine watching a fourth season.

…

Expand