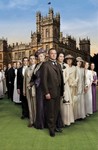 Season 4 premiere date:

Sep 22, 2013

Episode Length:

60
Please enter your birth date to watch this video:
You are not allowed to view this material at this time.
The "Masterpiece" drama returns Sunday, recapturing some of the excitement that made America fall so hard for it three years ago.

Much remains solid at the heart of rich Downton drama, and Fellowes has certainly shown in the past that he can bring it all back home.

Clearly, writer-creator Julian Fellowes knows how to keep fans hooked, cleverly playing out credible character traits across time, and knowing the breathless pace of change resonates with our current passage into another modern age.

Viewers who look to Downton Abbey for loads of escapist splendor may want to temper their expectations when the wildly popular British drama returns for its fourth season on Sunday.

The narrative this time around is even more stretched, derivative and repetitive than Season 3's, but almost ingeniously so: It is both utterly predictable and surprisingly addictive.

It's that very attraction--familiar characters acting with familiarity and only the slipperiest of soap schemes to throw them off course--that fuels this series. It's not particularly elite anymore, but it's incredibly efficient.

The show makes Granthams of all of us: content with what we have now (a middling costume soap opera) because we can still remember its glorious past (that first season). It's safer and cozier than a show about open class warfare.
As long as we have the Dowager Countess, there is no way that Downton Abbey can EVER disappoint.

Season 4 was a little dry, but FAR from aAs long as we have the Dowager Countess, there is no way that Downton Abbey can EVER disappoint.

Season 4 was a little dry, but FAR from a disappointment!

…

Expand

The addictive, remarkable british drama works as well as ever; the development is careful about the dillemas, the intrigues, the inner

The addictive, remarkable british drama works as well as ever; the development is careful about the dillemas, the intrigues, the inner troubles of servants and the relatives. However, the epilogue episode fells a little unneedly long.

…

Expand

A tremendously addictive show. It does roll from one crisis to the next in a soap opera fashion but in many ways that's the beauty of it. Real

A tremendously addictive show. It does roll from one crisis to the next in a soap opera fashion but in many ways that's the beauty of it. Real aristocratic life was probably extremely dull. Every character has their role to play and they play it so well, everyone feels just perfect fro their roles. I forget they are actors. Just the right amount of humor, with maybe a little too much sadness. The settings. accents and glamour of aristocratic life are a nice escape on a winter evening. British TV at its best.

…

Expand

Not a great Season. Julian Fellows is basically rehashing old stories. No O'Brian but Thomas took over that job. I was happy when BBC

Not a great Season. Julian Fellows is basically rehashing old stories. No O'Brian but Thomas took over that job. I was happy when BBC announced Siobhan Finneran is leaving the show because she was just too cruel and wondered how they are going to deal with that. However, it was not good at all. Some scenes and plots are completely unnecessary. I also feel that the Season could have done better in approaching the deaths of Lady Sybil and Matthew Crawley. I feel they just moved on too quickly.

…

Expand

While still being a visual masterpiece for a tv-series, the fourth season lacked plot. I guess they thought they'd spiced things up with

While still being a visual masterpiece for a tv-series, the fourth season lacked plot. I guess they thought they'd spiced things up with Mary's new suitors, but they actually didn't. I think this show needs to try harder to make the viewers perceive the passing of time and add a little bit of action.

But Fellowes, being an aristocrat himself, is probably used to much slower, quieter, more upper-class paces than what we might be accustomed to. Let's see if season V grabs the bull by the horns and really transforms the Grantham family into something appealing.

…

Expand

Starting to loose its creative lure. Tragedy after tragedy does not make for good entertainment. It makes for a news show. There was more of

Starting to loose its creative lure. Tragedy after tragedy does not make for good entertainment. It makes for a news show. There was more of an interesting story line in past. Hope it gets back to that soon. Last night's show was far too disturbing. I'll watch documentraries if I need a heavy dose of that kind of reality.
Disappointed

…

Collapse

I was so excited for Season 4 and after the first episode I was left a bit deflated. Now, after viewing episode 2 I am seriously considering

I was so excited for Season 4 and after the first episode I was left a bit deflated. Now, after viewing episode 2 I am seriously considering not watching anymore - and to think I just loved this series. Being aware that our dear Anna was being accosted and the new ladie's maid had her way with Branson with no one being "man" enough to say No or help just disgusts me. I am not a prude but really, this show is beginning to feel like a soap opera -daytime. I truly love the costumes, characters and will give this show one more go around next wee - I truly hope episode redeems itself or you will loose this viewer.

…

Expand