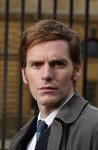 Starring:

Roger Allam

,

Shaun Evans

Summary:

Shaun Evans is the rookie detective Endeavour Morse in this prequel to the Inspector Morse series.

Genre(s):

Drama
Season 1 premiere date:

Apr 14, 2013

Episode Length:

120
Please enter your birth date to watch this video:
You are not allowed to view this material at this time.
If you love English mysteries, and love the old Inspector Morse, you will love young inspector Morse more.

All good stuff, plus a brief but powerful moment at the end that will leave longtime "Morse" fans in an agony of nostalgia

It is a suitably complicated and pictorially engaging work of period suburban mystery, with a large cast of characters

Endeavour is wonderfully entertaining on its own, but what puts it over the top is its loving respect for John Thaw.

Endeavour is most interesting for the light it sheds on the character development of young Morse.

The ending mars what is otherwise a handsome and well-written effort, with good supporting performances.
Taking on a "master" like John Thaw took some courage. The new series captures the atmosphere of the time and the setting at Oxford very

Taking on a "master" like John Thaw took some courage. The new series captures the atmosphere of the time and the setting at Oxford very effectively and the pacing of the action was perfect. Weaving in the opera, Jaguar and other features of the original Morse was done with a sensitive and deft touch. Bravo for another quality show for those who enjoy the finer aspects of drama on the small screen. CS

…

Expand

This PBS Masterpiece Mystery was epic! The young Inspector Morse to those who have viewed the old Morse series! Funny the things you fine when

This PBS Masterpiece Mystery was epic! The young Inspector Morse to those who have viewed the old Morse series! Funny the things you fine when there's no NBA, NFL or College Basketball on a Sunday!

…

Expand

This attempt to create Morse at an earlier date fails on several levels. To start with the actor chosen would never in a millenia be confused

This attempt to create Morse at an earlier date fails on several levels. To start with the actor chosen would never in a millenia be confused with John Thaw, but enough of trifles. Secondly the detective work is second only to Sherlock Holmes in it's masterful ability to find clues from the ether and transform them into definitive explanations of the killers motives. And all in the last five minutes! Lastly it boasts the most adamantine popinjay character as Chief of Police as ever graced TV. It's a nice period piece, but otherwise a typically British piece of fluff. Stylish with little substance.

…

Collapse