Network:

FOX

Series Premiere Date:

Jan 10, 2014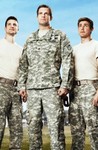 Starring:

Keith David

,

Keith David

,

Geoff Stults

Summary:

Staff Sergeant Pete Hill returns home from Afghanistan after punching a superior officer and is assigned to lead a group of soldiers at Fort McGee including his two younger brothers, Derrick and Randy.

Genre(s):

Comedy
Creator:

Kevin Biegel

Season 1 premiere date:

Jan 10, 2014

Episode Length:

30
Please enter your birth date to watch this video:
You are not allowed to view this material at this time.
All in all, the terrific Enlisted is one of the most pleasing network comedies to come along in quite some time.

It gets a lot of laughs out of life in the military while still demonstrating respect for the military and its soldiers, and genuine affection for its characters.

Earnestness is often the enemy of sitcom writers. Snark and innuendo, which can indeed be loads of fun, reign in many half-hour shows, with NBC's "Parks and Recreation" being a notable exception. So Fox is taking a gamble, a worthy one, with its new comedy Enlisted.

If it's time for a new military comedy, this is a good one. It marches to the beat of its own dumb drum.

This is a cartoonish Army, under orders to take pratfalls whenever possible. You'll laugh. Or you won't.

Enlisted may feel curiously dated and dangerously slight, but it's not offensive (a low bar many Fox comedies fail to reach) and it's not cynical. If nothing else, this is clearly a show with heart. Now if only it would show some sign of brains.
The first episode was very much just a pilot. I wanted to love it, but found it passably entertaining.

But the second episode hit theThe first episode was very much just a pilot. I wanted to love it, but found it passably entertaining.

But the second episode hit the ground with a stride you almost never see, if ever, from a comedy. The chemistry of the cast was just instantly apparent and kind of magical. And 6 episodes in, I have seen no evidence of that going anywhere at all.

This show is honest, brilliantly quippy, and wears a big heart on its sleeve. What can't you love about that?

…

Expand

I was a bit skeptical about this show when I saw the commercials. But, I swear to God this a funny show. I hope they get a better day and

I was a bit skeptical about this show when I saw the commercials. But, I swear to God this a funny show. I hope they get a better day and time slot because I seriously laugh out loud more often watching this show than any other comedy that's out there (ok, maybe not more than Big Bang), but you get what I mean. WATCH IT, you'll LOVE it!

…

Expand

A military comedy with big laughs, silliness, and a big heart. The brothers are all fantastically cast and such good chemistry together. You

A military comedy with big laughs, silliness, and a big heart. The brothers are all fantastically cast and such good chemistry together. You instantly feel you know these characters. Plus this show is really about something important.

…

Collapse

Enlisted has displayed that the show isn't a military comedy but a comedy exploring fraternal roles through military associations. It's funny,

Enlisted has displayed that the show isn't a military comedy but a comedy exploring fraternal roles through military associations. It's funny, it has heart, and it's easy to watch.

…

Expand

The next Party Down.

Though I can see how Enlisted will struggle in gaining viewers, being late in the time slot, it has the makings of allThe next Party Down.

Though I can see how Enlisted will struggle in gaining viewers, being late in the time slot, it has the makings of all small but great cults; and the hilarity just keeps getting better.

…

Expand

I guess if I HAD to watch a network comedy about soldiers, I wouldn't complete mind watching this one. FOX's Enlisted is a light comedy about

I guess if I HAD to watch a network comedy about soldiers, I wouldn't complete mind watching this one. FOX's Enlisted is a light comedy about soldiers and brothers and other sentimental/relatable stuff. It has a huge heart, but that's about it. There are some laughs, but the hit-to-miss ratio is a little uncomfortable (soldiers train while chanting Bradley Cooper's name - what were they thinking?). The only truly entertaining character in the show is Parker Young's feebleminded but loyal younger brother. However, what the show suffers from the most is a lack of motivation. There is no straightforward storyline. No, "what will happen next?" The first episode feels like a tank stuck in a rut. The engines are running and the wheels are turning, but the show simply isn't going anywhere. If the show says anything, it's that FOX is willing to turn around its comedic image from abrasive (Family Guy) and awkward (New Girl) to something more heartfelt and compassionate.

FINAL SCORE: 55 (fine ----------o---------- a neat watch)

…

Expand

Never watched it but saw commercials and (as a military man myself) was a bit offended. I saw ill attempts at comedy, for example they are

Never watched it but saw commercials and (as a military man myself) was a bit offended. I saw ill attempts at comedy, for example they are trying to march and are stepping with the incorrect foot on the incorrect tempo count and the instructor says "make an L with your hand if it helps" and those marching repeat him word-for-word. To me, that is making people in the Army look stupid and unable to follow simple directions.

…

Expand