Network:

Showtime

Series Premiere Date:

Jan 9, 2011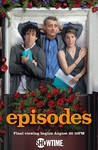 Starring:

Matt LeBlanc

,

John Pankow

,

Tamsin Greig

Summary:

Matt LeBlanc plays a fictional version of himself in this comedy about a pair of British TV show creators who discover to their dismay that Matt has been cast in a remake of their show.

Genre(s):

Comedy
Please enter your birth date to watch this video:
You are not allowed to view this material at this time.
LeBlanc is brilliant; the writing and direction are brilliant; the show is brilliant.

Episodes is flawless and hilarious. What a pity it lasts only seven episodes.

Episodes, which got uproarious laughter in cut-down form at the Television Critics Assn. press tour in July, does not disappoint an ounce as it rolls through a seven-episode season. It also signals a savvy return to television for LeBlanc, who manages to be the butt of the joke one moment then hilariously likable the next.

Episodes mines Hollywood absurdities for dependable laughs, it's LeBlanc, playing himself, or more accurately, a character who shares his name and resume, who elevates the seven-episode first season above simple parody as the actor forced down the writers' throats. He might even be the most interesting character in the show.

This seven-episode series, written by David Crane and Jeffrey Klarik, doesn't offer many new ideas about the evils of the TV business--a lot of the ground covered here was previously mined by the underrated 1999-2001 Showtime series "Beggars & Choosers"--but it's still fun to join in the mocking of Hollywood, a big, juicy target that Episodes hits with ease.

It's a light, clever performance. But Episodes never convinces us this is really Hollywood. [17 Jan 2011, p.40]

Episodes isn't even as funny as Crane and Klarik's last collaboration, the exceedingly mediocre short-lived CBS comedy "The Class" - and that's even considering that the new show features Crane's old "Friends" star Matt LeBlanc delivering a terrific performance as an exaggerated version of himself.
Classic fish-out-of-water setup -- smartass Brits stuck in a Hollywood where they find the values of the natives fascinating and appalling.

Classic fish-out-of-water setup -- smartass Brits stuck in a Hollywood where they find the values of the natives fascinating and appalling. What they don't quite realize is how much they're being corrupted as they make cracks about the corruption. What keeps it from being off-putting is the touching portrait of a marriage of genuine friends. (Ironic since it is an alum of FRIENDS who most threatens it.) One of the best comedy shows to be produced for Showtime.

…

Expand

after a long pause matt le balnc came up with the new show, new character very funny and hilarious and i just one to say it's worth watching

after a long pause matt le balnc came up with the new show, new character very funny and hilarious and i just one to say it's worth watching and i can not stop laughing "good one "

…

Expand

One remarkable thing about this program is its ability to portray a strong marriage, albeit one with crack. Surprisingly, really, just how

One remarkable thing about this program is its ability to portray a strong marriage, albeit one with crack. Surprisingly, really, just how emotional things get between the two Brits.

…

Expand

It takes a while for this show to really find it's feet, some of the jokes don't land so well. But, as it progresses, it gets better and

It takes a while for this show to really find it's feet, some of the jokes don't land so well. But, as it progresses, it gets better and better, and I'm ready for the second season, hopefully now that the show has found its rhythm.

…

Expand

Because of my love for Friends I gave Episodes a shot (watched 5 of the 7 episodes so far) but honestly the series is highly disappointing.

Because of my love for Friends I gave Episodes a shot (watched 5 of the 7 episodes so far) but honestly the series is highly disappointing. Any connection to Friends (where both one of the creators and obviously LeBlanc are from) is coincidental at best. The series is not funny, some of the actors don't fit their characters' outline and there are far too much swearing and vulgarity for my personal taste.

…

Expand

I have to admit. I only saw half of this show. I turned it off midway. I don't know where to start. The show tries really hard. Too hard.

I have to admit. I only saw half of this show. I turned it off midway. I don't know where to start. The show tries really hard. Too hard. The writing is terrible. The acting seems over eager and the jokes just aren't funny. Maybe I should go back and watch again. Maybe the last 15 minutes are pivotal.

…

Expand

One of the worst comedies I have ever seen!It did not make me laugh for a second,it was just pure awkward. I definitely recommend avoiding it

One of the worst comedies I have ever seen!It did not make me laugh for a second,it was just pure awkward. I definitely recommend avoiding it if you want to have a good time,especially if you want to laugh...

…

Expand