Network:

Showtime

Series Premiere Date:

Jan 9, 2011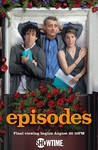 Please enter your birth date to watch this video:
You are not allowed to view this material at this time.
[A] terrific second season of this industry-set sitcom. [17/24 Aug 2012, p.109]

It's a thoroughly entertaining romp, with the television industry as a combination Tilt-A-Whirl/merry-go-round.

As smartly written as it is played, Episodes offers the comic pleasures, not just of clashing cultures, but of contrasting comic styles.

The second season looks to be equally incisive [as the first]. With heart.

Of the two series [Web Therapy and Episodes], Episodes is the most consistent and polished. It's also the one show that finds a groove and is happy to patter around its middling course.

Season 2 of the Hollywood satire still plays too broad, [...] But Matt LeBlanc's understated performance as himself has gotten even better. [9 Jul 2012, p.36]

A breezy but uninspired half-hour defined by Matt LeBlanc's willingness to portray Matt LeBlanc as a swaggering jerk.
'Episodes' is a great show. Between Matt Leblanc's performance as, well, Matt Leblanc and the dry humor of the two British actors, this show

'Episodes' is a great show. Between Matt Leblanc's performance as, well, Matt Leblanc and the dry humor of the two British actors, this show really is funny.

…

Collapse

It's an interesting concept with an enticing premise. The characters are likeable and fun to watch, and the writing always keeps you on the

It's an interesting concept with an enticing premise. The characters are likeable and fun to watch, and the writing always keeps you on the comedic edge. It makes the best of awkward moments, and is excellent in portraying plot. A nice, easy show to watch - definitely a thumbs up!

…

Expand

Episodes is a really great show, both witty and endearing. All the main three give really good performances yet Greig gives in my opinion the

Episodes is a really great show, both witty and endearing. All the main three give really good performances yet Greig gives in my opinion the best performance of all. Greig stays true to her great comedy actress credentials but digs deeper to really give the emotional side of her situation in series 2. The second season loses none of the fresh feel that the first season had, the progression of story line is well written and funny as ever. I would thoroughly recommend it.

…

Expand

I have to say that Matt, Sean and Beverly are annoying characters. I realized that I like the show because of the "network" people. Carol,

I have to say that Matt, Sean and Beverly are annoying characters. I realized that I like the show because of the "network" people. Carol, Myra and Andy are very funny and interesting. They should focus on them a bit more.

…

Expand

This is definitely an improvement over its previous season. It's funnier and smartly written. My favorite was the season finale episode,

This is definitely an improvement over its previous season. It's funnier and smartly written. My favorite was the season finale episode, probably my favorite episode of the show so far.

…

Expand

Already saw season 2 on the BBC. I will watch season 3 and agreed with the general direction of the show. However this show is missing

Already saw season 2 on the BBC. I will watch season 3 and agreed with the general direction of the show. However this show is missing something and I fear it will only get worse. Good acting overall, just a show about an unsuccessful show..Stuck!

…

Expand

Episodes first season certainly improved as it reached its finale but this second doesn't really take things on any further. The talented cast

Episodes first season certainly improved as it reached its finale but this second doesn't really take things on any further. The talented cast still provide some laughs but it is never quite funny enough for me to become a fan.

…

Expand