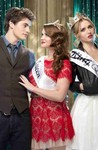 Starring:

Katie Stevens

,

Gregg Sulkin

,

Rita Volk

Summary:

After being mistaken as lesbians, best friends Karma Ashcroft (Katie Stevens) and Amy Raudenfeld (Rita Volk) continue the ruse as they become popular at their high school.

Genre(s):

Comedy

,

Drama
Season 1 premiere date:

Apr 22, 2014
Credit the winning cast, especially Volk, and executive producer Carter Covington's sweet/snarky tone for a half hour viewers won't have to pretend to love.

There's something hilarious and twisted about outcasts running a school and turning out to be as much idiots as the typically popular kids. Faking It is the real deal.

Beyond the joke, the show's premise is encouraging: that being gay is no big deal.... The engine driving this show is female friendship, the kind strong enough to get you through even high school. For Amy and Karma, we want that.

While the show's premise seems like it could be difficult to maintain, Faking It holds up in two early episodes sent for review.

Faking It is an odd, interesting, lightly subversive, and potentially offensive concoction from MTV. It's a twisted comedy that has charm, but also a premise that could be insulting if not handled intelligently.

For Stevens' character, Karma, kissing her best friend, Amy (Volk), is a way --admittedly not the most direct way--of getting closer to Liam, a cute guy (Gregg Sulkin) with commitment issues. For Amy, though, it's more complicated, and that's where Faking It begins to seem less like a joke, as the shift in a relationship stirs up feelings that move her into the "questioning" column of LGBTQ.

Questionable taste aside, there are major narrative issues at work in Faking It that go beyond sustaining the faux relationship between Amy and Karma. Tonally, it can never decide to satirize the type of über-tolerance on display at Hester High—as 21 Jump Street did—or hold it in high esteem.
This show is amazing so far. A lot of people can relate to this as they're going through high school, where being gay is abnormal. That it's

This show is amazing so far. A lot of people can relate to this as they're going through high school, where being gay is abnormal. That it's ok to be gay. To be honest, I'd love to see Karma end up with Amy somewhere in the end instead of Liam. Looking forward to this season.

…

Expand

Faking It is the best comedy on TV right now. It is funny, witty, charming and very hip. It deals with the topics kids face today, in an adult

Faking It is the best comedy on TV right now. It is funny, witty, charming and very hip. It deals with the topics kids face today, in an adult way, so make sure your teenager in mature enough for the show. It is a great show for all ages, if you ask me though. I am in my 40's and I love it! It can be wild and crazy, yet by the end become so charming. The theme of strong friendship and acceptance of all types of people are what this show is all about and that is what this world needs now.

…

Expand

This review contains spoilers, click expand to view.

I absolutely love this show! I have a past of having "best friends' and having close relationships with friends. I can relate to a show like this. It is not only helping me find myself as a person, but also keeping me from loosing my mind. Lol. I love the characters in this show, and their personalities. It is a funny, heart warming, positive, and all around awesome show. I watch it all the time. The actors and actresses are spectacular. I'm actually watching an episode now. Lol. Anyways, There NEEDS to be a second season. Otherwise, I will be upset. And with the exact same people who are already starring this show. PLEASE DO.

…

Expand

This show really got me surprised, I had no idea that the "fake" would be so accurate, even if exaggerated. I was expecting some clichéd

This show really got me surprised, I had no idea that the "fake" would be so accurate, even if exaggerated. I was expecting some clichéd high-school show, but instead I got this awesomely acted and written show with heartwarming & breaking moments. I can't but recommend.

…

Expand

Faking it actually exceeded my expectations in many ways; it's nowhere near as awkward as I originally anticipated it to be, I think the

Faking it actually exceeded my expectations in many ways; it's nowhere near as awkward as I originally anticipated it to be, I think the characterisation has been done extremely well, and you learn to very quickly like the characters of Karma, Amy and Shane; which is always a plus.

I was very happy with the fact that the show hasn't stereotyped Karma and Amy as "typical lesbians", because in a lot of media lesbians have been portrayed in a very typecast way, that sort of butch, unfeminine, unflattering way- and so I'm really glad that this is such a refreshing break from that. I'm also impressed on how it's kind of spun the idea of highschool society on it's head by embracing gays and people who are different - MTV has HUGE scope with that to influence viewers, and I hope they continue using it as well as they due, especially considering the unfavourable media the LGBTQ+ community have faced previously.

I also think it's a very funny show, Michael J Willett never fails to leave me in hysterics with his many one-liners. I think it's also got a very strong element of realism within the storyline, and it's something that young people can feel, but has been classed as social taboo and therefore no one talks about it, let alone project it onto a television show, so I'm really happy about that.

To be honest, I'm not a big fan of the bleeped out cursing, in my opinion they should either keep the swearing or just not swear at all (the prior is more favourable in my opinion), and I'm also not too keen on ONLY 22 minutes per episode, I feel like that's way too little and so there are some weird cut scenes, which is why I give it a 9 as opposed to a 10. But overall, I'm extremely impressed and hoping for the show to be renewed for a second season, and would recommend it to everyone!

…

Expand

This show has certainly surpassed my expectations for it, especially as the second half hour complement too awkward. It has more heart than

This show has certainly surpassed my expectations for it, especially as the second half hour complement too awkward. It has more heart than awkward, and the blonde lead actress is going to be a big star one day probably on another show. MTV is actually doing a pretty good job developing new shows these days. I just wish they had given a little more rope to certain experimental shows such as death Valley and Austin stories.

…

Expand

Like Clueless without the satire or humour. Lowest common denominator. Seriously unintelligent. They might as well be winking at the camera

Like Clueless without the satire or humour. Lowest common denominator. Seriously unintelligent. They might as well be winking at the camera and saying look at us, we believe that the writers gave us super exciting and genre breaking lines to say...but from absolute disney duds that's not surprising. Please don't waste your time on this or think that it will in any way help you to explore concepts of sexuality. Watch HBO's Girls or Broad City for intelligent, funny women and real concepts of life.

…

Expand