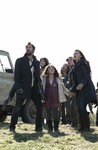 Summary:

After an alien invasion that killed most of the human race, a group of soldiers fight back in this sci-fi drama executive-produced by Steven Spielberg.

Genre(s):

Drama

,

Action & Adventure

,

Suspense

,

Science Fiction
Show Type:

In Season

Season 1 premiere date:

Jun 19, 2011

Episode Length:

60

Air Time:

10:00 PM
The entertainment value and suspense of Falling Skies is paced just right. You get the sense that we'll get those answers eventually. And yet, you want to devour the next episode immediately.

It's "Jericho" meets "V," with the good from both and the bad discarded. It'll raise the summer-TV bar significantly.

It all adds up to plenty of action and suspense, with heroes we like and villains we can boo and hiss. And the fate of the planet at stake. Who says there ain't no cure for the summertime TV blues?

The show doesn't have the sinister intelligence of ABC's short-lived Invasion, but it's good family entertainment. [27 Jun 2011, p.45]

Skies has enough going for it to appeal even to those who don't think they like sci-fi.

Falling Skies' mix of compelling individuals helps to make its early use of formula less troublesome than it might have been. Later episodes develop interesting and diverse motives, as the 2nd Mass begins to figure out what the aliens are up to and how to fight them more effectively.

Every attempt at treating a Big Idea seems sophomoric and irritating. Even in its look, the show lacks the elemental rawness necessary to throw its intellectual conflicts into sharp relief.
Great show, well paced. It took a couple episodes for this series to really grab hold, but now after the first 5 I am hooked. There are 1 or 2

characters that I feel may have been mis-cast but the majority are spot on. Do yourself a favor and watch a few episodes, if it doesn't suck you in, no harm no foul. Speaking for myself, once an episode ends, I immediately want the next to start. Watching the pilot I wasn't sure if they could get me to care about Tom and his children, they succeeded.

I love sci-fi but hate the stereotypical cheese that so often accompanies it. I am very thankful cheese isn't on the menu for Falling Skies. I'll take a good sci-fi drama any day of the week and twice on Sunday. Hope you enjoy this show as much as I do.

…

Expand

Excellent show, it beats the walking dead hands down. I love the setting of aliens attacking and the actors in this show are amazing. I

think its a 10/10

…

Expand

It seemed from the first episode that all this show was is more empty hype and wasn't good. As soon as you hit the 6th or 7th epsiode it

completely changes and gets you hooked. Stay with it. It might be a bit too Spielberg-y at first but the writing and great cast make up for it. It will surprise you!

…

Expand

Every time there was a shoot out I just wanted to see blood and guts and have it so much grittier, its trying to be a family friendly Walking

Dead and that can not happen, the characters never feel in danger, the kids annoy me, they start it off really bad and there is never any true back story to some characters. Also it feels like more time has been spent on the aliens than the humans although most shows like this do just think of the aliens as a crap generic enemy.But yet I still watch to see if there is a new trailer for the new Walking Dead series, because when this ends that is bound to start.

…

Expand

I'm a Sci-Fi fan, but unfortunately I was bored to death by the pilot. Had to stop watching. No sense in prolonging the agony. When you've

got a new show, and you're competing with so many others, you've got to so SOMEthing to get the viewer's attention. This did nothing. Let me know how it goes. If it gets amazing, I'll check it out on DVD.

…

Expand

Aliens' weapons of conquer are boredom and dullness...
It is really unbeliveable how characters of this show are dumb. Really. The only

reason why invaders haven't won yet is because they are even more stupid than humans! The plot is boring and has gap holes as big as the solar system, the characters always (yes, ALWAYS) act with brainless strategies and the only reason why they are still alive is because the so technological advanced aliens seem not to have a proper radar or heat sensor. (no really, how can a flying alien drone not notice a caravan just because it has a blanket on its engine? How can a bad-ass alien terminator not notice human presence 1 meter away?)

…

Expand
Summer will bring some of TV's best shows (including "Breaking Bad" and "Louie," and--possibly--new shows like "The Newsroom"). Inside, we look at the 20 most noteworthy series, specials, and miniseries coming this summer. You'll also find a full calendar of premiere dates from now through August.