Network:

Lifetime

Series Premiere Date:

Jan 18, 2014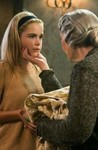 Summary:

Manipulated by her mother Olivia Foxworth (Ellen Burstyn), Corrine Dollangange (Heather Graham) hides her four children (Kiernan Shipka, Mason Dye, Maxwell Kovach, and Ava Telek) in the attic after the death of their father in this TV movie adaptation of the V.C Andrews book that was made

Manipulated by her mother Olivia Foxworth (Ellen Burstyn), Corrine Dollangange (Heather Graham) hides her four children (Kiernan Shipka, Mason Dye, Maxwell Kovach, and Ava Telek) in the attic after the death of their father in this TV movie adaptation of the V.C Andrews book that was made into a theatrical film in 1987.

…

Expand

Genre(s):

Drama

,

Movie/Mini-Series

,

Horror
Show Type:

TV Movie

Season 1 premiere date:

Jan 18, 2014

Episode Length:

120
Flowers, both the book and the new movie, is completely absurd--if you want to gauge the absurdity, just know that one of the darkest secrets in the narrative involves a doughnut--but somehow also psychologically coherent. It has a grip.

Perhaps, because it was unwilling to risk becoming camp, this Flowers can't achieve the necessary passion, either--Corinne's viciousness is lost in the shuffle, and volatile Cathy and confused Christopher remain sketches of real characters, whose love never becomes the lifelong connection that takes them by surprise and desperately rushes them toward freedom.

If you dwell too much on the plot, you'll fall into a chasm of disbelief.... Flowers doesn't look like a Lifetime film, and that's a compliment. The production moves at a brisk pace, and unlike the children's predicament, never feels claustrophobic.

Flowers in the Attic plays it safe and a bit boring. This is material that screams for a campy touch, but director Deborah Chow and teleplay writer Kayla Alpert tell the tale with mostly straight faces.

V.C. Andrews' popular and creepy 1979 novel "Flowers in the Attic" gets no favors from the scriptwriters in this latest adaptation. The reason to watch, even when you're saying "Yeah, right" to what's happening on the screen, is actors Ellen Burstyn, Mason Dye and Kiernan Shipka.

Teen sexuality is tricky subject material. Teen sexuality manifested in incest is trickier still. And the new Lifetime movie is not up to the job.

Even allowing for the lowbrow standards that can paradoxically turn a Lifetime movie into a delectable piece of trash, this Flowers in the Attic is a remarkably weak effort.
I have never seen the original 1987 movie "Flowers in the Attic", so I am not reviewing this title as a remake, but honestly, I just fell in

I have never seen the original 1987 movie "Flowers in the Attic", so I am not reviewing this title as a remake, but honestly, I just fell in love with this movie, it is most wonderfully tragic & horrifying. Well acted, well written, & all in all one of the best movies 2014, & I have to say that "Flowers in the Attic" (2014 Version) has became one of my favorite movies of all time.

…

Expand

Definitely the worst show I've ever seen in my life. It's like what a bunch of diabetic grandmothers want to watch together on their deathbeds

Definitely the worst show I've ever seen in my life. It's like what a bunch of diabetic grandmothers want to watch together on their deathbeds while drinking grapefruit juice. Awful.

…

Expand