Network:

ABC

Series Premiere Date:

Sep 22, 2014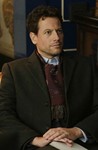 Summary:

New York City medical examiner Dr. Henry Morgan (Ioan Gruffudd) seeks the answers to his immortality as he helps Detective Jo Martinez (Alana de la Garza) solve cases.

Genre(s):

Drama

,

Fantasy
Season 1 premiere date:

Sep 22, 2014
They need to put a bit more thought into the mysteries themselves, which lean toward the clunky. But the appeal of the stars and the premise should buy them some time.

The mysteries he and Martinez tackle are rather pro forma, but that's not what tends to keep shows like Castle and Bones on the air season after season. It's more about enjoying being in the company of these charismatic characters, and there's strong chemistry between the debonair Gruffudd and the earthy De La Garza.

Gruffudd carries the series well and brings a trustworthy and genuine presence to the role of Henry Morgan. However, after viewing two episodes, it is unclear where the series is going in the long haul.

Monday's premiere has to work hard to get you to suspend disbelief, but the actual crimes, in both the Monday and Tuesday episodes, are well plotted. Gruffudd's Morgan isn't quite as much of a social misfit as Jonny Lee Miller's Holmes on CBS, but he's a good actor and pairs well with both de la Garza and Judd Hirsch.

Forever is an easy hour because Gruffudd (Horatio Hornblower) is a fine, quite likeable actor, and the mystery-of-the-week procedural continues to be candy for views.

[There's] a lot of dying and when that's added to the death or deaths of the week--this is a one-note procedural after all--the morbidity starts to mount on a series that's already weighed down by clumsy mythology and storytelling.

Forever comes off like a show a couple of drunks scribbled out on a cocktail napkin.
I just heard this show is in jeopardy to be canceled, I am crushed. I rarely watch TV for there are not any shows that can hold my attention

I just heard this show is in jeopardy to be canceled, I am crushed. I rarely watch TV for there are not any shows that can hold my attention as Forever can - humor, intrigue, romance, spy thriller, full package. It has become my favorite show to the point that I schedule my business travel around this show (no one knows that). I love the flash backs to his past and how they tie in to his future, brilliantly done. I hope this show lasts forever!

…

Expand

Forever is the first appealing show to come out in a long time. It doesn't lean heavily on non-classy gimmicks such as sex to promote a truly

Forever is the first appealing show to come out in a long time. It doesn't lean heavily on non-classy gimmicks such as sex to promote a truly original supernatural twist on the age old premise of crime fighters. It's a good balance of action, story, and character development. Highly recommend it. I can only see it getting better and more intriguing as the season unfolds.

…

Expand

One of the very best shows on television, inexplicably canceled after one season. Great plots, great acting, great concept, and Judd Hirsch,

One of the very best shows on television, inexplicably canceled after one season. Great plots, great acting, great concept, and Judd Hirsch, what more could you ask for? Ioan Gruffudd, who plays Henry Morgan, a kind of gentle Cary Grant, does autopsies on bodies after murders and assists a female detective in her investigations. The inevitable romantic aspect was handled with extreme subtlety and barely advanced at all; in fact everything about the show was handled with a subtlety and care that is extremely rare in TV series.

Oh and there's one thing: Henry was born in the 1700s but stopped aging at age 35 after he was tossed off a slave ship when he came to the aid of a slave (I think it was a slave ship, not sure). Now, whenever Henry is killed he disappears and finds himself reborn (at the same age, 35) naked in the East River. He has a record as long as your arm for indecent exposure apparently, but this hasn't hurt his career with the NYPD. His son, Judd Hirsch, works in an antique shop in Greenwich Village (I think) where he sells all the things his dad has accrued over the years but no longer uses. The show indulges in flashbacks to former lives of Henry through the decades and centuries, showing scenes that have a bearing or are analogous in some way to the events of the ongoing action in the present day.

A wonderful show, and a truly bizarre cancellation.

…

Expand

Please do not cancel Forever, I have watched the 17 episodes and absolutely loved them. This is something different from all the other shows

Please do not cancel Forever, I have watched the 17 episodes and absolutely loved them. This is something different from all the other shows that are on tv. It is lighthearted as well as having a bit of mystery throughout. I love the way Henry solves the crime. I want to see more of this show. I loved it.

…

Expand

I am really angry at ABC for canceling another wonderful show! They should change their minds and bring it back next year. The show was

I am really angry at ABC for canceling another wonderful show! They should change their minds and bring it back next year. The show was original and kept me at the edge of my seat. ABC has been sucking these last few years when it comes to good shows. This was one I really enjoyed. BRING IT BACK!!!

…

Expand

This show is getting low tv ratings but it deserves higher. Since it definitely has a strong following already. Not enough fans are watching

This show is getting low tv ratings but it deserves higher. Since it definitely has a strong following already. Not enough fans are watching it live though. The show is great fun if you like Sherlock and Elementary but with an immortal guy.

…

Expand

I disagree that this show should be cancelled. It is one of the best shows on TV. I have watched since the beginning sand never been

I disagree that this show should be cancelled. It is one of the best shows on TV. I have watched since the beginning sand never been dissatisfied. They need to promote this show more. I'm keeping my finger crossed to see if it survives.

…

Expand