Network:

CBS

Series Premiere Date:

Apr 14, 2014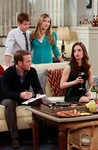 Summary:

Newly divorced Will (James Van Der Beek), engaged couple Jules (Brooklyn Decker) and Lowell (Rick Donald), single career woman Kate (Zoe Lister-Jones), and married couple Andi (Majandra Delfino) and Bobby (Kevin Connolly) are friends who think each other's situation is better than their own.

Genre(s):

Comedy

,

Drama
Creator:

Dana Klein

Season 1 premiere date:

Mar 31, 2014

Episode Length:

30

Air Time:

08:30 PM
If even a few good performances lock into your vision, you perk up. In this new comedy about friends in various stages of relationship envy and regret, there are two: James Van Der Beek and Zoe Lister-Jones. [7 Apr 2014, p.45]

Friends With Better Lives seems to be betting that we, like the characters themselves, won't need much beyond each other. That could work. Especially if they tell an occasional joke that's not about sex.

After respectively stealing scenes on a very good single-camera sitcom and a mediocre live-audience one, both actors [James Van Der Beek and Zoe Lister Jones] come ready to play in the ensemble setup, and that'll be a huge factor in Friends With Better Lives' ability to improve on a so-so pilot.

The pilot is rough, with much of the humor dealing with sex and male genitalia, which seems like something you would find in a Seth McFarlane show.

Despite the attractive cast, these "Friends" are a mostly nondescript bunch, so much so it wouldn't be a shock to find that those who initially tune in after the "How I Met Your Mother" finale ultimately decide that this life experience is best left as a one-night stand.

One thing I'll say for these friends: They could all use better writing.
I didn't start watching until episode 3. The commercials made it look uninteresting. I had no plans on watching it. I caught episode 4 on and

I didn't start watching until episode 3. The commercials made it look uninteresting. I had no plans on watching it. I caught episode 4 on and loved it. i instantly watched the missed episode on demand. This show keeps me laughing. I love it.

…

Expand

The advertisements for this show did not do it justice. I missed the first episode but started with the second and was instantly a fan.

The advertisements for this show did not do it justice. I missed the first episode but started with the second and was instantly a fan. Unfortunately the powers that be wouldn't let the show develop the following I am sure was going to happen. Shame on the execs

…

Expand

1st episode was amazing than 2nd one But third Episode Took to Next Level awesome show. gr8 work done by Jules and Kate. the Tennis court part

1st episode was amazing than 2nd one But third Episode Took to Next Level awesome show. gr8 work done by Jules and Kate. the Tennis court part was hilarious

…

Expand

Just saw the first episode, but so far it is my kind of humor, I'm anxious to see the other episodes. Good sitcom with new ideas and new

Just saw the first episode, but so far it is my kind of humor, I'm anxious to see the other episodes. Good sitcom with new ideas and new characters, what's not to like? We laughed a lot during the first episode anyways!

…

Expand

I've watched two episodes and laughed out loud several times. Zoe Lister-Jones is a comedy phenom and I can't stop watching The Beek. Much

I've watched two episodes and laughed out loud several times. Zoe Lister-Jones is a comedy phenom and I can't stop watching The Beek. Much better than 2 Broke Girls. I'm a total fan.

…

Expand

I'm sure their lives would be much better if they had better writers. I have no problem with sex jokes, but when a show relies on them for all

I'm sure their lives would be much better if they had better writers. I have no problem with sex jokes, but when a show relies on them for all the humor, it gets old fast. It's bad-writing when shows rely on the same thing in every episode. And I usually don't bring this kind of thing up all the time, but how many shows do we need about upper-middle class white people living in LA and NYC? I'm not saying every show has to be a mini United Nations, but come on, this is filmed in LA- one of the most diverse cities in the US. They can do better than one Asian character in one episode for less than 5 minutes. Even minor and background characters are white.

…

Expand

Like all the other shows on CBS's Monday Lineup, now that HIMYM your mother is gone, Friends with Better Lives relies on its cheesy dialogue

Like all the other shows on CBS's Monday Lineup, now that HIMYM your mother is gone, Friends with Better Lives relies on its cheesy dialogue and its poor acting.

…

Expand