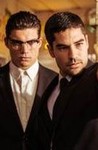 Starring:

Robert Patrick

,

Don Johnson

,

Esai Morales

Summary:

The new horror series expands the stories of the characters in Robert Rodriguez-directed 1996 film of the same name, including Seth Gecko (D.J. Cotrona), his brother Richie (Zane Holtz), Jacob Fuller (Robert Patrick), and Santanico Pandemonium (Eiza Gonzalez).

Genre(s):

Comedy

,

Drama

,

Action & Adventure

,

Fantasy

,

Horror
Season 1 premiere date:

Mar 11, 2014

Episode Length:

60
Fans of the film will devour the TV series, and nonfans might give it a shot. Just be forewarned that it's not "Blue Bloods." It's more like cold blood.

While the flashbacks deepen the characters, some elements are smack-you-in-the-head obvious. Still, the stylization of the story is impressive as is the way Rodriguez, who wrote and directed the premiere, introduces the robber characters, the more level-headed Seth Gecko (D.J. Cotrona) and his possibly crazy/possibly prescient brother, Richie (Zane Holtz).

I suppose you could save time by just going back and watching the original movie (which starred George Clooney and Quentin Tarantino, who wrote the script), but if you liked that one, you'll almost certainly dig this.

As a 40-minute expansion on the first 10 minutes of the original film, the action can seem needlessly drawn out and played for time rather than for narrative sense. But the occasionally snappy dialogue, twisted humor and cinematic direction--which are all in Rodriguez's hallmark style--bode well for the rest of the series.

It's probably enough to say that if you like this sort of thing, this is just the sort of thing you'll like. (If the tautology fits, wear it.) Rodriguez knows how this machine works as well as anyone alive. Whether such sensationalist kicks are good for us "as a people," or indeed as people in particular, is a question the culture and its guardians and gadflies have been batting around for years. A decision is not due any time soon.

Some casting choices are inspired, others awkward. Some style choices by Rodriguez simmer, others fizzle.

After the plodding premiere, though, all I could think was wake me around the time they get to the snake dance. And maybe not even for that.
Come on people, i think this is more structured than the film, anyway many people compare the film to the series, i thinks is a good job, more

Come on people, i think this is more structured than the film, anyway many people compare the film to the series, i thinks is a good job, more dark and much a deep history.

…

Expand

Its both like and completely unlike the movie. I saw the film as a kid, and enjoyed it for a guilty pleasure. The series is something I am

Its both like and completely unlike the movie. I saw the film as a kid, and enjoyed it for a guilty pleasure. The series is something I am proud to enjoy. Its kept the thrilling breakneck pace that makes me hold my breath, waiting to see what comes next. But it grew past that annoying Tarantino "ooh, its so shocking" style. I LOVE this. I love the inventive use of Mesoamerican myth. As a lover of mythology I am happy with the inventive way its invoked…In episode 6 I bet a few people caught Carlos' reference to Tezcatlipoca, the Aztec god also called the dark mirror. I love the reference to the Aztec myth of the two brothers who escape Hell, too. Its so fitting! Amazing research. Sadly most people just don't know enough to catch that, but then this series has something for anyone with an open mind.

…

Expand

This review contains spoilers, click expand to view.

9 out of 10 i have to see what the second season does with the story, since season one is the expansion of the film. But man oh man what a great show that this is. big surprises with the acting of Richie, wow he is amazing like a cross of Cillian Murphy crossed with Michael Shannon, and Fez from that 70's show is so hammy and amusing. Robert Patrick outshines Harvey Kitel. its fun and intriguing with the expansion of the mythos how these vamps are like snakes with scales cobra fangs instead of the usual pointy teeth. and seth does his very subtle George Clooney inspired performance, with head bobs and shakes, inflections and tone. i'm very surprised by the show and cant wait for more, it has to be better then the direct to video movie sequels.

…

Expand

I truly like this show, it has its own version of the movie. The actors are good and I love Eiza Gonzales. If anything they need to add a

I truly like this show, it has its own version of the movie. The actors are good and I love Eiza Gonzales. If anything they need to add a little sex into it. Other than that. Thumbs up!!

…

Expand

I think From Dusk TIll Dawn is a very nice, but inconsistent(esp. the story) tv show ! It has pretty badass moments, but also very boring

I think From Dusk TIll Dawn is a very nice, but inconsistent(esp. the story) tv show ! It has pretty badass moments, but also very boring sequences, but it´s worth a shot !

…

Expand

Don't get me wrong, I wanted to like the show because Rodriguez himself was behind it and the actors seem likeable. I also wanted to like it

Don't get me wrong, I wanted to like the show because Rodriguez himself was behind it and the actors seem likeable. I also wanted to like it because previous Netflix orginals were amazing and this show was sure to be one as well. However, this show fell extremely short of my expectations. I kept trudging on from episode to episode, expecting it to get better. Alas, with each episode, I grew not to love the Gecko brothers, but to hate them and every. single. character. I ultimately had to end my suffering after five episodes.
This show lacks one very important thing - good writing. The writing is not only weak, but it insults the viewer by assuming the viewer is dumb. It's infuriating to watch the Fullers and Freddie make irrational decisions as well as for the Gecko brothers to keep slipping past police in ways that obviously won't happen in the real world. Human beings can't possibly be as stupid as they are depicted on the show! The actual dialogue is uninspired - filled with corny sayings and lacks the sharpness found in other Netflix shows like House of Cards or Orange is the New Black.
I'm not going to get into the acting or the strange pacing of the show because I can go on and on about those things and several other faults of the show. Instead, I'll end off with one positive: the movie was great and this show had so much potential to expand on the stories of the characters as well as the mythology. Anti-heroes, characters with mysterious pasts, and ancient Mesoamerican supernatural beings? This is the recipe for a great show! Some better writing could have made this show one of my favourites.
I'm giving this show a 4 as opposed to the 2 or 3 that it deserves because I still have hope that the remaining five episodes I have yet to watch were somewhat of an improvement. Sadly, I don't think I can stomach it and so, my journey with this show ends at episode five.

…

Expand

This review contains spoilers, click expand to view. horrible , the story changed to much from the movie . now richey is not a serial killer rapist . nope now he is a totally sane guy possessed by a knife and he no longer rapes anyone or even wants to rape anyone . wtf guys its so bad avoid it like the plague .
thats just the tip of the ice berg .everything has changed its not authentic in the slightest . carlos now SETS THEM UP TO GO TO THE BAR BECAUSE HE IS THE HEAD VAMPIRE ,INSTEAD OF SAVING THEM FROM THE BAR LIKE HE DID IN THE MOVIE . rightttttttttttttttt nuff said so bad so bad .

…

Expand