Network:

HBO

Series Premiere Date:

Apr 17, 2011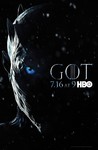 Starring:

Aidan Gillen

,

Aidan Gillen

,

Peter Dinklage

Summary:

The Seven Kingdoms are at war with three kings claiming the Iron Throne: Joffrey Baratheon, Renly Baratheon, and Robb Stark. Jon Snow and the Night Watch seek to discover who the mysterious people living north of The Wall are. In the East, Daenerys Targaryen plans her move to return to

The Seven Kingdoms are at war with three kings claiming the Iron Throne: Joffrey Baratheon, Renly Baratheon, and Robb Stark. Jon Snow and the Night Watch seek to discover who the mysterious people living north of The Wall are. In the East, Daenerys Targaryen plans her move to return to Westeros and claim the throne for herself.

…

Expand

Genre(s):

Drama

,

Action & Adventure

,

Fantasy
Please enter your birth date to watch this video:
You are not allowed to view this material at this time.
The characters bring us into the action and, once there, we want to follow every development.

Once you get back in the rhythm of this enthrallingly sprawling, lusty and brutal saga, flaunting enough sex and violence to make a Hobbit faint, it's impossible not to succumb to Thrones' visceral, dark magic.

Is Game of Thrones one of the great HBO series? It's too early to tell, though judged purely as an immense yet improbably graceful narrative machine, I'd have to say yes.

It's another level of pop culture wizardry to make such storytelling seem so vivid, so vital, and just plain fun.

HBO has the ingredients for a series that puts nearly every other genre offering to shame.

It's all a lot to swallow, let alone digest. But Game of Thrones nonetheless is an undertaking worth applauding for its audacity if not always for its overall senses of direction or cohesion.

The new season of this dense medieval fantasy set in a land called Westeros serves up a whole bunch of wartime posturing, a seemingly endless number of would-be rulers and the usual sex and (sometimes in the same scene) violence. But it sure doesn't give viewers much to latch onto.
Game of Thrones is the best series in TV. The story is just astounding and addicting. If you see the first episode then you become a fan right

Game of Thrones is the best series in TV. The story is just astounding and addicting. If you see the first episode then you become a fan right away. Each and every single one of characters have a rich personality and amazing acting abilities.

…

Expand

There isn't much to say about this show that hasn't already been said. The characters are dynamic and deep, the multiple plot concept keeps

There isn't much to say about this show that hasn't already been said. The characters are dynamic and deep, the multiple plot concept keeps audience members on the edge of their seats as twists and turns of beautiful written work comes to reality.

…

Expand

I have been done with season 2 for a good week now and have tried watching breaking bad, but I just can't stop thinking about game of thrones!

I have been done with season 2 for a good week now and have tried watching breaking bad, but I just can't stop thinking about game of thrones! Probably my favorite show!

…

Expand

I unfortunately had the first part of this season spoiled for me. Knowing the result of the ensuing battles is a bit of a letdown, yet somehow

I unfortunately had the first part of this season spoiled for me. Knowing the result of the ensuing battles is a bit of a letdown, yet somehow I had forgotten all about that during the 1 hour episode that lead off this season. It's a testament to the quality of the show, where acting, set design and writing take precedence over everything else.

…

Expand

As someone who has read the song of ice and fire series, I have to say at first I was a little disappointed with season 2. However, as I

As someone who has read the song of ice and fire series, I have to say at first I was a little disappointed with season 2. However, as I started to put aside my preconceived notions about how I thought the show should be adapted. I realized that this was great television at its finest. I have even grown to love some of the changes they have made with the series. All the actors are great, but the child actors on this show are incredible. I really have grown to love this show and I can't wait to see what is coming in season 3.

…

Expand

Season 2 is a pick up form Season 1 and you'll notice almost straight away, as its already established a lot of its important points in season

Season 2 is a pick up form Season 1 and you'll notice almost straight away, as its already established a lot of its important points in season 1, its able to move full steam ahead without any confusion. Along with its quicker pacing, Season 2 also has the first large scale battle the series has to offer and it certainly delivers. Game of Thrones Season 2 is everything Season 1 was and more.

…

Expand

What a great disappointment. A lot of things have been changed from the books to accommodate the sentiment of the viewers the publishers are

What a great disappointment. A lot of things have been changed from the books to accommodate the sentiment of the viewers the publishers are trying to woo. 1/10 for this compromising piece of ****

…

Expand