Network:

HBO

Series Premiere Date:

Apr 17, 2011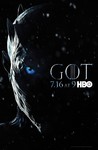 Starring:

Aidan Gillen

,

Peter Dinklage

,

Charles Dance

Summary:

The battle for the throne continues with Ayra and Bran still out in the countryside; Sansa is married off to another; Jon Snow meets Wildlings leader, Mance Rayder (Ciaran Hinds); Dany reunited with her dragons seeks an army; and Catelyn and Rob continue to fight the Lannisters' army.

Genre(s):

Drama

,

Action & Adventure

,

Fantasy
Please enter your birth date to watch this video:
You are not allowed to view this material at this time.
The horrors of war, the danger of shifting alliances and the anguish of intra-family rivalries raise the dramatic stakes, matched by the glorious visuals.

The show beautifully depicts a massive game of musical chairs, a world at war with doom ever present just across the border.

Those who make the investment are richly rewarded. There's enough tension, betrayal, treachery, greed and sex, after all, to fill eight seasons of "Scandal."

So far (judging from the first four episodes), it's living up to our highest expectations.

I just want my favorite shows to be able to break my heart, and the more broadly Game of Thrones ranges and the longer its cast list grows, the tougher it will be for the drama to do that. It's impossible not to be drawn into the saga, however (aside from one or two strands that are filler and/or confusingly laid out).

Game of Thrones seems to be getting better all the time judging from the four episodes sent for review. It's just that it also seems to be taking longer and longer to get there in the interests of servicing all the returning and new characters in play.

[Peter Dinklage, Ciaran Hinds, Paul Kaye, and Dianna Rigg are] all fun to watch, even when their characters don't have anything in particular to do besides relay information that we need to keep up with the story or keep straight the seven (so we're told) warring families.
For a show as vast and complex as HBO's Game of Thrones, a slow and careful re-introduction is probably for the best. The pace of tonight's

For a show as vast and complex as HBO's Game of Thrones, a slow and careful re-introduction is probably for the best. The pace of tonight's Season 3 premiere is accordingly quite measured- one might say that it abruptly ends before anything significant actually occurs- but we find ourselves cured of cliffhanger and able to begin sorting through a plot that has had a tendency to overwhelm in the past. Timeframe, along with the pantheon of characters, has been somewhat condensed from the novelistic version of tonight's events, but the cuts were made carefully and do not yet appear to leave any obvious holes or scars. Performances are impressive, writing is stellar, new winds of complexity begin blowing in the north and south alike, and one can't help but wish it were already next Sunday. Game of Thrones is back.

…

Expand

Another impeccable season of Game of Thrones. Plot twists and political drama was once again well written and spread in all of the episodes.

Another impeccable season of Game of Thrones. Plot twists and political drama was once again well written and spread in all of the episodes. There was a good distribution of screen time, which is very difficult to do in a television series with so many characters and plot lines. Great to see the development of stories in both, Westeros and Essos.

…

Expand

I'm huge fan so naturally I loved the third season and think this show would be hard to ruin. (Just because you didn't like some plot twists

I'm huge fan so naturally I loved the third season and think this show would be hard to ruin. (Just because you didn't like some plot twists doesn't mean the show is dead, keep in mind the plot is already complete it just hasn't all aired.) Simply because of the "Red Wedding" scene this season and series became a master piece for me, dethroning Cowboy Bebop from my favorite show of all time. (That was my favorite show for 5 years for those that give a If you haven't started watching this show by now wtf are you waiting for?

…

Expand

The word epic gets banded about a lot, but, if any TV show has ever truly earned that title it is Game of Thrones. Featuring a huge, and

The word epic gets banded about a lot, but, if any TV show has ever truly earned that title it is Game of Thrones. Featuring a huge, and incredibly talented, cast it is quite frankly amazing how the writers and directors have been able to bring such an interesting and detailed world to the small screen.

Ignore those who criticise the show for its fantasy setting as this is drama at its very best.

…

Expand

The third season in the epic fantasy, Game of Thrones isn't as strong as its second season, though it contains just as many surprises and just

The third season in the epic fantasy, Game of Thrones isn't as strong as its second season, though it contains just as many surprises and just as many unraveling mysteries, changing our perceptions on many characters whom we pegged for something else entirely in the very beginning, while pushing this vast array of characters on forward to a conclusion we almost don't want to admit we know is coming.

…

Expand

At times I felt that season three was the show's slowest yet. For me too many of the characters, I can think of Arya, Sam, Jaime and Brann off

At times I felt that season three was the show's slowest yet. For me too many of the characters, I can think of Arya, Sam, Jaime and Brann off the top of my head, were sharing journeys of a similar nature and although the plot only visited them occasionally, there didn't seem to be much diversity between the story lines and episodes could be filled with people on the move, never seeming to make much progress towards their goals.

On the other hand, all the above is what makes Game of Thrones such a great show. The plot moves along at its own speed, steadily moving the massive cast of characters along in their respective story arcs. The slow and deliberate story telling is such a contrast to many TV shows where writers seem to rush plots at the expense of character development. That is not to say that Game of Thrones is not capable of turning up the excitement levels. I think this season has contained the biggest shocks of the show so far and considering what happened at the end of season one, that is saying something.

This leads me on to the episode The Rains of Castamere, also known as The Red Wedding. I'm keen not to give anything way so it is difficult to comment on but for me this episode underlines the greatness of the show. A colossal event in terms of characters and story line that you just would not see in any other show. Imagine Tony Soprano's family being wiped out in the middle of an episode in the middle of a season. Totally unheard of. The scenes in particular were brilliantly produced as well and any silly doubts I had over the show were instantly erased by this episode.

Elsewhere, Tywin demonstrates he is the only Lannister able to lay the law down to Joffrey. I'm looking forward to seeing more of this in the future, Joffrey seems genuinely afraid of his grandfather. Tywin's arrival shakes things up at Joffrey's court and things change for Tyrion, Sansa and Littlefinger and even Cersei seems unable to avoid her father's plans to strengthen the family.

The season comes to a close with the fate of one major character unconfirmed and I can't wait for the fallout from the Red Wedding to filter across Westeros. The next season of Game of Thrones cannot return soon enough.

…

Expand

Really dissapointed, they didn't finish the book like they were suppose to honestly this is more about money like always giving us crap of

Really dissapointed, they didn't finish the book like they were suppose to honestly this is more about money like always giving us crap of shows, they are going to do the same this as the twilight books giving us 3 seasons per book, we got left to see if the actors last for ten years to finish the series jajaj.

Really angry honestly.

…

Expand