Network:

HBO

Series Premiere Date:

Apr 17, 2011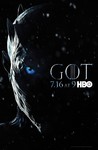 Starring:

Rupert Vansittart

,

Aidan Gillen

,

Aidan Gillen

Summary:

The series is based on George R.R. Martin's novel about a fantasy world where royal houses battle for the Iron Throne.

Genre(s):

Drama

,

Action & Adventure

,

Fantasy
Please enter your birth date to watch this video:
You are not allowed to view this material at this time.
This dwarf [Tyrion Lannister (Peter Dinklage)] has game--and so does this fabulous dark fable. Dig in.

What's amazing is how quickly it all falls into place--the show goes like a shot. [25 Apr 2011, p.43]

Stick with it. Free your eyes to take in the spectacle, and your brain will magically start following the intricate storytelling. And there's a magical realism to Game of Thrones.

The art direction, acting and incredible sets are as breathtaking as the massive scope of the series. A bit slow at first, but it's a grabber once you get into it.

You can't just watch this series. You have to commit to it, the way you had to commit to "The Wire" or "Deadwood" to appreciate them as something other than impenetrable fetish objects. Bear in mind I'm not saying that Game of Thrones is a creative achievement on the same level as those other masterful HBO series, which looked, moved and felt like nothing that had come before.

While the first episode is a solid and visually rich scene-setter for the tale to come, there's a lot of dry, sometimes clunky exposition to get through before the story really gets going in the fifth episode, which is far and away the best hour of Game of Thrones I've seen.

The production has a satisfyingly brooding, ominous look and it's possible to see the basic appeal for role-players and other fans of a realm that provides a limitless playing field for their own imaginations. Thrones also has wolf pups, which is always cool. But then we're back to the familiar favorites of the infantile.
This is probably the greatest fantasy epic made for tv ever,and would probably rival many movies of this genre too,and the acting and scope of

This is probably the greatest fantasy epic made for tv ever,and would probably rival many movies of this genre too,and the acting and scope of the world is just mind blowing.

…

Expand

Having not read the books, I was thoroughly surprised by the series and found myself enjoying it so far immensely. The show is good because

Having not read the books, I was thoroughly surprised by the series and found myself enjoying it so far immensely. The show is good because the original author retains control, a "realistic" element runs strong and the backgrounds and extras are adequately fleshed out. Can't wait for more.

…

Expand

almost everything is here excellent, it stays true to book, very good acting, well directed etc.
only downside they had to cut parts from thealmost everything is here excellent, it stays true to book, very good acting, well directed etc.
only downside they had to cut parts from the book. Buy it!

…

Expand

I was sceptical at first if a fantasy tv show would be the right thing to watch. I had seen many bad examples in my childhood, like xena,... .

I was sceptical at first if a fantasy tv show would be the right thing to watch. I had seen many bad examples in my childhood, like xena,... . but soon after starting to watch, the show had my full attention. the show has everything from bloodbath to zombies to sex. can't wait to see the next season.

…

Expand

I love this show, it is intriguing, provocative, entertaining, and enjoyable. It's production is on a massive scale that one has to

I love this show, it is intriguing, provocative, entertaining, and enjoyable. It's production is on a massive scale that one has to appreciate. It's also just fun to watch. The story has many subplots that tie into one another that most people should want to watch through to the end.

…

Expand

In my country there is the story that has identical story pattern. It called as "Cerita Pewayangan". When I watched this movie it's little bit

In my country there is the story that has identical story pattern. It called as "Cerita Pewayangan". When I watched this movie it's little bit makes me remember to that story -Cerita Pewayangan-. it has complex story which is the stories so impossible if they have been made by one person. So was game of throne, either. The storyline, character, acting style, the causality, and the take camera angle all it's great and perfect. There was no defected at all.

…

Expand

Highly overrated series. 91% of its viewer's are only there for the nudity, sex and violence. This show is pretty much LotRs mixed with a bad

Highly overrated series. 91% of its viewer's are only there for the nudity, sex and violence. This show is pretty much LotRs mixed with a bad porno. Garbage series

…

Expand