Network:

FOX

Series Premiere Date:

May 22, 2014

Season #:

1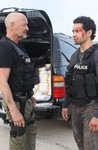 Summary:

Officer Ryan Lopez (Ramon Rodriguez), an infiltrator from a Los Angeles gang, finds his loyalty tested between the criminal family that raised him and his work to curb crime with the city's Gang Task Force led by Sam Chapel (Terry O'Quinn).

Genre(s):

Drama

,

Action & Adventure
Show Type:

In Season

Season 1 premiere date:

May 22, 2014

Episode Length:

60

Air Time:

09:00 PM
The writing is sharp, the atmosphere thick with tension from, among other things, car and foot chases.

In the show's best moments, this moral pickle (being a mole vs. being a cop) leaves Ryan scrambling to improvise ways to prevent gang crimes without really catching anyone. [26 May 2014, p.40]

The action scenes are impressive, the cast admirably diverse (with Cliff Curtis especially strong as Ryan's demanding surrogate father), and the tone suitably rugged. All Gang Related needs to up the ante is a hero who's a little more "anti-."

Instead of Ryan being a complex antihero with shades of gray, he's more like a boring beige.

The pilot episode, airing Thursday, is less than promising, but once you get used to the cliches, the loudly telegraphed plot developments and the unrelentingly phony look of the set, the show becomes watchable in subsequent episodes, thanks to a few of the key performances and some well-directed action scenes.

Gang Related ultimately confuses being grim with being sophisticated, and it too rarely stops to think about what it's trying to say beyond, "Man, being a dirty cop sure would be tough!"

In Fox's instantly awful Gang Related, it's pretty clear right away that you're dealing with a pile of clichés that, pushed together and financed, can never be more than dreadful.
This show would not make it during the fall season, but for the summer it is ok. It is better than a lot of the other stuff out there. There

is one story line - the cop working for the 'family'. Where are his loyalties and will he get caught? There needs to be more to the show than just that story and it needs to move more quickly.

…

Expand

Can't believe some of the negativity Gang Related is getting. The writing is not horrible nor the acting, apparently some people don't have

good taste or their expectations are way to HIGH! From what I have seen so far this show leaves me wanting more. Mexican Cartels, GTF (gang task force), gang bangers, put them together and it makes for some good writing and theories. I look forward to the shows success and hope it does well enough to be renewed for a season two.

…

Expand

I find this show to be very interesting. The plot of having a guy working in the Gang Task Force, as well as being apart of, or "helping" his

family who is apart of a gang makes for an interesting series of events. Everything about this show, the Music, Vibe, is great for me. If you are into crime, gangster shows like this, it is enjoyable and kind of refreshing. I really hope that this show is extended to many seasons, because it is cool and good.

…

Expand