Network:

FOX

Series Premiere Date:

May 22, 2014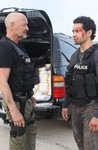 Starring:

Terry O'Quinn

,

Shantel VanSanten

,

Ramon Rodriguez

Summary:

Officer Ryan Lopez (Ramon Rodriguez), an infiltrator from a Los Angeles gang, finds his loyalty tested between the criminal family that raised him and his work to curb crime with the city's Gang Task Force led by Sam Chapel (Terry O'Quinn).

Genre(s):

Drama

,

Action & Adventure
Creator:

Chris Morgan

Season 1 premiere date:

May 22, 2014

Episode Length:

60
Please enter your birth date to watch this video:
You are not allowed to view this material at this time.
The writing is sharp, the atmosphere thick with tension from, among other things, car and foot chases.

In the show's best moments, this moral pickle (being a mole vs. being a cop) leaves Ryan scrambling to improvise ways to prevent gang crimes without really catching anyone. [26 May 2014, p.40]

The action scenes are impressive, the cast admirably diverse (with Cliff Curtis especially strong as Ryan's demanding surrogate father), and the tone suitably rugged. All Gang Related needs to up the ante is a hero who's a little more "anti-."

Instead of Ryan being a complex antihero with shades of gray, he's more like a boring beige.

Just as Lopez struggles to balance his loyalties, so does Gang Related struggle to bring fresh energy to the formula.

Gang Related ultimately confuses being grim with being sophisticated, and it too rarely stops to think about what it's trying to say beyond, "Man, being a dirty cop sure would be tough!"

In Fox's instantly awful Gang Related, it's pretty clear right away that you're dealing with a pile of clichés that, pushed together and financed, can never be more than dreadful.
This show would not make it during the fall season, but for the summer it is ok. It is better than a lot of the other stuff out there. There

This show would not make it during the fall season, but for the summer it is ok. It is better than a lot of the other stuff out there. There is one story line - the cop working for the 'family'. Where are his loyalties and will he get caught? There needs to be more to the show than just that story and it needs to move more quickly.

…

Expand

I really enjoyed it! I had to write a review because everyone was hating on it. It kept me on the edge of my seat! I had no idea what to

I really enjoyed it! I had to write a review because everyone was hating on it. It kept me on the edge of my seat! I had no idea what to expect! I really like the main character and thought he did an awesome job! That is a hard role to play! I really got into it. I don't believe there is any show like this one. Its one of a kind! Its really heavy, in my opinion, because there are huge deaths, and it doesn't follow the norms of what is right and what is wrong. Its out there! Im a huge fan already, and Thursday night just became my favorite night! Great job to all of you who put this together and i hope it ends as well as it started! Im so glad i got another great series to follow! What a ride!

…

Expand

Can't believe some of the negativity Gang Related is getting. The writing is not horrible nor the acting, apparently some people don't have

Can't believe some of the negativity Gang Related is getting. The writing is not horrible nor the acting, apparently some people don't have good taste or their expectations are way to HIGH! From what I have seen so far this show leaves me wanting more. Mexican Cartels, GTF (gang task force), gang bangers, put them together and it makes for some good writing and theories. I look forward to the shows success and hope it does well enough to be renewed for a season two.

…

Expand

An easy to watch and very enjoyable law enforcement program with a twist. The characters are bolstered by some great acting by Ramon Rodriguez

An easy to watch and very enjoyable law enforcement program with a twist. The characters are bolstered by some great acting by Ramon Rodriguez (Ryan), Sung Kang (Tae Kim) and Inbar Lavi (Vee), but let down by RZA (Cassius Green). There are a few eye-rolling moments like characters occasionally having overly convenient CI's and have affiliates within the ethnic gang to which they relate but overall a fun show to watch. It's not "The Wire" but it's certainly better than Hawaii Five-O

…

Expand

When I saw the pilot episode, I guess it was good..but I didn't feel any reason to continue watching. I just wasn't bought on the concept yet.

When I saw the pilot episode, I guess it was good..but I didn't feel any reason to continue watching. I just wasn't bought on the concept yet. Later (admittedly more out of pity than interest), I watched a three more episodes. I needed to see more episodes to be on board. Due to some good reviews, I gave it a shot.

I like Gang Related. I still feel that it needs...something more. I really cannot put my finger on what it is, but the show doesn't ANXIOUSLY make me wait for next week's episode like other shows. (Maybe it need's more tension ans suspense?) Anyway, no big complaints with the cast, story, etc. The accents for some of the characters could improve; sometimes when characters talk (in English or in Spanish) they sound a bit strange. The show is gritty and dark, and at times violent and slightly bloody. The cast needs to be expanded on more, but watching lost of TV shows, characters eventually will be fleshed out. One small observation--the main dilemma was choosing between the L.A G.T.F and his family, but that still needs to be used to full effect more. Overall, "Gang Related" is good but still can improve.

If you liked this review, read my other ones on movies, TV shows, and videogames. I have reviewed Transformers: Age of Extinction, Edge of Tomorrow, X-Men Days of Future Past, Godzilla, Blended, The Amazing Spider-Man 2, Jack Ryan: Shadow Recruit, The Lego Movie, and more. I am actually still trying to find time for other film reviews, such as Robocop, Non-Stop, Divergent, Need for Speed, The Monuments Men, etc. I have also reviewed the TV shows Fox's "Sleepy Hollow", ABC's "Marvel's Agents of SHIELD", CW's "The 100", Fox's "I Wanna Marry Harry", NBC's "Crisis", and more.

Good bye! Sincerely, AG732.

…

Expand

After watching a number of episodes, all I can say is that the story is just so predictable.
The show is made from a number of old clichesAfter watching a number of episodes, all I can say is that the story is just so predictable.
The show is made from a number of old cliches strung together.
The actors do not have much chemistry.
This is what makes this show this show kind of boring.

…

Expand

lazy story and mediocre acting it hasn't contain a thing that you haven't seen before.Same old cop story and with the no of successful cop

lazy story and mediocre acting it hasn't contain a thing that you haven't seen before.Same old cop story and with the no of successful cop shows TV,this show is going to face cancellation for sure.So don't spend your time of watching this.

…

Expand