Network:

IFC

Series Premiere Date:

Aug 7, 2014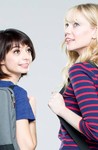 Starring:

Katie Micucci

,

Riki Lindhome

Summary:

The comedy series follows the (fictional) adventures of real-life comedy-folk duo of Riki Lindhome (Garfunkel) and Kate Micucci (Oates).

Genre(s):

Comedy

,

Music
Rapid-fire zingers help ease the bumps of awkward sitcom patter, which will no doubt even out as the ladies find their rhythm.

They practice the comedy of female semi-empowerment, in which confidence (tending toward narcissism) and a still somewhat startling sexual frankness combine with old-fashioned insecurity and self-abasement, all of them generating laughs.

While the show doesn't have the cachet of, say, Marc Maron's series, it's a funny, entertaining comedy starring the offbeat comedy-folk duo of Riki Lindhome and Kate Micucci.

G&O feels less serious of intent, less urban or urbane than "Broad City." But fun.

The first episode is the weakest of the three I've seen, with some good moments but too couched in the nominal premise of struggling performers trying to make it in show business. The sex humor feels similarly conventional. Things quickly improve, however, as the women get stranger and more idiosyncratic.

While the pilot sets the series off to a rather slow start, once you warm to the unique pace and rhythms of their comic delivery, Garfunkel and Oates makes for an endearing half hour experience.

They found a way to marry the innate cuteness of their wide-eyed unison singing with frank lyrics to hilarious effect. When the show figures out how to do the same, it will be a force to be reckoned with, but as it stands now, it's more confused than anything else.
These girls are hilarious. They have the kind of personable nature that makes you think you could be friends with them in real life. I am a

These girls are hilarious. They have the kind of personable nature that makes you think you could be friends with them in real life. I am a cheap bastard but if these girls were running a Kickstarter to keep their show going I would without hesitation drop some money on that.
I have heard them compared to flight of the Conchords alot which I get since they are two friends doing a comical musical, but they are original, their stylings and approach along with the general vibe of the show seems very fresh to me. You got a fan for life girls keep up the good work.

…

Expand

They're cute, they're funny and they love the weird ideas and off the wall concepts. This is a funny show, goes by all too fast. Flight of the

They're cute, they're funny and they love the weird ideas and off the wall concepts. This is a funny show, goes by all too fast. Flight of the Conchords with two girls instead of those guys.

…

Expand

The show just seems like a vehicle for the cute little ditties Micucci and Lindhome write for their stand up act. The show could use a bit

The show just seems like a vehicle for the cute little ditties Micucci and Lindhome write for their stand up act. The show could use a bit more biting wit (like the sports parody) and a little less cuteness but I guess that would be incongruous with the personalities of the two stars.

…

Expand

These girls are really cute. I remember the small one from "Big Bang Theory". She was great as the extremely shy girlfriend. My problem is

These girls are really cute. I remember the small one from "Big Bang Theory". She was great as the extremely shy girlfriend. My problem is that these girls deserve a better show. They do a great job singing their wild songs, many of which are excellent. The problem certainly isn't them. The problem is with the writers. Yeah, sure, lots of pop culture references and all of that. The problem is that the writing just isn't really funny. It sounds a bit funny, but that's the girls again. It's just not really funny.

Boy I wish these kids had a better show!

…

Expand