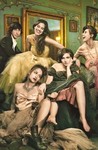 Summary:

Life and their relationships are still messy for Hannah, Jessa, Marnie, and Shoshanna as Elijah (Andrew Rannells) moves in as Hannah's new roommate.

Genre(s):

Comedy
Show Type:

Between Seasons

Season 2 premiere date:

Jan 13, 2013

Episode Length:

30

Air Time:

10:00 PM
Sharper, smarter, more richly layered, detailed (and acted), Girls has improved upon its first season.

Girls continues to delight and provoke in a way too few shows can.

Girls is still undergoing ultimately minor growing pains, but it's frequently poignant and audacious, and actors who made little impression in the first season are allowed to flower.

Girls has matured leaps and bounds, comedically and structurally, but it has jettisoned some of its ambiguity, its sweetness, its own affection for its characters. It's more coherent, but it's also safer.

Girls can still be Girls. [21 Jan 2013]

Short scenes [are] designed to suggest we just walked in on random real people. It's a raw look that is, nonetheless, a look. It also, inevitably, says scripted TV drama.
There's lots of hate towards Girls and I can clearly understand why since they're all about "relativity" issues. Much like season 1, season 2

is fun, clever and entertaining in it's own way. It's creative and original. This show is not for everyone, but if you're into it you'll love it.

…

Expand

The season 2 of Girls isn't obvious. If you have been following the episodes as they aired it's time to re-watch it and consider the total of

10 installments. Otherwise, the timelines get messed up. I loved the downfall of Lena Dunham's character, I loved how complicated Adam is. All these experiences are a part of growing up and actually it's amazing that the show talks about twentysomethings but so many thirtysomethings experience similar levels of absurd and messiness in their everyday lives. Quite hard to be a grown-up these days...

…

Expand

Well, Girls probably has a realistic way of dealing with the lives of a bunch of not very common people. Though one could see it has a point

and all the crude fat nudity adds to it, it is in no way original (as it's been said) or clever at al. I think HBO has fallen for the obscure charms of Lena Dunham and allowed her to create a show where she can tell the world all her own personal problems, about which I doubt someone is interested all that much. Characters' dialogue is also quite stereotypical and annoying, but I guess that falls under the category of the "making it realistic".

…

Expand

Dear Lena Dunham, your show is dull and your characters have no redeeming qualities. Aside from a chuckle here and there season 2 of the

spectacularly undeservedly praised show, begins with a whimper. The pilot is a rehash of everything that was terrible in the first season. The characters are cardboard stereotype cutouts and their dilemas are the same drama that is featured on shows like the hills and gossip girl. Yes the dialogue is realistic, but that doesn't make it compelling, Dunham's dialogue is dull and lifeless and the stories are pointless loops of one another. Also if you're gonna have a token black guy on your show, at least give him some cool lines or god forbide characterization beyond simply being "her new black love interest". That's not a personality, pandering.

…

Expand

I will begin this review by saying that season 1 of Girls was epic. It was funny, charming and original. The characters were amazing and

uncomfortable and beautiful in their own skin.

Fast forward to season 2. WTF has happened? There is no visible plotline. It is like watching a 30 minute indie flick once a week that doesn't coherently tie together in any realistic fashion. Lena Dunham (whom I still love) gets her tiny out every change she gets. We get it. You are comfortable with your body, but please move on. As for the secondary characters, Marnie continues to annoy, Shosh continues to be odd, Jessa continues to be messed up... Sigh. There is nothing happening here. Cringe worthy at best. I don't even know why I continue to watch. I think I'll cancel my HBO because this was the only thing making me hold on and it isn't worth it anymore.

…

Expand

I think lena is a great writer and everything, but she needs to stop being so naked all the time. i mean come on girl, what are you doing? she

should not be getting naked all the time because I personally find it horrifying and it does not add to the series whatsoever. PUT ON CLOTHES LENA!

…

Expand
Published:

December 12, 2012

Track every year-end top-ten list published by major TV critics and publications, and view the overall composite standings for best TV show of 2012.