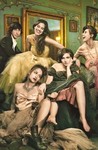 Summary:

Hannah, Jessa, Marnie, and Shoshanna are four 20-something girls living in New York and trying to figure out life, love, and themselves in the HBO series created by Lena Dunham.

Genre(s):

Comedy
Show Type:

Between Seasons

Season 1 premiere date:

Apr 15, 2012

Episode Length:

30

Air Time:

10:00 PM
It definitely has a voice, and it's a great one: witty and wise and warm and not exactly like anything you've heard before.

From the moment I saw the pilot of Girls, I was a goner, a convert.

It's a raw, ironic, occasionally touching comedy of post-millennial manners. [23 Apr 2012, p.37]

Many young women, if they're being honest, will see themselves here. And many parents will see their daughters.

Girls was great last year. But this season it just got a little bit better.

Dunham manages to ties the grimaces and grins together with a comedic sensibility that allows you to see these characters as they are with all their irritating and contradictory behavior, but still root for them as they feel their way into adulthood.

These gals are at times so self-absorbed it's difficult to feel much for them when things don't go their way.
This is a brilliant show, well deserving of its critical acclaim. Of course you will always have the simpletons who don't "get" shows unless

they're completely dumbed down, like 2 Broke Girls or Grey's Anatomy. For those of us who appreciate something edgy, smart, funny unique, this show is fantastic. Something I read online that rings so true: "People are understandably envious of Dunham's success. Hell, I know I am! But she is successful and the show is successful because she is cool as hell. She is funny, insightful, and most of all, devastatingly honest. She lets it ALL hang out there. It's not narcissism. It's art. And the fact that we're even having this discussion is proof that she is a genius. Good art makes you think about things. Dunham makes us think. She makes us laugh. And she entertains us. What's not to love?"

Lena is brilliant fantastic I hope the show has many more seasons on HBO!

…

Expand

I found GIrls to be a refreshing comedy. The jokes are hilarious and scenes very real. Unlike several modern comedies, the characters feel

very real, and relatable. The scenes can be very awkward - but don't leave me hiding under my cover in embarrassment.

…

Expand

Definitely a conversation worthy show for anyone in their 20s. As the season progresses the characters are easier to understand and are more

sympathetic. Lena hits topics that no other writer on TV has hit. Hopefully this show does not become Bored to Death or even Eastbound as it is most likely this decade's Sex and the City.

…

Expand

I absolutely fell in love with the first episode because its about a spoiled girl who wants to manipulate her way into getting her parents

into supporting her at 24 yrs old. Just because she may be "a good girl" who finished college, has an intership, has not gotten pregnant, is not an addict, and loves her parents, does not mean she can live off them forever. Her father wants to protect her and her mother does no longer want to have that responsibility. Its as real as it gets. Not your average comedy show more of "duh hahaha"

…

Expand

Couldn't watch past the third episode. Vomit reasons. Not worth the other 100

characters.....................................................................

…

Expand
Published:

December 12, 2012

Track every year-end top-ten list published by major TV critics and publications, and view the overall composite standings for best TV show of 2012.