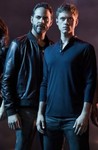 Starring:

Daniel Sunjata, Brandon Jay McLaren, Vanessa Ferlito

Summary:

Undercover agents (Daniel Sunjata, Aaron Tveit, Vanessa Ferlito, Brandon Jay McLaren, Manny Montana, and Serinda Swan) from the FBI, DEA and US Customs, live and work together in a Southern California beach house.

Genre(s):

Drama

,

Action & Adventure
Creator:

Jeff Eastin

Show Type:

Between Seasons

Season 1 premiere date:

Jun 6, 2013

Episode Length:

60

Air Time:

10:00 PM
It's the kind of work that I like to classify as "deep shallow," in that it deals in familiar tropes and simple themes but articulates them in a clever, stylish way.

Graceland is Not The Wire. But it won't have you shooting up your television set, either. [31 May/7 Jun 2013, p.131]

It's the broader story of Briggs--is his hat white or black?--and his unfolding relationship Warren that elevates Graceland a cut above your dime-a-dozen crime dramas.

The show may not hold the attention of TV fans who crave complex storytelling--there's not much for fans of psychologically intriguing character development to dig into--but for viewers who enjoy a steady USA diet, Graceland may darken the network's Blue Sky programming approach just enough to intrigue.

[Graceland] is barely distinguishable from USA Network's long roster of crime capers featuring pretty people in gorgeous settings.

Tveit is kind of an underwhelming Officer Opie here, while Sunjata brings a menacingly ambivalent character to life.

Government agents loll around the beach, exchanging the kind of banter for which television writers would, in a just world, be sent to some quiet place to reflect on their idiocy. All this, amid the plotting of incoherent designs to trap drug dealers, and plenty of sand and dazzling blue skies--elements that have on occasion succeeded in mitigating the flaws of some deadly TV series. This deadly series isn't one of them.
Great show, Really good actors! :) Always on the Edge of my Seat watching! :) great characters,
always love watching, hopefully getsGreat show, Really good actors! :) Always on the Edge of my Seat watching! :) great characters,
always love watching, hopefully gets renewed!!!!!!!!!!

…

Expand

As fun to watch as Justified. This show is much better than the other USA shows I have seen. A great new show about law enforcement who

As fun to watch as Justified. This show is much better than the other USA shows I have seen. A great new show about law enforcement who actually do effective work and it doesn't bog the viewer down with the standard procedural stuff. There is enough danger, intrigue, humor, and most importantly consequence to keep the episodes interesting even with some overdone drama. The acting and the entire show is believable in spite of the unlikelihood of an undercover house. Also there is a fun dog on the beach, though he doesn't get much screen time.

…

Expand

Surprised at how much I actually enjoyed this show. Found it quite enjoyable. Hope the rest of the season follows the pilot's formula. Some

Surprised at how much I actually enjoyed this show. Found it quite enjoyable. Hope the rest of the season follows the pilot's formula. Some may find it to be another cop show but like I said I was quite surprised, I didn't expect it to grab my attention so much.

…

Expand

If you love USA type show (beautiful people doing really interesting things), then you'll love this show. I personally think this one stands

If you love USA type show (beautiful people doing really interesting things), then you'll love this show. I personally think this one stands out because of it's combination of a normal procedural along with relationship intrigue. I disagree with the other reviewers saying there is nothing to connect to with the characters or the story when I think the actors do a good job, the stories tend to be strong, and the drama is good, especially for a USA show. Give it a chance, and you might find that you like it.

…

Expand

Okay, you can't deny it, the trailer was awesome. I think if you give it time, Graceland will grow to become an amazing show. Right now, you

Okay, you can't deny it, the trailer was awesome. I think if you give it time, Graceland will grow to become an amazing show. Right now, you can already see all the negative reviews. What Graceland lacks is a special something. A special something that defines the show. And by special something, I mean the story line, characters, and everything about it is a bit dry. There isn't that much humor. Okay, well you might say that humor isn't what a drama is for. Then, I will tell you that there isn't enough drama to make up for that. This show is slow moving too, that's why I say the show has a good chance to grow. The concept is a very good idea though.

…

Expand

Graceland is good, and that's probably the best thing I can say about it. The cast is generally unremarkable, and the whole thing has a very

Graceland is good, and that's probably the best thing I can say about it. The cast is generally unremarkable, and the whole thing has a very USA Network feel, which isn't necessarily bad, it just doesn't have any substance to back up the style.

…

Expand

Unbelievable premised with unbelievable characters. Not one character was likeable. The actor playing Briggs is much too old to be a surfer

Unbelievable premised with unbelievable characters. Not one character was likeable. The actor playing Briggs is much too old to be a surfer dude. Why can't it feature women as lead characters for a change, or actors who are not impossibly pretty

…

Expand