Network:

ABC

Series Premiere Date:

Mar 27, 2005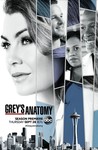 Creator:

Shonda Rhimes

Season 7 premiere date:

Sep 23, 2010

Episode Length:

60
Please enter your birth date to watch this video:
You are not allowed to view this material at this time.
Happily, it now seems to have landed on solid ground, with its best ensemble and most engaging stories in years.

It's in the shooting's emotional reverberations that the show is regenerating after the past few hit-and-miss seasons.

Grey has been on long enough now that it has lost much of its erotic sizzle--McDreamy is edging toward Mcnappy--but the satisfyingly steady seventh season is a model of a hit that keeps fitting nee characters into the blueprint. [20 Dec 2010, p.41]

Unfortunately, the best bits of the premiere were the flashbacks to the finale, though their impact was watered down considerably in the context of an action-less storyline, filled with Grey's usual rambling pontifications.

Unfortunately, they've settled on far-too-easy and facile answers for the most part.
After the season 6 finale of Grey's Anatomy I was extremely excited to see how Shonda would deal with the aftermath of heart wrenching

After the season 6 finale of Grey's Anatomy I was extremely excited to see how Shonda would deal with the aftermath of heart wrenching tagedy. I am happy to say that I have not been disappointed. The premiere was simply amazing in every aspect imaginable. The flashbacks gave viewers insight to what happened in the two month time jump and fit very nicely into the episode as a whole. The most important thing that you get from the premiere is that everyone is not okay, despite their efforts to hide their pain. Derek thinks he's invincible, Lexie is breaking down, Alex is reverting to his old dark and twisty ways, Bailey had to leave for 2 month vacation, Cristina is avoiding her feelings, and Meredith is trying to fix everyone but herself. Everyone's problems aren't going to just go away overnight and thatswhat was so good about the premiere. Nothing was completely dealt with but the stage was set for future problems that are bound to arise. The premiere really managed to set the stage for the rest of the season and I for one am looking forward to the rest of the season and believe that Grey's is just as good as it has ever been.

…

Collapse

Grey's Anatomy is the best television show of the 21st century. The medical drama collaborates drama with romance, comedy and even a bit of

Grey's Anatomy is the best television show of the 21st century. The medical drama collaborates drama with romance, comedy and even a bit of medicine manages to get in the mix! The chemistry between the cast members is phenomenal especially the long-standing relationship between Ellen Pompeo's character Meredith Grey and Patrick Dempsey's character Derek Shepherd. They have a presence that makes the viewer feel warm and themselves as actors have an exceptional chemistry, personally two of my favourite actors. Also the friendship between Meredith and Sandra Oh's character Cristina is welcoming and comedic. It has a great storyline thanks to the amazing creator Shonda Rhimes.

…

Expand

After a few bumpy seasons, I think the show really got back to where it started. The story lines feel fresh, and the interactions between the

After a few bumpy seasons, I think the show really got back to where it started. The story lines feel fresh, and the interactions between the characters don't seem forced anymore. I can truly say now that the show is as good as it used to be.

…

Expand

Just before the finale of season 6 I was ready to give up on this as I found it rather depressing and quite a step away from its earlier

Just before the finale of season 6 I was ready to give up on this as I found it rather depressing and quite a step away from its earlier light-hearted and funny roots so its good to see they are getting there again with Season 7.

…

Expand

Greys Anatomy has some good acting and very solid character development but that's about it. This show is pretty much a high budget soap opera

Greys Anatomy has some good acting and very solid character development but that's about it. This show is pretty much a high budget soap opera filled with cheesy dialogue and unrealistic situations. Last season's finale went to an all time worst when Greys decided to attempt to turn into an intense thriller...to mostly laughable results. A show like this doesn't deserve to be on anymore, it had its good days but those are over. Next time Greys Anatomy is on, change the channel to Fox and watch an episode of Fringe...then you'll know what a good t.v show looks like.

…

Expand

This review contains spoilers, click expand to view.

Pass me the sick bag doctor, i think i'm going to barf. I just watched the latest episode, season 7 ep 18; and the only thing worse than changing a colostomy bag is this episode. Why has it become a musical? stop singing so creepily, what a bunch of Glee rejects, George would turn in his grave! Doctors are supposed to make you feel better not sick. I puked all over the room when i saw this, and had to turn it off after 5 minutes. For the first time in my life i am jealous of people with altzheimers, i wish i could forget this episode. Neurosurgeons? talk about a lobotomy for the writers, what a load of mcsteaming pile of ___ (my dad says)!

…

Expand