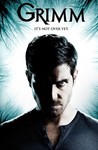 Starring:

Russell Hornsby

,

Claire Coffee

,

Silas Weir Mitchell

Summary:

More creatures are out to cause trouble to Nick, who continues to seek answers about his parents and the Grimm legacy.

Genre(s):

Drama

,

Fantasy

,

Horror

,

Suspense

,

Science Fiction
Please enter your birth date to watch this video:
You are not allowed to view this material at this time.
It's hard not to love a show with a comely apothecary, and it's impossible not to love the new season of Grimm.

The supporting cast was better used, there were occasional touches of humor beyond Monroe, they mythology didn't just feel like a retread of bits from "Buffy," "Angel," etc., and I even thought leading man David Giuntoli had gotten better.

The overall mythology is sprouting nicely thorny tendrils. [10 Sep 2012, p.42]

While it's not as consistently cheeky as Buffy the Vampire Slayer, the show does provide enough self-satirizing jabs to satiate cynics.
Good idea, charming characters. I saw 1st season in one breath and 2nd season is just as exciting. Beautiful actors in this cozy world of

Good idea, charming characters. I saw 1st season in one breath and 2nd season is just as exciting. Beautiful actors in this cozy world of fairy tales. Maybe its ratings will be higher if series creators add some actions.

…

Expand

The best 60 minute Television show in years and the only one that my whole family enjoys together! Very creative story lines that are very

The best 60 minute Television show in years and the only one that my whole family enjoys together! Very creative story lines that are very well executed.

…

Collapse

I love serial.
Now, the start is quite slow, but! It gets better and better.
The story is just amazing in my opinion and theI love serial.
Now, the start is quite slow, but! It gets better and better.
The story is just amazing in my opinion and the characters/actors are really really good.
I give this show a score of 10.

…

Expand

This show has come back better than ever. The new episodes since the long hiatus ended are spectacular and well worth watching. This is not

This show has come back better than ever. The new episodes since the long hiatus ended are spectacular and well worth watching. This is not your typical cop drama, and the back story is phenomenal.

…

Expand

This show is becoming so good, it has really evolved since the beginnings of season1. So glad I stuck with it. They are really building some

This show is becoming so good, it has really evolved since the beginnings of season1. So glad I stuck with it. They are really building some great characters and the cross episode story arc is shaping up nicely.

…

Expand

Season 2 continues the expansion of the Grimm powers and role.

Up until season three there has only been one Grimm (with an implied secondSeason 2 continues the expansion of the Grimm powers and role.

Up until season three there has only been one Grimm (with an implied second Grimm).

There can be only one does not apply here.

There are too few episodes per season although more than the pittance that socialist states offer (sherlock: 3/season)

…

Expand

This second season of Grimm has seen the show evolve from a confused pedestrian 'monster of the week'/ police procedural to having a more

This second season of Grimm has seen the show evolve from a confused pedestrian 'monster of the week'/ police procedural to having a more integrated and purposeful narrative with greater attention given to the larger story arc hinted at in Season 1. Ideas are sharper and characters are finally being developed. The special effects are still a little on the budget side but that can be forgiven given the wholesale improvement seen in the rest of the show. It seems Grimm has finally found its feet. Worth sticking with.

…

Expand