Network:

Netflix

Series Premiere Date:

Aug 20, 2014

Season #:

1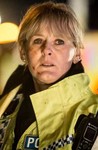 Summary:

While investigating a kidnapping case, West Yorkshire police sergeant Catherine Cawood (Sarah Lancashire) spots the man (James Norton) she believes drove her daughter to take her own life in this BBC drama.

Genre(s):

Drama

,

Suspense
Show Type:

Mini-Series

Season 1 premiere date:

Aug 20, 2014

Episode Length:

60

Air Time:

12:00 AM
Catherine's "patch" in Happy Valley may be more limited than the big chunks of Baltimore covered by Bunk and McNulty, but morally and emotionally, this fantastic drama goes deep.

There's enough depth and complication in the performances alone to buoy the six-episode run, and given the intensity of the criminal specifics, the slow burn feels more like a feature than a bug.

It's hard to do the show justice, honestly, based strictly on a description. But the characters are so sharply drawn and the situation so suspenseful that Netflix's famous binge function will likely be put to good use here.

For all its emotional agony and slow pacing at times, Happy Valley is always moving forward and the fifth episode explodes off the screen.

Happy Valley, in addition to being a smart and absorbing thriller, is a morality play, one in which the mystery is secondary (we know who did what all along).

At six episodes, Happy Valley is satisfyingly compressed.

The Brit-speak can be a wee bit difficult to decipher at times but the show is good enough to warrant giving your remote's rewind button a workout.
This is the best show of its kind that I have ever seen. It exists superbly on a number of different levels well beyond that of ma police

procedural. The acting and plotting is as close to a work of art as I think possible. The six episodes creates a depth of all the main characters including the criminals. Sometimes it's a bit hard to make out the dialogue but a quick rewind is certainly worth it. This show creates an involvement with the protagonist that will stay with me for quite a while. I've already watched it two times.

…

Expand

Excellent show, real raw emotions that you never felt was acting. As another reader said, "We need to fall in love with Sarah Lancashire". I

absolutely agree! She did not fail to amaze me because what emotion you expected of her, she completely blew you away by an opposite or totally unexpected reaction. Brilliant! As for her sister? She looks and acts as you would expect a person of her age to finally be a recovering heroin addict and if anyone knows a person who has drank or done drugs for a significant amount of time, they don't slowly become the 35 yr old or 50 yr old they should be because they really didn't grow up during the time they lost while doing alcohol or drugs, She fits the bill very well, looking to help and counsel others but on the home front she looks lost. Great cast, great show! Y oh Y only 6 episodes, tho!!!

…

Expand

I was saw this fantastic series when it was on British television during June and can honestly say that it is one of the finest television

dramas out there. A friend of mine summarised the first episode and it sounded intriguing, and I was hooked from there. The acting is all brilliant (with the exception of Catherine's sister who I, personally, didn't think was a patch on the others) and the dialogue is very believable.

A tense, dark drama that is a must-see.

…

Expand

First rate! Catherine, the police sergeant, is a solidly arresting character who carries the show with help of an excellent cast. Lots of

threads of nastiness are tied together to make Sowerby one less than happy valley. It's on Netflix. If you can catch this show -- catch it!

…

Expand