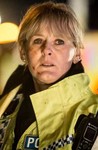 Starring:

Sarah Lancashire

,

Joe Armstrong

,

Siobhan Finneran

Summary:

While investigating a kidnapping case, West Yorkshire police sergeant Catherine Cawood (Sarah Lancashire) spots the man (James Norton) she believes drove her daughter to take her own life in this BBC drama.

Genre(s):

Drama

,

Suspense
Season 1 premiere date:

Aug 20, 2014

Episode Length:

60
Happy Valley is so effective at what it sets out to do, and so neat in fitting all its pieces together (up to the way the story's climax evokes a much milder incident from early in the series), that I'm a bit ambivalent about the fact that a second season has already been ordered. Lancashire is so good that I won't necessarily mind getting to watch more of her in this role, but this particular story is so unique to her in a way that no sequel season can be.

Catherine's "patch" in Happy Valley may be more limited than the big chunks of Baltimore covered by Bunk and McNulty, but morally and emotionally, this fantastic drama goes deep.

There's enough depth and complication in the performances alone to buoy the six-episode run, and given the intensity of the criminal specifics, the slow burn feels more like a feature than a bug.

It's hard to do the show justice, honestly, based strictly on a description. But the characters are so sharply drawn and the situation so suspenseful that Netflix's famous binge function will likely be put to good use here.

Happy Valley, in addition to being a smart and absorbing thriller, is a morality play, one in which the mystery is secondary (we know who did what all along).

The Brit-speak can be a wee bit difficult to decipher at times but the show is good enough to warrant giving your remote's rewind button a workout.
One of the best tv shows for NETFLIX USA viewers! Stunning performances crack open from the start of opening credits over JAKE BUGG's perfect

One of the best tv shows for NETFLIX USA viewers! Stunning performances crack open from the start of opening credits over JAKE BUGG's perfect song around this powerful crime drama that sets up a believable multi layered story within minutesof the first episode.
Acting lead character SARAH LANCASHIRE is top notch that should garner Emmy Award consideration. HAPPY VALLEY's set up starts to boil fast around an initial crime, that soon burns into kidnapping, secrets, revenge and twists.
HAPPY VALLEY plays better than most Oscar worthy films! I sure do hope NETFLIX picks up season 2 for American viewers and prmotes this hidden gem that is far better then its over hyped Orange Is The New Black.
What could be better in a program that quickly sets up Its criminal plot, all while it's victim drives her car innocently while singing along to KATE BUSH's music 'Weathering Heights' and 'Babushka' - a television first for American Viewers and I love every friggen tense second of it!

…

Expand

Set the subtitles and get yourselves set with drink, snacks, whatever so you watch this fine dramatic series. It's up there with Prime

Set the subtitles and get yourselves set with drink, snacks, whatever so you watch this fine dramatic series. It's up there with Prime Suspect and Sara Laurence is as good as Helen Mirren. Other actors equal quality. Music placed just so to push the dramatic tension. Overall excellent production. No spoiler, but the final scene of season 2 is a chilling lead to season 3. Can't wait!
PS- People might think happy valley is like a light hearted romp, that's why it's not getting views like it should.

…

Expand

This is a gem of a show with excellent acting. The action was so intense and real that you feel like you are there.

I did have to turn onThis is a gem of a show with excellent acting. The action was so intense and real that you feel like you are there.

I did have to turn on the sub titles to make sure I could understand the dialog, but this was well worth the effort.

My wife and I think that had this been made in the USA the producers would have made a 8-12 episode run. The six installments gave the perfect amount of time to tell this story.

I also was appalled to find out that the police are not allowed to carry guns. This fact makes this series really intense!

…

Expand

Fantastic show. I had some difficulty getting past the show's Fargo-esque(the movie) plot at first, but it distanced itself more and more from

Fantastic show. I had some difficulty getting past the show's Fargo-esque(the movie) plot at first, but it distanced itself more and more from Fargo as the series moved forward. Acting and writing is top notch, very evenly paced and not in anyway shape or form boring as one reviewer claimed. Not being english, I suppose subtitles might have come in handy from time to time, but even with some of the dialogue floating right over my head sometimes, the show is one of the best offerings anywhere, be it Netflix, Cable or network tv.

…

Expand

If you can bear the sometimes difficult to understand english, this show is really well done! The acting is really suberb. Although the plot

If you can bear the sometimes difficult to understand english, this show is really well done! The acting is really suberb. Although the plot line with the family strife didnt quite resonate with me, the plots surrounding the crime, the police investigation and the accountant who is regretfully taking part is all first rate. As a crime drama, it is heads and shoulders above most of the us shows.

…

Expand

Perhaps one of the best shows I've seen. The first season was outstanding and a roller coaster of emotions. The second season was a bit more

Perhaps one of the best shows I've seen. The first season was outstanding and a roller coaster of emotions. The second season was a bit more dark and and a bit more weak. A review can't do this show justice.

…

Expand

Within the first ten minutes of this show the lead character outs herself as a tart with loose morals, cheating on her current boyfriend and

Within the first ten minutes of this show the lead character outs herself as a tart with loose morals, cheating on her current boyfriend and sleeping with a married man. Can't really get behind a character like that.

…

Expand