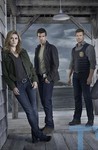 Starring:

Emily Rose

,

Nicholas Campbell

,

Eric Balfour

Summary:

FBI agent Audrey Parker (Emily Rose) arrives in a small town in Maine to investigate a murder in this series loosely based on the Stephen King novella, "The Colorado Kid."

Genre(s):

Drama

,

Action & Adventure

,

Fantasy

,

Horror

,

Suspense

,

Science Fiction
Creator:

Stephen King

Season 1 premiere date:

Jul 9, 2010

Episode Length:

60
Please enter your birth date to watch this video:
You are not allowed to view this material at this time.
The darker tone of Haven (including a haunting piano soundtrack) and reliance on paranormal, rather than technological, story elements form an ideal counterpoint to the wonkery of "Eureka."

As a cop drama, Haven--marred by busy and blurry story lines--is barely competent. But as a narrative of eccentric, slightly damaged yet ultimately warm characters, it's quite successful. The deadpan my-badge-is-bigger-than-yours needling between Rose and Bryant is particularly engaging.

Why, Haven, why?? Without the Balfour, this might have been a blandish but watchable "X-Files" derivation. With the Balfour, well, his time on screen did not increase my desire to check out this "Haven" in future.

King didn't actually write Haven but "developed" it for the small screen, which is a form of plausible deniability if things go wrong. With Haven--as somnolent as a summer afternoon--they most likely will.

Such a winning cast of characters and sharp dialogue deserved better than a midshow derailment, however.

A ludicrously see-through supernatural crime drama that wastes a perfectly fine performance from Emily Rose as an FBI agent who tracks an escaped convict to a Maine town.
This is one of my favorite sci-fi TV shows. The story centers around the strange events that occur in a fictional town in Maine. The town has

This is one of my favorite sci-fi TV shows. The story centers around the strange events that occur in a fictional town in Maine. The town has a very puzzling and bizarre history and many of its inhabitants suffer from specific afflictions (called "The troubles") that often give them unwanted or dangerous powers. The protagonist of the series is an FBI agent, Audrey, who follows an escaped convict to the town and ends up staying after discovering that her past is somehow connected to the town. Haven has a unique story with a well-developed plot and great cliffhangers at the end of the 2nd season. The acting is terrific and the chemistry between the three main characters (Audrey, Nathan and Duke) is a big draw. I'm really surprised that it isn't on one of the major network stations in the USA.

…

Expand

I absolutely love this show. The production quality isn't as high as many of the bigger shows, but what they do with what they have is

I absolutely love this show. The production quality isn't as high as many of the bigger shows, but what they do with what they have is awesome. To many shows that have lead character as a female make is overly sexual. While the lead female is beautiful, she is smart and can rely on things other than her looks. It is a puzzle show that delves into the supernatural. Based somewhat loosely off of the Stephen King Novel "The Colorado Kid", it has just enough suspense and horror to not turn it into a slasher flick. Like usual the critics give one of my favorite shows mixed to negative reviews. I own all the seasons and will continue to buy them.

…

Expand

This review contains spoilers

, click expand to view

.

The series finale of "Haven" was both well written and acted. At first I was leery when William Shatner was cast as the evil force behind the 'troubles' but Shatner pulled off the role well. Another surprise was the loss of some of the main characters: Dave and especially Duke Crocker. There were some tender moments when Dwight was reunited with his dead daughter while emotional ones as Audrey told Nathan she could never return after going into the void with her father and Vince. But we knew that nothing could separate those two as another "Parker" appears and the show ends up with both her and Nathan driving off to Haven. "Haven" had its 'run' and it was time to end the show. This viewer was pleased with the outcome.

…

Expand

7.6 out of 10 is a bit much for this show TBH. I don't find it all that interesting. I don't know if it's the characters or the writing, or

7.6 out of 10 is a bit much for this show TBH. I don't find it all that interesting. I don't know if it's the characters or the writing, or just a combination of the two, but there's much better TV out there than Haven.

…

Expand

This review contains spoilers

, click expand to view

. I came to this show being a fan of Supernatural, Grimm, and the X-Files. I wasn't expecting a well written gem... just an entertaining sci-fi show. After watching the first episode, though, the writing stuck out... in a very, very bad way. The show begins with Audrey (could barely remember her name) driving to Haven to catch a criminal we don't know much about... by herself. She crashes on a bridge, and this is where things get really bad.

Half of her car is dangling off the cliff. She isn't the least bit paniced. She actually turns off the radio while her car is dangling there. I thought "maybe this show is supposed to be a comedy", but it isn't. But it gets worse... a guy comes and asks her if she needs help. While her car is sitting there about to fall off the cliff. She says no... this is not a time normal people joke around, yet they're doing it.

So he pulls her out anyways, and the car crashes. I didn't think it could get any worse. I was very wrong. He sees that she's wearing a gun on her belt and they draw on each other. What the He saves her life, then pulls a gun on her for no reason. They begin asking who the other one is. The terrible writing is so thick here that it's pathetic.

So later on in the episode, she gets thrown into the ocean unconscious after a power box explodes. She gets rescued by a smuggler... and when she wakes up, she's not the least bit disoriented. Her first question is "where are my clothes?".

Unfortunately the entire first season is like this. The characters treat life or death situations like they're some big joke, they do things that make no logical sense, and they jump to ridiculous conclusions. The only part of the movie where they show emotion is during the "romantic" scenes. And they're so overacted that it might as well "the bold and the beautiful 2.0". It's thicker than a soap opera.

This type of writing just bores you. The characters never really fear for their life, so why should you? I think a good way to describe this show is smallville meets ripoff of xfiles.

…

Expand

This review contains spoilers

, click expand to view

. I feel like this show started strong, what with its very strange mysteries and "What's the deal with this **** setting, then like a deflating balloon it died and flopped on the ground as the writers struggled to make something coherent. I like being led on crazy drug induced surrealist frenzies, but Haven tried to make sense of its own madness and that worked out as well as you'd think. On top of that, the writers cannot tie up a story without killing someone. You'll very quickly be able to point out who is going to die in an episode. By the end, if you manage to make it that far, you'll wonder how the entire population of Haven isn't in a cemetery.

At the very end of the show in the last season, the last few episodes, I was begging for something to make sense, hoping that they'd find a way to tie all this bat**** nonsense together. Instead William Shatner appeared and began to spout exposition that made as much sense as me taking a dirty toilet brush, dipping it in paint and jamming it into my ears while I chug radiator fluid.

…

Expand

This show quite literally makes no sense. Absolutely awful, so in this universe, emotion causes these "troubles" and everyone knows it, yet

This show quite literally makes no sense. Absolutely awful, so in this universe, emotion causes these "troubles" and everyone knows it, yet not 1 person tries in anyway to control or suppress their emotions. You could poke a million holes in the plot and story line in just 1 episode it's amazing how anyone can watch this bollocks for longer than 10 minutes.

I just watched the police department and I'm assuming fire department try and rescue some people stuck in a boat, they didn't actually do anything but stand around the boat talking and tying lines to attach it to the harbor. The fire department never tried cutting their way through into the room the people where stuck in, yet the metal was so thin a daughter could speak to her dad clear as day through the metal.

Every one inside the boat is crying and screaming apparently oblivious that emotions cause these "troubles" and even the dad who caused it himself with his emotion is scared like a **** complete dumb ass, he doesn't understand that by controlling his emotions the whole entire situation would just end.

WTF IS THIS SHOW?! YOU PEOPLE SHOULD BE **** ASHAMED.

…

Expand