Network:

Syfy

Series Premiere Date:

Jan 10, 2014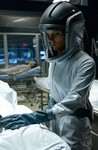 Starring:

Bill Campbell

,

Hiroyuki Sanada

,

Kyra Zagorsky

Summary:

The sci-fi series executive produced by Battlestar Galatica showrunner Ron Moore finds Dr. Alan Farragut (Billy Campbell) of the Centers for Disease Control leading a group of scientists to Arctic Biosystems, an arctic research facility, to investigate a possible disease outbreak.

Genre(s):

Drama

,

Horror

,

Suspense

,

Science Fiction
Please enter your birth date to watch this video:
You are not allowed to view this material at this time.
The story is an edge-of-your-seat kind of thriller. Clues are dropped, but you never know what's coming next.

Created by Cameron Porsandeh, it's a delicate balancing act [between science and thrills], but the two-episode premiere (airing with limited commercials) and a subsequent hour--enhanced by Campbell's stiff-upper-lipped performance, and the clever promo slogan "Play God. Pay the price"--dangle enough DNA strands for a discerning audience to want to see where they might lead.

The first two hours go at a brisk, thrilling pace that allows for character development as well. A lot happens and there's a desire for more.

It may not be not the most original premise, and the supporting cast leaves much to be desired (with the exception of droll Catherine Lemieux as a feisty veterinary pathologist), but Helix creates an intense atmosphere of dread and fear in which a fade to snowy white can be as scary as the deepest black.

If it doesn't match "Battlestar" for ambition or poetry or sparkling dialogue--to judge by the three hours available for review--it's well-made, solidly scary and disturbing all the same.

The series still has several marks against it--particularly in the acting and dialogue columns--but good sci-fi shows are thin on the ground right now, and there's just enough that works in Helix to make it worth following for now.

There's nothing all that original about Helix, but it works well enough. The script gets bogged down in soap opera suds from time to time, especially when it involves the love triangle.
Show has a real sense of mystery and suspense that really hooks you early in the first 3 episodes. Makes you want to stick around and see what

Show has a real sense of mystery and suspense that really hooks you early in the first 3 episodes. Makes you want to stick around and see what happens. Really looking forward to see what the writers come up with next.

…

Expand

A 9 is too high for this show but I think a 6.0 is so incorrect that I am giving it a 9. Firstly, this show is entertaining. It's fun and

A 9 is too high for this show but I think a 6.0 is so incorrect that I am giving it a 9. Firstly, this show is entertaining. It's fun and interesting to watch. The science is actually pretty accurate sometimes and the ideas are interesting as well. They even got the pupil dilation with the morphine injection correct (Unlike Requiem for a Dream. The characters are pretty good but could certainly use some more depth and background. Normal isn't interesting, the show seems to grasp this with the overall plot but not with he characters. Each character has quirks like any human being, but this is television, so making things more dramatic and interesting is good and fun to watch, and thus it would have been nice for some of the main characters to be a greater extent of abnormal. The show is predictable at times, and unpredictable on rare occasions thus far, but that's fine with me. It's great entertainment overall.

…

Collapse

The dialogue can be a little cheesy, and the story line a little far fetched, but the show has proved to be exciting and unpredictable. I

The dialogue can be a little cheesy, and the story line a little far fetched, but the show has proved to be exciting and unpredictable. I really find myself looking forward to this show on Friday nights.. I wasn't sure after the first episode or two, but I am definitely hooked.

…

Expand

Helix's first two episodes may cause some major eye rolling, but one thing's for sure: this show can get intense as hell. Almost nothing is

Helix's first two episodes may cause some major eye rolling, but one thing's for sure: this show can get intense as hell. Almost nothing is original but it doesn't dull the atmosphere too much. This is a budget TV show but the make-up is outstanding; although, the CG scenes annoyed me.

Good Sci-Fi shows aren't overly common so it's good to see this show showing us at least a little promise. So-so casting, directing, and a silly love triangle are all prevalent flaws, so here's to hoping the show comes into its own and delivers.

UPDATE:

With the intensity steeply dropping off with each entry, I'm finding it harder and harder to justify tuning in each week. The dialogue here is beyond hackey and I can't stand another minute watching these characters. Not to mention, the bad CG has gotten to a point of annoyance. I'm dropping this show but I MAY possibly catch up later if later episodes get high acclaim. But I'm not seeing that as a strong possibility.

…

Expand

Helix is disappointing ...
'Visually' the series has a realistic look to it ... but that is it for realism ... the CDC scientists and otherHelix is disappointing ...
'Visually' the series has a realistic look to it ... but that is it for realism ... the CDC scientists and other medical professionals behave as amateurs ... it's a joke ...
It seems to me that this is a Horror/Sci-fi show with the usual suspense and thrills expected of this genre so for those interested in this type of program it's OK ... but there is little accuracy /realism ...
I enjoy science fiction so I was disappointment in the first episode .. I may or may not continue watching the rest ...

…

Expand

This show is so much alike battlestar galactica (from the same guy) that I kept looking for cylons during the all first episode. It has just

This show is so much alike battlestar galactica (from the same guy) that I kept looking for cylons during the all first episode. It has just about the same strengths and weaknesses. This is probably why I could not enjoy it. lots of questions, not a small answer to be expected before long. I will not bother to wait for answers considering how disapointing battlestar's were to me.

…

Expand

Fully Potted nonsense. Hair-raising story. Pathetic bad television. Even the actors seem completely amateurish in this environment. If nothing

Fully Potted nonsense. Hair-raising story. Pathetic bad television. Even the actors seem completely amateurish in this environment. If nothing helps, helps only completely exaggerated facial expressions. If I did not know the actors from other series, I would think porn actors trying to be a serious actor.

Outstanding bad play:
Mark Ghanimé and Meegwun Fairbrother.

But also the others can not allude to the bad script.

…

Expand