Network:

Netflix

Series Premiere Date:

Apr 19, 2013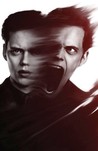 Summary:

Roman struggles with his transformation as Peter is drawn back to his family in the second season of the horror series.

Genre(s):

Horror
Season 2 premiere date:

Jul 11, 2014

Episode Length:

45
The gore is inventive, but after the billionth bloodbath, there are still as many narrative loose ends as ever. When the story doesn't hold, even the jugular geysers feel boring.

The new episodes are mediocre in terms of plot and character development, but they're also consistently paced, and no longer bogged down by exposition.

Mostly, the show exists for its gross-out moments, always a staple of the latenight TV/movies-studios-don't-screen-for-critics circuit. Still, it's not like there's a shortage of places to find either, and the plotting is so haphazard there's scant incentive to hang around for this season's 10 hours.

It is lurid and heated (which "Extant" could use more of) but it's also just ridiculous and filled with awful dialogue spouted by characters about whom it is impossible to care.
This is like Anne Rice meets Stephen King . This thriller series is one of the best I have seen in a long time . Sorry True Blood but there is

This is like Anne Rice meets Stephen King . This thriller series is one of the best I have seen in a long time . Sorry True Blood but there is a new show in town . I give the acting and casting a 9 and plot and storyline a 9 and give it a 10 overall for bringing them together . Bill Skarsgård (as Roman Godfrey) and Landon Liboiron ( as Peter Rumancek) have shown there is a future for young Hollywood. The only bad thing I have to say is 10 episodes for season 2 really ? This show leaves you wanting for more and I am already wanting to see season 3 .

…

Expand

To say I am surprised by low score given to the show by the critics is to say nothing. It is one of the most enjoyable shows I have ever

To say I am surprised by low score given to the show by the critics is to say nothing. It is one of the most enjoyable shows I have ever watched with interesting characters and, most importantly, a good mystery at the heart of it all. The show started in a way that suggested a cliched YA drama but quickly it steered away from the beaten path into the territory of inventive and delicious weirdness.

As was suggested by another reviewer, this is a show in its own category, there is nothing quite like it out there now. Most, if not all, current high-budget dramas Hemlock Grove gets compared to, are tired unimaginative milk cows for the networks. This one I find infinitely more inspired and entertaining.

…

Expand

I love it! it is totally crazy, exciting and I can wait to see season season 1 started off a little slower but season 2 is amazing. really I

I love it! it is totally crazy, exciting and I can wait to see season season 1 started off a little slower but season 2 is amazing. really I love it all. i can under stand who the critics are?

…

Expand

I happen to think the show is awesome. Well written & the characters are all lovable; even the evil ones. Couldn't wait for season 2 & now 3;

I happen to think the show is awesome. Well written & the characters are all lovable; even the evil ones. Couldn't wait for season 2 & now 3; let's hope it's not as long a wait this time!!! One of the best shows ever made in this genre, streamed or televised; just wish the seasons were longer, more episodes!

…

Expand

I loved these two seasons. This one has more action, but the story was a little short of my expectations. Although short was amazing,

I loved these two seasons. This one has more action, but the story was a little short of my expectations. Although short was amazing, recommended! Waiting for the third season ...

…

Expand

I just finished the second season...and all I can say is WOW. What a mind-blowing finale. I was literally screaming at the screen, begging

I just finished the second season...and all I can say is WOW. What a mind-blowing finale. I was literally screaming at the screen, begging things to happen/not happen. It is intense, full of mystery until the end, and personally, I found this season to be way better. Season one was awesome, don't get me wrong, but Season two was everything I was hoping for and more. The acting is pretty great, and I liked how much closer we got to the characters. Also, the focus was not on just werewolves this time but instead, focuses on a broad range of other horrors that surround Hemlock Grove This finale absolutely broke my heart and has me wanting Season 3 to begin much sooner than later. A really, really cool show. Can't wait to see how this story will unfold.

…

Expand

*Warning spoilers ahead*

I really liked the first season and i immediatly watched season two when it was released. Unfortunately the*Warning spoilers ahead*

I really liked the first season and i immediatly watched season two when it was released. Unfortunately the second season turned out to be very unlike the first and very poorly directed.

All the new charecters have very little depth, and often do things that make no sense in order for it to fit into the plot. The character Miranda is a victim of this, she continually changes her mind when it fits the plot. The further you go into the season the more obvious it is that Miranda is not actually meant to be a meaningfull character but just a plot device

But even overlooking the fact that all the new characters in the show are very poorly written, the show has no consistency and doesnt expand or explain many of the mysterious things going on. Everything appears to happen randomly, in fact so random that the only meaning that can be applied to the events is that it fits the plot, which is still nonexistant.

The show also does many things that makes it hard to immerse yourself into the universe. For example at one point in the movie the characters need help from an old woman. They need her to help identify someone so they bring her a paper with suspects and numbers below. Instead of merely pointing, or telling them the number she writes it with her own feces on the wall.

Instances like these ruins the universe and makes it hard to take anything in the series at anything but face value.

And dont even get me started on the ending....

…

Expand