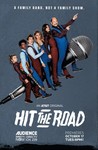 Summary:

Ken Swallow (Jason Alexander) takes his family that includes his wife Maggie (Amy Pietz), daughter Ria (Natalie Sharp), oldest son Sam (Nick Marini), adopted son Jermaine (Tim Johnson Jr.) and youngest daughter Casey (Maddie Dixon-Poirier), on a tour bus to become the next great family band.

Genre(s):

Comedy
Season 1 premiere date:

Oct 17, 2017

Episode Length:

30
[Hit the Road] seems compelled to revel in sophomoric toilet humor and sex jokes. ... Hit the Road does hit some high notes with clever writing and a few laugh-out-loud moments--abetted by good chemistry between Alexander and Amy Pietz as Ken's wife, Margie "Meg" Swallow.

Hit the Road is relentlessly broad and determinedly offensive. It's also quite funny in fits and spurts, primarily when Alexander is throwing the fits and having the spurts.

The self-satisfied comedy can't get enough of the family name's innuendo--get it? Swallow?--nor the dull contrast between the Swallows' wholesome public image and cynical private life. They make for tiresome company. [20/27 Oct 2017, p.86]

Simply baffling. ... Hit the Road is like "The Partridge Family" in the upside down. While Alexander is still masterful at getting laughs, there is a cynical quality to the series that takes the fun out.

The concept of the family band as the un-Partridge Family isn't terrible. The execution is. The humor is nonexistent, the raunchiness misfires, the characters are tiresome, the scripts are childish and the performances embarrassing.

It's very bad. ... Yes, Hit the Road is raunchy and puerile, which hardly need be damning on its own, but it's also coarse and ugly.