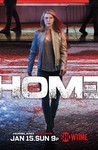 Summary:

Carrie is working with a foundation in New York to help Muslims living in the US as the first female president, Elizabeth Keane (Elizabeth Marvel), sets out to enter the White House.

Genre(s):

Drama
Season 6 premiere date:

Jan 15, 2017

Episode Length:

60
Please enter your birth date to watch this video:
You are not allowed to view this material at this time.
The first two episodes promise a contemplative sixth as opposed to a shock-and-awe one.

It's in these studious details that Homeland gains its veteran edge. By Season 6, we know these characters quite well. The extreme situations surrounding them force development and drama, but the writers know to craft seemingly innocuous dialogue that cuts deep or casually incorporate key details that come back in a big way.

It's smart writing for smart characters. Six seasons in and Danes and the writers keep Carrie a complicated character who sometimes does the wrong thing.

The first two episodes set up enough surprises and double-crosses to suggest a promising new season.

Homeland might have learned how to turn its history into an asset, but it also can't escape the fact that, like most shows with long runs, it can do little to surprise us anymore. Danes keeps Carrie watchable through the sheer force of her charisma, and Patinkin is always a treat.

Ultimately, Homeland's first two episodes do enough to earn your interest. But it feels a lot like Quinn: haunted by the past, disoriented in the present, and perhaps incapable of moving into the future.

The overwhelming sense of a work drained of vitality-- of a series once rich in suspense of the most brilliantly imagined kind, especially in the past two seasons, now flattened, on the evidence of the first episodes, to a deadly predictability, all of it the inevitable result of works dedicated to sermonizing.
This season's gripping narrative feels more significant of our times, than HOMELAND ever has. The terrorist insurgencies and obviously Claire

This season's gripping narrative feels more significant of our times, than HOMELAND ever has. The terrorist insurgencies and obviously Claire Dante's outstanding performance. What more would you need from this show.

…

Expand

Season 6 is maybe the best season so far. It is thoughtful and visionary, surprising and... depressive. Like a good wine, it gets better with

Season 6 is maybe the best season so far. It is thoughtful and visionary, surprising and... depressive. Like a good wine, it gets better with age. Bravo!

…

Expand

As in season's past, the first few episodes lay the foundation for the season. The fatigue of war in the Middle East is examined. With a new

As in season's past, the first few episodes lay the foundation for the season. The fatigue of war in the Middle East is examined. With a new administration, how do we handle war, spying, terrorism, while keeping the homeland safe and remaining a free society? This show remains relevant.

…

Expand

This review contains spoilers, click expand to view. While I have greatly enjoyed Homeland over the years, this year seems like a blizzard of leftist talking points with a plot line thrown in. Whether it's Saul lecturing his Israeli sister over the settlement that she lives in, or alleged American war crimes being presented as fact, the ravages of PTSD, the Iranian nuclear deal actually being taken seriously, etc. etc. etc., it's just a bit heavy on the preaching.

Will still tune in out of habit, and to see if twists balance out the obvious political slant to the writing, but I'm almost at the point where I'll just cut to the chase and read the latest from Buzzfeed instead.

…

Expand

Very sad and disappointed by what this series has morphed into. Are they caving to certain interest groups? Do they feel the need to take on

Very sad and disappointed by what this series has morphed into. Are they caving to certain interest groups? Do they feel the need to take on what they don't understand (but think they do) about the 2016 election? Most people don't have a problem with reflection on the murky work of counter terrorism, and finding a policy that is effective. But the notion that an Alex Jones like character is working with the CIA is truly preposterous. This was once a great show.

…

Expand

After three episodes, I'm calling Time of Death. This is the most pathetic start to "Homeland" in its five seasons. It's boring, plodding, and

After three episodes, I'm calling Time of Death. This is the most pathetic start to "Homeland" in its five seasons. It's boring, plodding, and tainted with more political crap that none of us wants to deal with after the insane election of 2016. Whoever drew up the architecture for this season is to be fired. But that's just me. If you want to see Carrie as a mommy, as a Muslim sympathizer, and a surrogate to a Hillary stand-in, then knock yourself out, but this isn't the same series it's been to now; and it's likely the final season. I don't see a renewal after this travesty. Movin' on.

…

Expand

If you look at the negative reviews they generally say the same thing - pathetic politically correct meandering show with a pro-Muslim,

If you look at the negative reviews they generally say the same thing - pathetic politically correct meandering show with a pro-Muslim, pro-liberal anti-right political agenda. A general wailing and gnashing of teeth about how the show used to be about terrorists now it's all sermonising about how poor Muslims are the victims, assumptions made Hilary would win etc etc.
Which is all completely accurate - I would just like to add how boring and slow it is compared to older seasons, and how it is now stuffed full of Hollywood moments which are just completely unbelievable and make no sense.

…

Expand