Network:

Showtime

Series Premiere Date:

Oct 2, 2011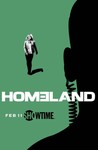 Summary:

The arrest of 200 intelligence officers (including Saul) by President Keene (Elizabeth Marvel) finds Carrie working against the White House and uncovering a conspiracy.

Genre(s):

Drama
Season 7 premiere date:

Feb 11, 2018

Episode Length:

60
Please enter your birth date to watch this video:
You are not allowed to view this material at this time.
Creating a compelling narrative from real-world parallels has always been a specialty of the Showtime drama, but this year feels particularly aggressive.

The Homeland premiere captures the uncertain, unsteady mood of the nation, without any especially perceptive pieces of headline-ripping. ... Despite some outsized acting and the large implications of Keane's actions, on a narrative level the Homeland premiere is decidedly small.

The Showtime drama remains plenty watchable with its cloak-and-dagger machinations, but it's hard to envision anyone lamenting that the finale came too soon.

As the light of democracy dims, Carrie has become more manic (understandable), and Saul more resolute. The world has turned upside down, and only they can set it right. We know they'll eventually save the presidency, hopefully the president, too. We know real news will eventually prevail over O'Keefe's incendiary fake variety. We know all this, but we also suspect the ride would be a lot more fun if Peter was along for it.

The season 7 devolves into melodramatics (an assassination!) where real drama used to simmer. [2/9 Feb 2018, p.90]

Fans will be happy that this involves the resurfacing of Carrie's spycraft, and it's a pleasure in the season premiere to watch her pulling her gear out of hiding, or duck into a hotel room and put on a disguise--it's like she's getting back into her own skin. On the downside, it also means that she's back to willfully endangering the people in her life, a trait that could be seen as a complexity of character but has always registered as an unpleasant distraction.
Believable, credible, thrilling to watch. Great drama! Who the hell would ever do that job!

Bring on season 8 !

It had lost direction and appeal. This season Yevgeny (Costa Ronin) and the Russian subplot saves the show.

Apart from the very annoying Claire Danes and the French ouble agent, all the other acting is pretty good. Patakin is really great. The pace

Apart from the very annoying Claire Danes and the French ouble agent, all the other acting is pretty good. Patakin is really great. The pace of the series and the credibility of the plot is also superior to the last few seasons. Not bad. The show is underrated at this point

…

Expand

Seven seasons in, Homeland has already lost its original authenticity but simply a 24-like spy show with bipolar Carrie Mathieson's lone wolf

Seven seasons in, Homeland has already lost its original authenticity but simply a 24-like spy show with bipolar Carrie Mathieson's lone wolf rampage against a president who is paranoid by an assassination plot that is ill-planned and unnecessary in the first place. It seems like the writers of the show does not have creative ideas anymore to make the show look politically important rather than mere entertainment.

…

Expand