Network:

Showtime

Series Premiere Date:

Oct 2, 2011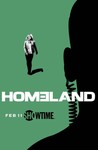 Starring:

Mandy Patinkin

,

Claire Danes

,

Damian Lewis

Summary:

Six months after the end of last season, Carrie has returned from treatment to live with her family and Brody is given an opportunity to run for a higher office.

Genre(s):

Drama
Season 2 premiere date:

Sep 30, 2012

Episode Length:

60
Please enter your birth date to watch this video:
You are not allowed to view this material at this time.
The series' thriller engine turns on, turns over and begins to purr.

Without a doubt, Homeland is the best drama on TV right now.

The show hasn't lost its clever agility at building pressure-cooker suspense and then lobbing in a surprise. [8 Oct 2012, p.55]

Despite its depth and ambition, this is one great drama that never becomes cumbersome--it never feels like a chore imposed upon us by the God of High TV Art.

From the edge of your seat, you wonder if they can possibly keep topping themselves. Based on the first two episodes, the answer is a resounding and brilliant yes.

Given the extravagances of the plot and the characters, that it feels plausibly seated in the real world is a testament to everyone involved in its production. But it is especially due to the actors.

Even when the spy-thriller plot gears are audibly grinding, the acting remains expertly calibrated.
This is one of my favorite shows ever. The writing makes the story line so real. The actors are all exceptional but Claire Danes's

This is one of my favorite shows ever. The writing makes the story line so real. The actors are all exceptional but Claire Danes's performance is good beyond words.

…

Expand

The first season of Homeland began with an interesting premise, and ended on a fantastic note. The second season builds upon the successful

The first season of Homeland began with an interesting premise, and ended on a fantastic note. The second season builds upon the successful elements of the first season, chiefly the suspense and a strong cast of characters, both leading and supporting. It was truly a work of art. Claire Danes affirms my belief that she is one of Hollywood's most dedicated actresses. She portrays an individual suffering from bipolar disorder with laudable accuracy and pure realism. With a riveting start, I am positive that the season will continue to feed my fascination and appetite for excitement. I do not expect for there to be a dull moment.

…

Expand

Breaking bad and this show are way above anything else currently on television. Amazing everything. Do yourself a favor and check out the

Breaking bad and this show are way above anything else currently on television. Amazing everything. Do yourself a favor and check out the show. The critics are dead on.

…

Expand

The show is still great, but it begins to fall apart in this season. Way too much romance and no enough plot development to get this show

The show is still great, but it begins to fall apart in this season. Way too much romance and no enough plot development to get this show going, but it is still good

…

Expand

Homeland is one of the stronger shows on TV at the moment. The second season takes a few episodes to finds its groove again and suffers

Homeland is one of the stronger shows on TV at the moment. The second season takes a few episodes to finds its groove again and suffers throughout from instances of Carrie's hotheadedness and inability to follow orders. I really struggle to believe that such a liability would be employed by the CIA, but hey it's just TV.

The events of the first episode The Smile are just about as contrived as possible to bring Carrie, who finished the previous season having electroshock therapy, back into the fold at the Langley. Once Carrie is back, the momentum of the show shifts hugely, one of two shifts in this season, as evidence comes to light that Brody is a terrorist and more importantly that Carrie's theories were correct. Considering the events of the first season and also Carrie's flirtation with suicide in State of Independence, this is a pretty major change in direction for the show as Carrie is no longer alone and frustrated and receives the support (and apologies) of Saul and Estes. The second change in momentum is perhaps even greater and brings Brody into the CIA operation to target Abu Nazir. These shifts keep the show fresh and intriguing and both are delivered in true dramatic Homeland style. The episode Q&A features some great scenes between Carrie and Brody, delivered with great intensity by Claire Danes and Damien Lewis. Even following Brody's switch, the writers manage to retain a sense of distrust and ambiguity over Brody's actions to drive the show forward. He clearly gets away with one act of terrorism during the final episodes but is he responsible for another?

Carrie's health demons play less of a role this time around, instead her relationship with Brody picks up a few gears and there are certainly shades of Romeo and Juliet, as two star crossed lovers who can never truly be together. Mandy Patinkin's understated Saul is one of my most favourite characters on TV.

Steering into 24 territory (unsurprising considering the show's writers), the season ends with a big bang in the fantastic finale The Choice with major consequences for all the major characters.

…

Expand

I havet to agree with the folk who say that Claire Daynes overacts and spoils the show. Sure, she is playing a conflicted and bipolar

I havet to agree with the folk who say that Claire Daynes overacts and spoils the show. Sure, she is playing a conflicted and bipolar character BUT she has so many teenage mannerisms (twitching, moving her head from side to side, gurning, blatantly showing every emotion etc) that you just wonder how she could even grace the desk of an institution such as the CIA let alone be called 'best field agent that they have'. I am a latecomer to the whole 'Homeland' affair and I am into season three as I type. I do like the show, even giving Season 2's plunge into 'gung-ho'-isms but, as I work through season three and know that Brody will be no more, I am not sure that the fact that Saul will still be there will keep me watching.......I find Claire Daynes. acting style intensely annoying.......

…

Expand

As a very dedicated Emmys fan, I really like to go all out, insanity wise, and watch every episode of the current season of every show up for

As a very dedicated Emmys fan, I really like to go all out, insanity wise, and watch every episode of the current season of every show up for the comedy and drama awards. I did so last year, with this show, season one, and sure, I was impressed. Definitely more so than my personal all-time fav Breaking Bad's fourth season (which seems camp compared to its fifth), and I'm glad it won in Sept. But this season is all but impressive, especially in terms of the standards that it set for itself last year. I really hope in its already confirmed third season the bar the raised. More than hope even, but I suppose some things aren't really meant for anything more than two or three cheap tricks and three months of fun. A one hit wonder, if you will. Anyways, I will be disappointed to tears if this season is nominated for anything, even something as trivial as a meaningless technical award and wins. Was last season worth all the awards? Sure. This season? Absolutely not. Calling it anything over a one or two would be an outright lie.

…

Expand