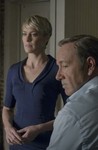 Summary:

The US remake of the 1990s British political miniseries moves the shenanigans to Washington DC. After learning he won't be appointed to a coveted Cabinet position, House Majority Whip Francis Underwood (Kevin Spacey) and his wife Claire plan revenge on the administration he helped elect.

Genre(s):

Drama
Show Type:

Between Seasons

Season 1 premiere date:

Feb 1, 2013

Episode Length:

60

Air Time:

12:00 AM
Watch at whatever pace you'd like--immediately. Given its quality, I think you'll be drinking it all in sooner rather than later.

It's a heavyweight new contender in the drama category, just as Netflix now is as a content provider.

Deeply cynical about human beings as well as politics and almost gleeful in its portrayal of limitless ambition, House of Cards is a wonderfully sour take on power and corruption.

It's beautifully filmed in and around Washington, D.C., it's well-acted, and it's cleverly written by Beau Willimon.

I found the first two episodes handsome but sleazy, like a C.E.O. in a hotel bar. Yet by Episode 5 I was hypnotized by the show's ensemble of two-faced sociopaths. Episode 8 was a thoughtful side trip into sympathy for Spacey's devilish main character, but by then I was exhausted, and only my compulsive streak kept me going until the finale--at which point I was critically destabilized and looking forward to Season 2.

Fincher's unemotional style comes through in the first two episodes, and the show could use more heat. But Spacey makes it worth watching.

This series is about as inside-the-Beltway as Fiji, and Fincher's main plan to compensate for the stupidity level is to have the gentlemen whip off their glasses and the ladies whip off their clothes.
Absolutely amazing! Loved it, from the beginning to the end of the first 2 episodes I've watched. It has the David Fincher mood in it, Kevin

Spacey's constant neutrality in every bit of the show in a really cold blooded character, and the fluidity in which the story unfolds. Seriously, great show, watch it if you can, or get 1 month free on Netflix just to watch this. Best premiere I've seen in a series for a LONG time, maybe the best since Breaking Bad.

…

Expand

House of Cards did not let me down, the show which delivered an incredible almost cinematic presence in my own home simply glowed. House of

Cards follows US Representative Frank Underwood who after being refused a promotion he was promised moves forward to exact revenge on those who betrayed him.

As I said before the show itself presents itself in an almost cinematic persona. From its camera shots to its darker color scheme, the show has such a big onscreen presence that for all I knew I could have been in a cinema while watching this addictive thriller. The great thing about Netflix making an original drama is it gets rid of the weeks of waiting to find out what happens next, all I have to do is watch about 15 seconds of credits and it will jump straight to the next episode. It's brilliant.

The show itself contains heart-stopping acting, I could actually see Kevin Spacey being Frank Underwood, there was no hint of who any of the actors where in real life, every single one of them put in such strong performances that I just had to see what they were going to do next. Not a single shody actor in the whole series.

The show is written and directed to perfection. With the first two episodes directed by David Fincher they are just obviously sublime. Despite David Fincher not directing any of the other episodes there is no decline in quality, he might as well of directed them all. The show continues on the high standards it started on while continuously upping its anti in entertainment value.

With great twists and turns House of Cards will keep you on your seat and wondering is 15 seconds to long of a wait for the next episode?

…

Expand

I haven't seen a show this good in a while. House of cards is beautifully written and the cast does a stellar job acting. The show gets down

to the gritty and realistic side of politics. Kevin Spacey's character has a lust for power and will do anything to get to the top often betraying his friends and bending the truth to come out ahead. This is one of those series that truly leaves you on the edge of your seat and wanting more. I am still waiting for them to green light a second season. This is one of the reasons you should get Netflix.

…

Expand

Spacey is excellent, Wright is great, and the rest of the cast is solid as well. Very interesting story too, Manages to keep your interest

through out. A prime example of good story telling is knowing where you are going with it from start to finish, House of Cards does this very well. I'd recommend in a heartbeat. It's a very good show.

…

Expand

A stillborn series that began with the embarassing, moronic scene, that can't be anything but self-parody. Spacey's sardonic asides make him

look almost pathetic and self-deluded, and I don't think that was the creators' intention. Everything is so tired, boring and numbingly predictable.

…

Expand
Published:

December 12, 2013

Find a full list of the 71st Annual Golden Globe nominations in film and television, and a look at the year's surprises and snubs.

Published:

December 10, 2013

What were critics' favorite television shows of the year? Find their individual top 10 lists inside, as well as composite standings. (And check back for daily updates throughout the month).