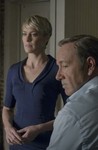 Summary:

The US remake of the 1990s British political miniseries moves the shenanigans to Washington DC. After learning he won't be appointed to a coveted Cabinet position, House Majority Whip Francis Underwood (Kevin Spacey) and his wife Claire plan revenge on the administration he helped elect.

Genre(s):

Drama
Show Type:

Between Seasons

Season 1 premiere date:

Feb 1, 2013

Episode Length:

60

Air Time:

12:00 AM
Watch at whatever pace you'd like--immediately. Given its quality, I think you'll be drinking it all in sooner rather than later.

It's a heavyweight new contender in the drama category, just as Netflix now is as a content provider.

Deeply cynical about human beings as well as politics and almost gleeful in its portrayal of limitless ambition, House of Cards is a wonderfully sour take on power and corruption.

It's beautifully filmed in and around Washington, D.C., it's well-acted, and it's cleverly written by Beau Willimon.

I found the first two episodes handsome but sleazy, like a C.E.O. in a hotel bar. Yet by Episode 5 I was hypnotized by the show's ensemble of two-faced sociopaths. Episode 8 was a thoughtful side trip into sympathy for Spacey's devilish main character, but by then I was exhausted, and only my compulsive streak kept me going until the finale--at which point I was critically destabilized and looking forward to Season 2.

Fincher's unemotional style comes through in the first two episodes, and the show could use more heat. But Spacey makes it worth watching.

This series is about as inside-the-Beltway as Fiji, and Fincher's main plan to compensate for the stupidity level is to have the gentlemen whip off their glasses and the ladies whip off their clothes.
Absolutely amazing! Loved it, from the beginning to the end of the first 2 episodes I've watched. It has the David Fincher mood in it, Kevin

Spacey's constant neutrality in every bit of the show in a really cold blooded character, and the fluidity in which the story unfolds. Seriously, great show, watch it if you can, or get 1 month free on Netflix just to watch this. Best premiere I've seen in a series for a LONG time, maybe the best since Breaking Bad.

…

Expand

The term "game changer" is tossed around a bit too liberally these days, but this original series from Netflix is genuinely deserving of that

label. Top notch talent is involved with this project which has made Netflix a legitimate player in the scripted series realm. At the same time the ability to make all thirteen episodes available at once is a stroke of genius that cable and the networks are going to have to respond to. And as for the product itself? House of Cards is a darkly humorous and wickedly entertaining look into the high stakes game of U.S. politics. It will be interesting to see if it gets any Emmy recognition especially for Kevin Spacey who hasn't been this good since American Beauty.

…

Expand

Very little shows prove how much cinema quality is needed on TV as this one. Many series mock movies, this IS a sort of long movie that gets

better each episode. Season 1 of House of Cards is meant to watch at your own pace, falling in love with its incredible performances, rock-solid direction and sharp, incredible writing. Is a series that offers something different in terms of soapiness in comparison to other TV Shows. It is a smart Scorsesenian political satire, and is so damn entertaining and addictive you swear you will describe the show as an incredibly powerful drug. Kevin Spacey is such a badass at all moments, and the rest of the cast, while extremely supporting, have some really important screentime during the series, including Robin Wright's lady macbeth-y Claire Underwood, Kate Mara's sexy Zoe Barnes and Corey Stoll's worryingly unbalanced Peter Russo. It is a consistent, astute show that shows with flare its 100-dollar budget with quality dripping off the screen.

…

Expand

the show is a reimagining of a british show, that was the product of its era and location. its an uneasy fit imho. both culturally and the

context of its place on a timeline of changing circumstance, it is an awkward transplant. the british one was coming at the end of thatcherism and explored the potential chaos as the 80s turned into the 90s from the mindset of someone who was old in the 80s. this one has no such cultural momentum, and has a different tone. the first one was black comedy in a british sense. it was basically about following a rogue and a pantomime villain. this one plays it a lot more straight. whats lacking is the import of a "boss" or the comedy of (trying to think of an american version of this kind of dark comedy)"profit". culturally this show falls squarely between profit and boss.

despite every thing i said, its very good. its just far too pedestrian and lacking in any cultural verve to be great. it is technically sound, and the production values are crisp. you wont be watching something that doesnt "work". And..it is well worth watching. i dont know what it adds to the genre, but it seems to get all the right elements down to a tee.

boss is far better.

the original is of a different era and culture for even myself, and im a limey. things have changed quite a bit in the last 2 decades.

this one was well worth watching, and any lacking was a product of its transplant status and a lack of a real character of its own. it moves the story and setting well enough, but the fault lines are from a different product. it needs its own rugged identity, and i think its only half way there, with too many echos of boss.

boss was brilliant though. this is... available.

…

Expand

A stillborn series that began with the embarassing, moronic scene, that can't be anything but self-parody. Spacey's sardonic asides make him

look almost pathetic and self-deluded, and I don't think that was the creators' intention. Everything is so tired, boring and numbingly predictable.

…

Expand
Published:

December 12, 2013

Find a full list of the 71st Annual Golden Globe nominations in film and television, and a look at the year's surprises and snubs.

Published:

December 10, 2013

What were critics' favorite television shows of the year? Find their individual top 10 lists inside, as well as composite standings. (And check back for daily updates throughout the month).