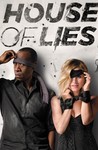 Starring:

Glynn Turman, Don Cheadle, Kristen Bell

Summary:

Based on the book by Martin Kihn, the dark comedy series focuses on Marty Kaan (Don Cheadle), a management consultant, and his team, which includes Jeannie (Kristen Bell), Clyde (Ben Swartz), and Doug (Josh Lawson).

Genre(s):

Comedy
Creator:

Matthew Carnahan

Show Type:

Between Seasons

Season 1 premiere date:

Jan 8, 2012

Episode Length:

30

Air Time:

10:00 PM
The series is so pervasively cynical--and, by the way, brilliantly funny--it has the potential of making any viewer feel his or her life isn't so bad after all.

It helps that Cheadle is surrounded by characters, and actors, who seem like they will go interesting places.

It takes a few half-hour episodes before the tone gels. [16 Jan 2012, p.39]

Like many of Showtime's most cherished series, House of Lies can be annoying and entertaining at the same time.

With the subtlety of a sledgehammer, the show right away telegraphs that there is more to Kaan than meets the eye, that he's not just a con. We're just not inclined to believe him.

Because from its embellished execution to its uninspired writing and very conception, the smarmy House of Lies is like so many speculative financial bubbles that characters like Marty have had their hands in: There's just nothing there.
I hold out hope for future episodes, however the writing of the first episode bordered on unbearable, with single-dimensional caricatures that

I hold out hope for future episodes, however the writing of the first episode bordered on unbearable, with single-dimensional caricatures that were both predictable and groan inducing. The wife, the son, the prostitute, much less the bathroom scene..just horrendous stuff. The core idea of the show is novel and enjoyable, as is the Fight Club-esque techniques and narrative, however the execution has me expecting the axe to fall on it soon.

…

Expand

Saw a couple of Season 1 episodes on a flight, and they got me hooked. A very cynical, yet hilarious, take on the management consulting world,

Saw a couple of Season 1 episodes on a flight, and they got me hooked. A very cynical, yet hilarious, take on the management consulting world, with psychological overtones in the exploration of the characters' relationships with one another. There's some misogynistic humor and some d**k-and-fart jokes, low hanging fruit as they are, but they don't detract too much from the overall experience. It's offset in part by the very human portrayal of Don Cheadle's character's son exploring gender identity issues. It's worth watching the first three or four episodes in order to build a more comprehensive view, as the show evolves over the course of the season. **USER SCORE CAVEAT** When reading the user reviews, you'll see a bunch of "0" scores. Note the date they were posted (before the pilot aired, or just after) and then click through and look at the other reviews the users have posted. Almost without fail, the users also gave Parks Rec Season 4 a "10." One of the actors from Parks Rec (Jean-Ralphio) is also in House of Lies, which I assume accounts for the collusion behind the "0" scores.

…

Expand

House Of Lies is a great comedic-dramatic show with great charming performances by Don Cheadle as Marty and Kristen Bell. But it has its cons

House Of Lies is a great comedic-dramatic show with great charming performances by Don Cheadle as Marty and Kristen Bell. But it has its cons too, it's got to put more elements in itself

…

Expand

Watched the pilot online, there is no logical reason for this series to be airing. The critics are under Showtime hypnosis. One of the most

Watched the pilot online, there is no logical reason for this series to be airing. The critics are under Showtime hypnosis. One of the most terribly written pilots in pilot history. Don Cheadle doesn't even save this show. Lots of improvement and growth needed. Too many homosexuality jokes.

…

Expand

Really bad show. Feel ripped off giving it a chance and watching season 1.
This is a male chauvinistic piece of garbage and I'm a guy. TheReally bad show. Feel ripped off giving it a chance and watching season 1.
This is a male chauvinistic piece of garbage and I'm a guy. The characters are just one dimensional.
Really bad script writing.. House of trash

…

Expand

Love Kristen Bell. Hate big business. Thought I'd love this. I hate it. The worst pilot ever written, a stupid adaptation of a good book.

Love Kristen Bell. Hate big business. Thought I'd love this. I hate it. The worst pilot ever written, a stupid adaptation of a good book. Please Kristen Bell don't ruin your career with this **** show.

…

Expand

The Pilot episode was horribly constructed, i'm really surprised that Don Cheadle and Kristen Bell signed up for this train wreck. I'll give

The Pilot episode was horribly constructed, i'm really surprised that Don Cheadle and Kristen Bell signed up for this train wreck. I'll give it a couple more episodes before i can it, only because It's on after Shameless, but its not looking good for House of Crap... i mean Lies.

…

Expand