Network:

CBS

Series Premiere Date:

Sep 19, 2005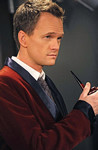 Please enter your birth date to watch this video:
You are not allowed to view this material at this time.
The series' cast remains one of the better sitcom ensembles of the past decade.

There are a number of annoying little things, and a few big ones, sprinkled throughout these two [opening] episodes, but they get the biggest thing of all absolutely right: the Mother.
Finally! We're meeting the mom, I've to say that I'm going to miss HIMYM, its my favorite show but everything must end! I'm Thrilled! follow

Finally! We're meeting the mom, I've to say that I'm going to miss HIMYM, its my favorite show but everything must end! I'm Thrilled! follow as @ruffus3000

…

Expand

This review contains spoilers, click expand to view.

How I Met Your Mother, overall, was one of the best shows on television in the 21st century. The series finale, contrary to what most fans were saying, was a success. Those who didn't understand why the mother was "so quick to go", lets put it, didn't understand the point of the show. It was about the journey, not the ending. The mother was just a pawn in a much bigger, more intricate picture where Ted ends up with Robin. How can you not be happy for him? From the first episode, it was made very clear that his feelings for her were strong and everlasting. And honestly, it was inevitable that the mother had to die. There was really no other way to end the series with a bang. And HIMYM definitely went out with a bang.

…

Expand

I would like to say, that even thou the season started pretty poorly, it really picked up over the past few months. The writing improved and

I would like to say, that even thou the season started pretty poorly, it really picked up over the past few months. The writing improved and the acting improved!
Thanks Carter Bay and Craig Thomas for an awesome show!

…

Expand

This review contains spoilers, click expand to view. I hate it when a show panders to their manic and ridiculous fans. We've had nine years of build up for meeting the Mother and you know, I'd have loved to have her revealed right in the last episode, just to finally get there with "and that's how I met your Mother". We know Ted is happy with her through the series so we don't need to see build-up for it, it's been built up enough.
And settling everyone down and getting them to finally grow up is fine with me. It would be a normal resolution to the theme of growing up the show has been about.

So my major problem with this season(and I'm not making a reference there) and the show as a whole now is that, even after 9 years of hearing "Aunt Robin" this and "Aunt Robin" that, implying for several years that she and Barney are going to get married, to have them separate, have some unknown woman become pregnant with Barney's kid, have him settle down in the last episode while we have two minutes of "and now I'm gonna be happy with Robin" from Ted, it smacks of desperate writers wanting to force a Ted and Robin relationship.

That's lazy and pathetic writing, they'd set up a relationship that didn't work with them, made out that the real love story in the show was the Barney x Robin one, so either stick with that and end the show on a high that leaves things alone so you can't return for some crappy continuation.
Or don't. Do this.
Give the rabid fans who have been slobbering over a Ted x Robin thing since the first episode exactly what they want. A forced resolution. A crappy forced resolution.
Yeah, it's nice to see Ted finally get Robin. But we'd been given years worth of story that meant "no, they're not together and they're not going to be". Life's like that, it's not a romance book. It's real and certain relationships just fall apart.

The majority of this last season has been good, we've resolved things that had been left hanging since the start of the show, but in these last episodes I've known that the end is just going to be awful. It's ruined the show for me and I won't be rewatching it like I do with other comedy shows that are icons.

…

Expand

From the very beginning of the season, I can't share the impression that all the actors, writers, and the director have suddenly become lazy

From the very beginning of the season, I can't share the impression that all the actors, writers, and the director have suddenly become lazy and are just waiting for that woman to meet Ted, so that everyone can get it over with.

With all due respect to the people who took part in creating the amazing series, I must say that Season 9 is just horrible. At least as of Episode 4, but I don't expect any improvement.

…

Expand

If only the writers did not give up on this show, during the last three seasons, we would be talking about a legandary (pun intended) piece of

If only the writers did not give up on this show, during the last three seasons, we would be talking about a legandary (pun intended) piece of television. All the effort to develop characters, to create suspence...all for nothing.

…

Expand

This review contains spoilers, click expand to view.

Oh my god it's soooo boooooriiiing! I mean nine episodes, still nothing exciting. I feel like I'm watching Captain Tsubasa anime: it took three episodes to see the ball going to score. I was a real fan of this series. I loved the first seasons, They were a perfect mix of romance, comedy and passion. This ninth season has nothing to do with the original concept of the series. In nine episodes the wedding between Robin and Barney is still 31 hours away, taking into account that in the first episode of this season, the wedding was 55 hours away. You can't do an entire day-by-day season, at the end can only be extremely boring and annoying. I hope this fuc**ng wedding won't last all the season. I'm so disappointed, it deserves nothing but 0 as score.

…

Expand