Network:

FOX

Series Premiere Date:

May 20, 2014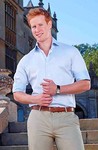 Summary:

12 contestants from the US travel to England for a chance to win the heart of Prince Harry. The twist is, he's not the royal, just a lookalike.

Genre(s):

Reality
Season 1 premiere date:

May 27, 2014
Please enter your birth date to watch this video:
You are not allowed to view this material at this time.
If you enjoy watching women snipe at each other no matter the context, then it likely won't matter; if you were hoping for something less conventional, it's tough not to be disappointed. [30 May/6 Jun 2014, p.113]

Every one of these things needs a she-devil or two. It's a necessary ingredient along with all the usual, clunkier nonsense.

Granted, the women--mostly in their early 20s, and seemingly chosen to reflect every bad stereotype harbored about their demo--do their part to inspire viewers to root for those aiming to deceive them.

A cruel and stupid show built around one Matt Hicks, who vaguely resembles Britain's Prince Harry.

The premiere hour is abysmal, and the women's cluelessness is profound.[2 Jun 2014, p.49]

Instead of just creating the horror show that is 12 women competing for a man, it chooses also to play them for fools.
This show is absolutely brilliant, there is no show that is better. Breaking Bad, Dexter, Arrested Development move over, this show is the

This show is absolutely brilliant, there is no show that is better. Breaking Bad, Dexter, Arrested Development move over, this show is the best and those others are filth in comparison. The reason this show is so good, is THAT ISN'T EVEN HARRY LOL.

…

Expand

I have been a fan of reality shows like Survivor, The Bachelor etc, ever since those shows debuted (more than 15 yrs). So, as a long time fan

I have been a fan of reality shows like Survivor, The Bachelor etc, ever since those shows debuted (more than 15 yrs). So, as a long time fan of reality shows, i can say with certainty that "I wanna marry Harry" was one of the best shows Fox had. Too bad they cancelled it. They should have measured the rating across the spectrum of "reality fans" rather than the public, because there is a huge percent of general public, that hate reality shows (because shows like The Bachelor are staged and not real). This show has been fun, and way way better than "The Bachelor", which is a similar show. I think there would be many more like me, who watch reality shows, and who are sorry to see this show get cancelled. This is a great idea, and i hope some other network picks up a similar idea and bring it to mainstream, lto compete with 'The Bachelor', which has been successful.

…

Expand

Absolutely the best show of our times. I cried when it turned out that Harry wasn't Harry, but a serial killer, a drug dealer, a pedophilic

Absolutely the best show of our times. I cried when it turned out that Harry wasn't Harry, but a serial killer, a drug dealer, a pedophilic cannibal and a zombie. This show deserves the IRA's award for "The Most Gingerly Child Murder of the Year".

…

Expand

This is an embarrassment to the US, to England, to the whole freaking world and the Homo Sapien species! How dirty has our genetic pool

This is an embarrassment to the US, to England, to the whole freaking world and the Homo Sapien species! How dirty has our genetic pool become? How stupid are we? How the hell did Fox expect anyone to tale this seriously? This is just really stupid. All the girls are the stupidest, most oblivious, most stereotypical people ever. The sl*ts and b*tches only want Harry's fame and money. Or to get on TV. Or to see which one of them can make this guy "excited" first. And guess what? It's not even Prince Harry! How do these people not know their being fooled? Surely one of them must have a cell phone or acess to the internet and read the bad reviews for this show. Or find out Prince Harry is back in England, having no idea what's going on.

One even said "Prince Harry, Harry Potter, I don't care." These girls are desperate, very desperate. The guy being the Prince Harry imposter must've paid Fox to do this. Bribery is the only way this show could've got on air. The only thing those girls are good for is that for "Prince Harry" and other male viewers, the girls are nice eye candy. Seriously.

…

Collapse

wow? gay it is seriously !!! why does prince harry have to marry a girl through a dumb reality show !!!!! he should already get married he is

wow? gay it is seriously !!! why does prince harry have to marry a girl through a dumb reality show !!!!! he should already get married he is a prince a prince should have a princess but no instead creator/ executive producers Ryan Seacrest , Danny Fenton want harry to get married to these whores , hookers to marry him? Are u kidding Fox Channel come on your shows are good but this one is on my hate list of shows who are not good. I'm disappointing in you Seacrest for co-creating this show you made so good projects this year ! Grade F

…

Expand