Network:

NBC

Series Premiere Date:

Oct 2, 2013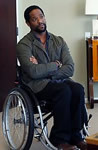 Starring:

Brent Sexton

,

Spencer Grammer

,

Blair Underwood

Summary:

This remake of the 1960s crime drama Ironside shifts the action to New York, where Blair Underwood fills the Raymond Burr role as a police detective who returns to duty in a wheelchair after being paralyzed on the job.

Genre(s):

Drama
Creator:

Collier Young

Season 1 premiere date:

Oct 2, 2013

Episode Length:

60
There's an interesting psychological drama to explore here, if Ironside's writers and its seasoned cast can resist the easy, repetitive lure of cop-show pro-forma.

It's well-shot, professionally acted and adequately paced--but, at least to me, it's missing that spark of originality that will keep viewers coming back week after week.

Apart from Underwood, who has class-A TV-star appeal, the show is nothing special. No worse than or much different from your average character-driven cop show.

Too bad [Blair Underwood's] talent is wasted on this Raymond Burr reboot, which casts him as a wheelchairbound cop who dangles bad guys over buildings and delivers hacky dialogue. [4 Oct 2013, p.60]

The relationship between Ironside and his ex-partner, Gary (Brent Sexton), is somewhat interesting but everything else in Ironside is a well-worn cop show cliché, from Ironside's tough guy routine to the dialogue.

An atrociously clunky [revival] that keeps only the rough outline--a wounded detective confined to a wheelchair--while jettisoning whatever wit and intelligence the original possessed makes no sense at all.

It's just manipulative drama that hopes to make you stand up and cheer by reminding you over and over again how tough its title character remains.
Drab and unoriginal. Ironside isn't terrible, but it offers nothing new to the most overdone genre on television. The characters aren't

Drab and unoriginal. Ironside isn't terrible, but it offers nothing new to the most overdone genre on television. The characters aren't necessarily unlikable, but we're also given little reason to like them. There are better ways to spend your time than watching this reboot.

…

Expand

Despite a nice peformance by blair underwood, this nonsense remake of the 1967-75 classic brings nothing new to the table, except a tired

Despite a nice peformance by blair underwood, this nonsense remake of the 1967-75 classic brings nothing new to the table, except a tired teleplay, some other bad acting and poorly written dialogue, this should have never been remade in the first place, very poor show.

…

Expand