Network:

TV LAND

Series Premiere Date:

Jun 4, 2014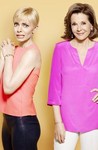 Summary:

After losing her investment banking job, Jennifer Doyle (Jaime Pressly) moves in with her mother (Jessica Walter) and finds work at her brother's sports bar.

Genre(s):

Comedy
Jennifer Falls offers a slightly more sophisticated style of storytelling with familiar enough trappings to go down easy for recent nostalgia buffs.

There is a funny show in what is there, though, and the cast is likable enough to pull off the pilot's broader moments. It simply needs to live in the now, decide what it wants to be, and stay true to itself.

The show's great cast gives it a lot of potential, and they work hard in the pilot to make their thin material viable.

There's little zing for starters, though, with the one-liners inching up a steep hill before sliding back down.

It's a fine cast, and one wishes they had something a little more focused to do, something a little less predictable, something that wove the isolated good moments into a consistent whole.

TV Land proves again that no one in basic cable does a more proficient, professional job of executing and packaging traditional sitcoms. What's not so admirable: the creator and writer Matthew Carlson's pilot script.

Pressly's a sharp comedic actress who doesn't need to play the humiliation game to be funny. She just needs the right show. Jennifer Falls isn't it.
This is one of those programs that make me wonder how it ever got on tv. It is not only not funny, it seems like an insult to a woman's

This is one of those programs that make me wonder how it ever got on tv. It is not only not funny, it seems like an insult to a woman's intelligence. AND yet, I dont feel that way about Hot In Cleveland, King of Queens or Everybody Loves Raymond. Those seem more like classics while Jennifer Falls is pure juvenile.

…

Expand