Network:

Syfy

Series Premiere Date:

Mar 25, 2014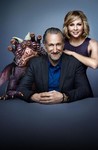 Summary:

10 aspiring artists compete for a $100,000 prize and a contract with Jim Henson's Creature Shop. They are mentored by Creature Shop artists Peter Brooke and John Criswell and judged by Brian Henson, chairman of the Jim Henson Company and Jim Henson's son; creature designers Beth Hathaway

10 aspiring artists compete for a $100,000 prize and a contract with Jim Henson's Creature Shop. They are mentored by Creature Shop artists Peter Brooke and John Criswell and judged by Brian Henson, chairman of the Jim Henson Company and Jim Henson's son; creature designers Beth Hathaway (Jurassic Park, The Walking Dead, and Edward Scissorhands) and Kirk R. Thatcher (Return of the Jedi, Gremlins, and E.T.).

…

Expand

Genre(s):

Reality

,

Game Show
Season 1 premiere date:

Mar 25, 2014

Episode Length:

60

Air Time:

10:00 PM
We ultimately get to spend time with Henson's judges hashing it out. That brings insight into what makes things work, into creature logic, proportions, movement, performance facilitation, and letting the creation "emote through its environment." We don't just watch art being made, we come to understand the process.

What Creature Shop may lack in originality it makes up for in creative energy, with the contestants further challenged in mentoring sessions by being made to focus on having the full-body costumes be fully functional for the skilled Henson puppeteers within.

Creature Shop Challenge is about doing the most in the least amount of time, and while there's some impressive work on display in the premiere, the impulse to keep watching comes from the sense that the best, most stunning creatures are yet to come.

Though Creature Shop's competition approach might be tiresomely formulaic (all stemming from the Project Runway idea tree), the bottom line is it's still a series that promotes creativity.

Because the contestants are also paired into teams, we get the sometime fractious reality-show dynamics of forced alliances. Based on this show, however, there don't seem to be many truly obnoxious people whose dream is to design cool monsters.

Creature Shop Challenge is inviting enough to merit another look. Not for its pro forma adherence to the "reality competition" handbook but for whatever creative hoops await its very eager group of contestants.

In this digital age, it's nice to see the Muppet-maker still hiring, but there's simply nothing special enough about this Challenge to warrant another show the next time there's an opening; better instead to go through plain old human-resource channels.
I am not a fan of "reality" TV. But I absolutely LOVED this show. Not only watching the artists (contestants) performing their skills (with

I am not a fan of "reality" TV. But I absolutely LOVED this show. Not only watching the artists (contestants) performing their skills (with very difficult deadlines). But mostly, that the judges were fair, honest... and NOT BULLIES. Too many of the shows the judges are jerks (and I am being nice). Not once, through the whole season, were any of the judges anything but helpful and constructive, They NEVER made a contestant feel bad about themselves or their talent.
I really hope that this show continues, we need MORE positive role models ... and less bullies.

…

Expand