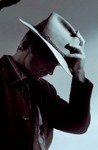 Summary:

The second season concludes the last season's finale before jumping a little forward in time to find more trouble brewing for US Marshal Raylan Givens (Timothy Olyphant).

Genre(s):

Drama

,

Action & Adventure

Show Type:

Between Seasons

Season 2 premiere date:

Feb 9, 2011

Episode Length:

60

Air Time:

10:00 PM
Buoyed by the effortless charisma of Timothy Olyphant's star turn as the laconic but lethal Deputy U.S. Marshal Raylan Givens, this series is a twisted triumph.

The ensemble cast is terrific and the direction lean and perfectly pitched at every turn.

Like the show itself, Margo Martindale's performance is smart, chilling, amusing, convincing and unfailingly entertaining. And like the show, you really don't want to miss it.

In short, coming off the first season's solid ratings, Justified pretty much looks like a home run for FX, which has been getting by lately on singles and doubles.

Darn it if Justified showrunner Graham Yost and company haven't found a way to equal--if not top--that bunch [of opponents], while at the same time building on the lessons they learned in the first season.

Based on the first three episodes, I'm thinking season 2 is going to be even better and certainly more consistent.

The season premiere is a little clunky as it cleans up the mess left after the show's first-season finale--the sooner the show moves beyond that, the better.
Great show, cast, and story. The characters are also great. There's something everyone will like in this story! There's action, adventure,

comedy, drama, and more. It's not one of those shows where you need to watch season 1 to understand season 2. Anyone can watch it, everyone should watch it!

…

Expand

This show is the best. If you have not watched it yet you should. Timothy Olyphant has been compared to the young Clint Eastwood. I would

agree, with the added comment that Timothy Olyphant is a really good actor. Justified is far superior to The Shield in my opinion and I am so happy that it will have a third season. The combination of humor, tension and character development is just unequalled on TV.
The decision to keep Walton Goggins in the neither totally good nor totally bad character of Boyd Crowder was genious. The writing is solid with Olyphant pulling off some of the funniest lines outside a comedy format and each season's story is completed within the 13 episodes with usually just one little thread left to continue into the next season. Love it.

…

Expand

The last episode of this second season has left me breathless and proves that the series has tremendous staying power and can get even better

than it already is. What sets this series apart from everything else that's on TV right now (and frankly, has been for the past few years) is plot and character development. Not only is the central plot gripping and innovative, all the subplots thus far presented serve it amazingly well and are worthy in their own right. The same can be said about characters. As if characters as rich and multi-layered as Raylan and Boyd weren't enough, we still get marvelous characters they can play off of, such as the whole of the Bennett family. Elmore Leonard is a freaking genius!!!

…

Expand

Season Two of "Justified" is probably one of the strongest second seasons of any series currently on TV, period. Timothy Olyphant and his

jolly bunch of rednecks, crooked cops and pot farmers are here to stay, and they are here to stay for good.

…

Expand

One of the awesomest and Amazing show i have ever seen . Timothy is one of the best actor i really appreciate . He made this character so much

attached to him the im sure none can do better then him . all the other cast is really awesome specially Walton is amazing . All the stories is so well written and well directed . Justified is one of the few shows that one will remind forever .

…

Expand
Critics are raving about last night's finale of Justified. Find out what they liked about the show, and give us your take on the episode and the season as a whole.

"Modern Family" is among the 2009-10 season's best new TV shows. Find out which other shows made the cut, and which ones were the biggest failures.