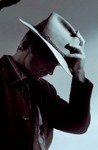 Starring:

Natalie Zea

,

Walton Goggins

,

Timothy Olyphant

Summary:

Season three picks up where we left Raylan and Boyd. Also expect to see Neal McDonough and Mykelti Williamson as new adversaries.

Genre(s):

Drama

,

Action & Adventure
Creator:

Graham Yost

Season 3 premiere date:

Jan 17, 2012

Episode Length:

60
Please enter your birth date to watch this video:
You are not allowed to view this material at this time.
Lean, laconic, precise and as carefully word-crafted as any series on TV, there's pretty much nothing here to suggest that the third season won't be as good as the second--or better.

Whether you've followed the show to this point or not, you can tune in and savor smart TV drama at its best.

The sheer number of colorful characters maneuvering keeps things lively.

The first three episodes of Season 3 indicate there has been no slippage at all, but rather a digging in of the philosophy at hand.

Justified doesn't come close to losing control of its narrative.
Hands down the best show on TV. The first episode was brilliant as it deftly introduced us to exciting new characters and interesting new

Hands down the best show on TV. The first episode was brilliant as it deftly introduced us to exciting new characters and interesting new story lines. The writing has improved once again to a level I didn't think possible. Just a terrific show.

…

Expand

Timothy Olyphant and Walton Goggins continue to killl it as well as the new addition of Neal McDonough as Robert Quarles which makes every new

Timothy Olyphant and Walton Goggins continue to killl it as well as the new addition of Neal McDonough as Robert Quarles which makes every new episode better than the last.

…

Expand

One of my favorite shows next to Game of Thrones and The Walking Dead. Justified continues to out due itself, with superb writing, top notch

One of my favorite shows next to Game of Thrones and The Walking Dead. Justified continues to out due itself, with superb writing, top notch acting and a story that is not only compelling, but it's unlike anything else on TV.

…

Expand

This season had tight plotting, which was lacking in the previous seasons. A lot of new characters were introduced who shifted loyalties

This season had tight plotting, which was lacking in the previous seasons. A lot of new characters were introduced who shifted loyalties constantly and made for a great intrigue. Quarles was a well realized and very memorable villain who had more to him than met the eye. Limehouse was another great character. It was by far the best season of the series.

…

Expand

my least favourite season of the series, but still better than most shows on tv. personally i thought the plot was too convoluted this season,

my least favourite season of the series, but still better than most shows on tv. personally i thought the plot was too convoluted this season, too many "villains" and not enough time to fully explore all of their story line. i was hard to keep track of who was working with whom and who wanted what, but maybe that was the point the producers/writers was to convey (that you can really never trust anyone when it comes to crime). despite that the acting was great all around, i really liked Neal McDonough and as always Timothy Olyphant was amazing as the lead. as for the finale i felt like there were some memorable scenes but not as exciting as the last two seasons. season overall 9.4/10

…

Expand

After the first two episodes, I'm satisfied that the series will survive the loss of Margo Martindale, though I continue to wish the producers

After the first two episodes, I'm satisfied that the series will survive the loss of Margo Martindale, though I continue to wish the producers had found some way to keep her around Anyway, the show's great strength, the range and vitality of its secondary characters, shows no sign of abating, as new villains position themselves to challenge Raylan and the rest of the Marshall Service. The one character I cannot do without, Boyd Crowder, is in fine form, swaggering along the line between vice and virtue, sometimes dancing over to the dark side, sometimes ambling toward the light, his intelligence, unpredictability, and dark charisma making him one of the most fascinating figures on television. Note to producers: pay Walton Goggins anything he asks, because his loss would deal the series a mortal blow. One development that makes me a bit nervous is the pregnancy of Raylan's ex-wife, Winona. It's not that I have anything against very small human beings, but they do tend to reduce the ethical complexity of dramatic storylines. Add a baby to a series that plays deftly with moral grey areas, and suddenly grey becomes black and white, and deft play becomes stern moralizing about The Inviolable Sanctity of Innocence. (If you don't believe me, review what happened to the once-great "Sons of Anarchy" when Baby Abel took center stage.) For me, the weak spot in "Justified" has always been Raylan's love life, which lacks the excitement and originality of his professional, family, and social lives--or, should I say, of the tangled messes they create by refusing to stay in their proper domains and interfering constantly with one another, as the past intrudes on the present and the present re-writes the past. Oddly, though both Raylan's love interests have been firmly tied to his past, they often aren't part of the tangle. Winona, especially, seems a bit tacked on, an oh-yeah-we-haven't-seen-any-grinding-in-a-while afterthought. Though it would be better for the baby to become an oh-yeah-we-haven't-seen-any-diaper-changing-in-a-while afterthought than to become the dramatic center of the series, I wish the writers could find a way to make Winona and Raylan Junior (or Baby Rayletta) more compelling. Or find Raylan a love interest capable of surprising us once in a while. Still, in the end, it is testimony to the brilliance of the series that moments of dullness stand out so distinctly. "Justified" creates a vivid and utterly believably world, at once familiar and wonderfully strange. It's a world most of us have lost, a world in which history forms a vital part of even simple social interactions. Memory is not something your computer has, but a force linking generations, potent and inescapable. Identity is a difficult, messy compromise between a person's choices and the collective forces that have shaped him and will shape him until he draws his last breath: geography, family, friends. The series is breathtakingly fair, depicting both the power and the limitations of an identity so deeply embedded in a single--and singular--place.

…

Expand

It was not as exciting as the previous season and sometimes a few parts were a bit far-fetched but I liked the last episode. I look forward to

It was not as exciting as the previous season and sometimes a few parts were a bit far-fetched but I liked the last episode. I look forward to the fourth season.

…

Collapse