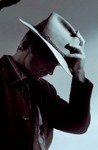 Summary:

Season three picks up where we left Raylan and Boyd. Also expect to see Neal McDonough and Mykelti Williamson as new adversaries.

Genre(s):

Drama

,

Action & Adventure

Show Type:

Between Seasons

Season 3 premiere date:

Jan 18, 2012

Episode Length:

60

Air Time:

10:00 PM
Whether you've followed the show to this point or not, you can tune in and savor smart TV drama at its best.

Justified continues to explode with superb writing, complex characters and rich acting.

The sheer number of colorful characters maneuvering keeps things lively.

The first three episodes of Season 3 indicate there has been no slippage at all, but rather a digging in of the philosophy at hand.

Justified doesn't come close to losing control of its narrative.

Right now, the hype ain't justified.
Hands down the best show on TV. The first episode was brilliant as it deftly introduced us to exciting new characters and interesting new

story lines. The writing has improved once again to a level I didn't think possible. Just a terrific show.

…

Expand

This season had tight plotting, which was lacking in the previous seasons. A lot of new characters were introduced who shifted loyalties

constantly and made for a great intrigue. Quarles was a well realized and very memorable villain who had more to him than met the eye. Limehouse was another great character. It was by far the best season of the series.

…

Expand

A brilliant show with great writing and a talented cast. The third season feels a little different from the second but continues the

superlative television standard that was set in season 1. If you have not seen the show, do yourself a favor and make a point to watch.

…

Expand
Critics are raving about last night's finale of Justified. Find out what they liked about the show, and give us your take on the episode and the season as a whole.

"Modern Family" is among the 2009-10 season's best new TV shows. Find out which other shows made the cut, and which ones were the biggest failures.