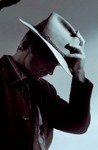 Summary:

While Raylan investigates a cold case that is connected to his father, Boyd finds his business slowing down with the arrival of Preacher Billy.

Genre(s):

Drama

,

Action & Adventure

Show Type:

Between Seasons

Season 4 premiere date:

Jan 8, 2013

Episode Length:

60

Air Time:

10:00 PM
What gives the show its kick is the gleefully childish lack of repentance shown by most of these rascals--countered by Olyphant's coolly amused control. [4 Feb 2013, .39]

The dialogue in the first two episodes of the new season crackles with brilliance.

It keeps going about its business, getting better than ever each season with a restrained but gripping approach that's also sure to wear well decades from now.

The lovely thing about Justified is that it delivers all the shaggy charm of a diverting character piece even as a supple, strongly structured story gives the whole affair an unmistakable energy and direction.

For all its gore, gunfire, and criminal nastiness, it's a joyous show; even when the characters are scowling, the show seems to be grinning at you.

A fourth season of wryly amusing but often shockingly brutal backwoods mayhem.

Always fun, the first two hours of the FX drama's fourth season are also meandering, introducing several new players, but as yet failing to betray much about how or when they'll intersect. Fortunately, star Timothy Olyphant by himself remains ample reason to tune in.
Great start to the fourth season. This will probably be another criminally overlooked show by pathetic award shows. F/X seems to have found

a niche for brilliant shows that don't get any credit.

…

Collapse

I love this show. Everyone is right--it just keeps getting better. I'm so intrigued by many things this season--the young preacher, the cold

case, and especially: the seeming possibility that we'll actually get to spend more time with Tim and Rachel, who are and always have been the most criminally underused elements of the show. I'm crossing my fingers that this is their year. I'm also waiting for a seasonal character to stun me the way Margo Martindale did in Season 2. Mykelti Williamson came close last season with Limehouse, but no supporting character has thrilled me more than Mags Bennett, so I'm curious to see who the top seasonal character will be this year.

…

Expand

The new "cold case" format departs from the classic "Big Bad" from seasons 1-3, and it works incredibly well. Season 4 brings another great

year of drama.

…

Expand

Without a single, overarching villain to pull this season together, it lacks the cohesion of seasons two or three. Even so, it's just as rife

with what makes Justified great: the banter, the action, the modern hillbilly atmosphere, and the cool sexiness that is Timothy Olyphant.

…

Expand

Another top tier season from the Kentucky hollers. The mystery storyline seemed to meander a bit, but was taken care of before the season's

denouement so I'm only gonna knock Boyd n Raylan down to a 9. This was probably the silver medal season so far (season 2 being the gold) but this is still one of the most consistently entertaining and enjoyable hours on television. It is one of those shows where nearly every week I inevitably look at the guide to see how far along I am and find there are only ten minutes left and glumly wonder how 50 minutes slipped by so fast. I always wish it was longer. That's what she said.

…

Expand
Critics are raving about last night's finale of Justified. Find out what they liked about the show, and give us your take on the episode and the season as a whole.

"Modern Family" is among the 2009-10 season's best new TV shows. Find out which other shows made the cut, and which ones were the biggest failures.