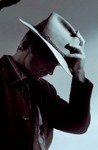 Summary:

The new series based on Elmore Leonard's short story "Fire in the Hole" follows US Marshal Raylan Givens (Timothy Olyphant) as he is transferred from Miami back to his hometown of Harlan, Kentucky, after causing trouble for his superiors with a high-profile shooting of a suspect.

Genre(s):

Drama

,

Action & Adventure

Show Type:

Between Seasons

Season 1 premiere date:

Jan 7, 2014

Episode Length:

60

Air Time:

10:00 PM
The best news of all is that Olyphant backs it up with an incredibly riveting performance. Better yet, Justified as a whole really delivers, from the explosive pilot to a couple of other, less adrenaline-filled but no less superb episodes that add humor and nuanced storytelling to the mix.

Olyphant is surrounded by a terrific supporting cast, including Dirty Sexy Money's Natalie Zea as Raylan's ex-wife and Nick Searcy (Deke Slayton in From the Earth to the Moon) as his deceptively cornpone boss. But in the end, it comes down to hard stares and that combination of drawled amusement and sudden violence that make him so cool yet exciting.

Justified itself stays on target all the time, too, an instant entrant in the best-new-show sweepstakes in a TV season that already has several solid candidates.

The shaggily delightful dialogue, the deft pacing, the authentic sense of place, the rock-solid supporting cast and the feeling that you are in the hands of writers, actors and directors who really know what they're doing--all of these are worthy reasons to watch Justified.

Olyphant creates a sense of suspended time whenever Raylan comes into contact with thugs--as if a gun standoff isn't so far from standing at a bar with a drink in hand. His Raylan is the kind of guy who doesn't say much, but gives us plenty to talk about.

Less brutal than "Sons of Anarchy" or "The Shield," it's nonetheless a true male fantasy show complete with broads, bad guys, blow-ups, bullets and buckets of blood.

Although Justified qualifies as cryptic, and its mouth is plenty potty, it definitely lacks edge, the most important quality of the three. In fact, it can get downright sleepy between killings. It moseys. It meanders.
The last episode of this second season has left me breathless and proves that the series has tremendous staying power and can get even better

than it already is. What sets this series apart from everything else that's on TV right now (and frankly, has been for the past few years) is plot and character development. Not only is the central plot gripping and innovative, all the subplots thus far presented serve it amazingly well and are worthy in their own right. The same can be said about characters. As if characters as rich and multi-layered as Raylan and Boyd weren't enough, we still get marvelous supporting characters for them to play off of, such as the whole of the Bennett family. Elmore Leonard is a freaking genius!!!

…

Expand

It's laughable that someone can watch a single episode of a show and then try and say something about it to people who are up to date. I try

to give shows the benefit of the doubt until they at least have two, preferably three seasons under their belt certainly before giving a proper review. I don't consider the show to be off of the ground until the third season is finished and the fourth has been greenlit. Justified is the best non sci-fi show that I have ever watched; and yes I was an avid viewer of Breaking Bad and the last season of that was utter garbage it completely disgraced everything the show had built itself up to be but that's okay because that show never gripped me like Justified does, I never cared about any of the characters in Breaking Bad they were all mind numbingly stupid not to mention boring and down right annoying, in season 1 of Justified you get to see what meth operations really look like not fantasy world where a geezer can just up and start cooking residential meth and pull the flukiest and cartoon-ish escapes from situations that are already farfetched I felt like it was a cartoon honestly the amount of ridiculously implausible occurrences that happen it's a joke; and at the end he admits that everything that happened in the whole show was pointless and just dies. Lamest ending of the season and yes I was a Dexter fan as well I still say nothing could possibly be as bad as that whole fifth season. Any way we're here fro A great show and praise it shall have... cheers to Justified a truly badass show

…

Expand

Great acting, interesting storyline and some of the best lines ever.
-Why can't you bail him out?
- Those are the first words out of your mouth?
- I'll start again. I see you're still smoking.

…

Expand

Now this may just be one of the sappiest shows I have seen in a long, long time. Timothy Olyphant may be a fine actor for a television

commercial, but dress him up in a cheesy cowboy hat at your own peril. While the premise of the show may be interesting, one should note that it's set in Nowhere, Kentucky, and how many people can he really shoot in a town of 57 habitants? I've seen ol' Tim play a bunch of terrible bad guys in movies and television before and I really wanted him to do well in this one. He doesn't seem like too bad of a guy and why not cheer for the Working Man's Hero, but the writing in this show is truly brutal. Why even attempt to turn this guy into some sort of mutant television character with Jack Bauer's mean streak, Dr House's wit and Don Draper's womanizing charm? I'd rather saw off my own foot with a rusty saw from 8th grade shop class than be forced to watch this tripe. After all, it's just like my old man used to say: you can't make chicken salad from chicken ****

…

Expand
Critics are raving about last night's finale of Justified. Find out what they liked about the show, and give us your take on the episode and the season as a whole.

"Modern Family" is among the 2009-10 season's best new TV shows. Find out which other shows made the cut, and which ones were the biggest failures.