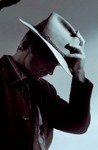 Starring:

Natalie Zea

,

Walton Goggins

,

Jere Burns

Summary:

The new series based on Elmore Leonard's short story "Fire in the Hole" follows US Marshal Raylan Givens (Timothy Olyphant) as he is transferred from Miami back to his hometown of Harlan, Kentucky, after causing trouble for his superiors with a high-profile shooting of a suspect.

Genre(s):

Drama

,

Action & Adventure
Creator:

Graham Yost

Season 1 premiere date:

Mar 16, 2010

Episode Length:

60
Please enter your birth date to watch this video:
You are not allowed to view this material at this time.
Olyphant is surrounded by a terrific supporting cast, including Dirty Sexy Money's Natalie Zea as Raylan's ex-wife and Nick Searcy (Deke Slayton in From the Earth to the Moon) as his deceptively cornpone boss. But in the end, it comes down to hard stares and that combination of drawled amusement and sudden violence that make him so cool yet exciting.

Finishing each episode is like closing up a really great, gritty, little crime novel.

On screen the show has a soaked-in mood, courtesy of pilot director Michael Dinner, and terrific performances that mark Justified as the best new series premiere so far in 2010.

Olyphant's devilish looks balance his white-cowboy-hat principles.

Justified will not stretch the dramatic envelope the way many FX shows have. Still, with its white knight of a hero, fine guest stars and intriguing relationships, one can rely on the show to deliver 13 hours of entertaining and occasionally taut crime drama.

Less brutal than "Sons of Anarchy" or "The Shield," it's nonetheless a true male fantasy show complete with broads, bad guys, blow-ups, bullets and buckets of blood.

Although Justified qualifies as cryptic, and its mouth is plenty potty, it definitely lacks edge, the most important quality of the three. In fact, it can get downright sleepy between killings. It moseys. It meanders.
The last episode of this second season has left me breathless and proves that the series has tremendous staying power and can get even better

The last episode of this second season has left me breathless and proves that the series has tremendous staying power and can get even better than it already is. What sets this series apart from everything else that's on TV right now (and frankly, has been for the past few years) is plot and character development. Not only is the central plot gripping and innovative, all the subplots thus far presented serve it amazingly well and are worthy in their own right. The same can be said about characters. As if characters as rich and multi-layered as Raylan and Boyd weren't enough, we still get marvelous supporting characters for them to play off of, such as the whole of the Bennett family. Elmore Leonard is a freaking genius!!!

…

Expand

Perfect on all counts writing, directing, casting and acting. One of the few shows of all time that I've been addicted to. I've seen all

Perfect on all counts writing, directing, casting and acting. One of the few shows of all time that I've been addicted to. I've seen all through season 3.

…

Expand

I know Olyphant from Deadwood, one of the best shows ever made. While this isn't quite in that category of greatness, Justified is a

I know Olyphant from Deadwood, one of the best shows ever made. While this isn't quite in that category of greatness, Justified is a well-written show with a handful (though small) of interesting characters. Especially interesting is the relationship between Olyphant and the character Boyd, who seemingly becomes a born-again Christian after being locked up by Olyphant's character. Of course, Olyphant isn't buying it one bit. Nice pacing with some genuinely funny moments, Justified is the only show I'm watching at the moment (other than Breaking Bad) where I don't have my expectations set in the toilet.

…

Expand

Definitely one of the best newcomers on television, the characters may at first seem a little generic and used but as soon as the Kentucky

Definitely one of the best newcomers on television, the characters may at first seem a little generic and used but as soon as the Kentucky background is seen for the first time everything takes on a life of its own and makes for a entertaining and nail biting show

…

Expand

The good: always been a well written show from season 1 till 5. The acting is superb and the character (even some of the bad guys) are just

The good: always been a well written show from season 1 till 5. The acting is superb and the character (even some of the bad guys) are just loveable. This and Longmier has been the best "Western" themed shows that I've seen on the tube over the past 5 years.

The bad: there ain't no more seasons after this year! Shame....truly.

…

Expand

Season one is a great start to what can be an excellent show. A majority of the episodes were episodic plots that didn't have the punch that

Season one is a great start to what can be an excellent show. A majority of the episodes were episodic plots that didn't have the punch that the premiere had. Within those episodes, however, we had great characters that will be remembered. Timothy Olyphant and Walter Goggins make their characters worth remembering. The final three episodes picked up the pace and had more overarching character arcs. The ending sets up for what can be a fantastic second season.

…

Expand

Now this may just be one of the sappiest shows I have seen in a long, long time. Timothy Olyphant may be a fine actor for a television

Now this may just be one of the sappiest shows I have seen in a long, long time. Timothy Olyphant may be a fine actor for a television commercial, but dress him up in a cheesy cowboy hat at your own peril. While the premise of the show may be interesting, one should note that it's set in Nowhere, Kentucky, and how many people can he really shoot in a town of 57 habitants? I've seen ol' Tim play a bunch of terrible bad guys in movies and television before and I really wanted him to do well in this one. He doesn't seem like too bad of a guy and why not cheer for the Working Man's Hero, but the writing in this show is truly brutal. Why even attempt to turn this guy into some sort of mutant television character with Jack Bauer's mean streak, Dr House's wit and Don Draper's womanizing charm? I'd rather saw off my own foot with a rusty saw from 8th grade shop class than be forced to watch this tripe. After all, it's just like my old man used to say: you can't make chicken salad from chicken ****

…

Expand