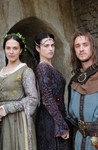 Starring:

Gawn Grainger

,

Danny Keogh

,

John Lynch

Summary:

Originally aired in Canada in 2012, the four-hour miniseries is an adaptation of Kate Mosse's novel about the parallel hunt for the Holy Grail by 13th century French noblewoman Alaïs (Jessica Brown Findlay) and current-day archaeology volunteer Alice Tanner (Vanessa Kirby).

Genre(s):

Drama

,

Movie/Mini-Series

,

Fantasy
Show Type:

Mini-Series

Season 1 premiere date:

May 22, 2014

Episode Length:

240
Labyrinth is most remarkable as a curiosity: a thorny theo-historical miniseries with unusual European pacing and flavor airing on an incongruous venue the week after the TV season has ended.

Labyrinth is neither absorbing enough to be good-good nor ridiculous enough to be bad-good.

This lavishly produced and well-acted mystery-and-conspiracy drama lacks only one essential element: a payoff that makes the previous four hours feel a little more worth your time.

Labyrinth takes way too long to hit the ground running and introduce the actual story, so part 1 is confusing and fails to get viewers to care about both the past and present storylines.

Labyrinth is too plodding and literal to rise to the level of camp, which could have saved it.

The show's concept is kind of interesting: Two women (one in 1209 France, another in the present day) are connected through time but after giving the miniseries about 40 minutes, I gave up in favor of a new episode of FX's "Fargo."

CW's Labyrinth is quite possibly the worst miniseries ever made for TV.
I watched this back in 2012 (it's now 2015), so my memory's a bit vague, but I do recall finding it inane, the kind of show I would normally

I watched this back in 2012 (it's now 2015), so my memory's a bit vague, but I do recall finding it inane, the kind of show I would normally turn off after 5 minutes. Why didn't I? I'm fascinated by the Cathars: what they believed, why their ideas were so compelling to so many and so threatening to the established church. I kept hoping for a shred or two of Actual History (not a lot, just a little taste) but instead endured yet another Holy Grail pursuit. Yes, yes, I know it's in the book, which riffs on the speculations of ONE grail-obsessed Nazi historian, but surely books and films have chased around after that damn goblet for long enough that I am justified in hoping for something just a bit fresher. Nope. Watch for the scenery, but keep a copy of MONTAILLOU handy to read during the boring parts.

…

Expand