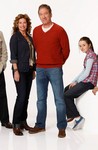 Starring:

Nancy Travis, Hector Elizondo, Tim Allen

Summary:

Tim Allen returns to network television as Max Baxter, who feels outnumbered by his wife and three daughters.

Genre(s):

Comedy
Creator:

Jack Burditt

Show Type:

Between Seasons

Season 1 premiere date:

Oct 11, 2011

Episode Length:

30

Air Time:

08:00 PM
It's all standard stuff, but outside of the tiresome, heard-it-all-before rants, it's not without its appeal.

It still carries a decidedly throwback vibe, and the ongoing bluster about the state of manhood in the world feels, at best, two steps behind the times.

Allen's mere presence may keep it in business for a while. But it already seems as though it belongs on TV Land, where Home Improvement repeats already reside.

We all know Allen can work a punchline. He just shouldn't have to be working these so hard.

It's strange that the same network that airs these two stellar comedies [Modern Family & The Middle] would chose to regress and put this dreck on the air.

Everything in Mike's life seems contrived to set up ba-ba-boom punch lines.

With tediously unfunny scripts and a listless cast that looks as if it can barely wait for the director to shout "Cut!" so it can head en masse to the unemployment office, Last Man Standing is some kind of voracious video parasite that sucks out all intellect, sense of purpose or will to live.
this is the best thing to happen to tv since 1992. Thats right.. when home improvement started. I miss home improvement and it was a great

show with a great cast. I love this show, but small issue is nancy travis, she is not a good mother figure for this. And it makes a feel weird seing tim with nancy on here and not jill. It makes me feel he left her since 1999 and stuff and not seing wilson over the fence and tool time. I miss home improvement.

…

Expand

A pretty good show with a lot of potential the writing is excellent, the acting is admittedly sub-par and Tim Allens vlogs are hilarious as

well as offers powerful insight into the plight of the modern day man. Finally a show that 21st century namby pambys can learn from. In this day and age of neurotic shy love-struck male leads such as "Raising Hope" "Wilfred" and even "Glee" (on a whole new level of femininity) its good for kids to see how a real man is supposed to look.

…

Expand

I'm not a huge Tim Allen fan, not a big Home Improvement fan, but Last Man Standing is one show I DVR every week. It's fresh; it's funny. The

writing contains some surprises. The daughters' roles are diverse and clearly defined yet allowed to develop into rounded, believable characters. This is true, but to a lesser extent, of Kyle (Christoph Sanders) and of Ed (Hector Elizondo). Overall the show is fun, funny, well-crafted, and well-produced. To say that it's Home Improvement with daughters instead of sons misses the point. It's a family sitcom with equal parts humor and warmth and I, for one, like that combination a lot.

…

Expand

Last Man Standing is everything bad that all the people out there say it is. Still, I gotta claim guilty pleasure here. I watch it with my

father-in-law, who, born in the 1940's, is very much part of "man's man" nation where Clint Eastwood and Tom Selleck are gods and the word "tampon" is unlawful to be uttered by male lips. I guess I just like watching him watch. He laughs so hard at the man jokes that I can't help but enjoy myself when this show is on.

…

Expand

It started out quite good but once it got going the family just got boring. There are a few jokes per episode that are funny but most of them

fall flat. It kinda feels like an American version of 'My Family' but worse.

…

Expand
Published:

February 14, 2013

Which current TV shows have the best odds of returning, and which are likely to be canceled? We survey a group of industry experts to predict the fates of Community, Happy Endings, Vegas, Go On, The Following, Nashville, Beauty & The Beast, and more bubble shows.

We've reached the end of another TV season, so it's time once again for our annual look at the best and worst shows. Find out which first-year series impressed critics and users the most, and see how the major networks compared.