Network:

NBC

Series Premiere Date:

Sep 26, 2017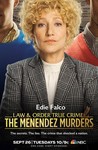 Starring:

Edie Falco

,

Miles Gaston Villanueva

,

Gus Halper

Summary:

Dick Wolf expands his Law & Order franchise with the true crime series focusing on the 1996 murder trial of Lyle (Gaston Villanueva) and Erik Menendez (Gus Halper) who were defended by defense attorney Leslie Abramson (Edie Falco).

Genre(s):

Drama
Season 1 premiere date:

Sep 26, 2017

Episode Length:

60
Please enter your birth date to watch this video:
You are not allowed to view this material at this time.
When these murders took place in real life, they shook the world with horror and disbelief. Those feelings are reignited with the deliciously morbid quality of The Menendez Murders, literally like a slow motion retroactive murder you can't take your eyes off.

What results is an oddly watchable combination of "Law & Order" and "American Crime Story." The Menendez Murders borrows so heavily from both, its only identity comes from a new true crime story (that younger viewers may not know the ending to) and Lesli Linka Glatter's tense, observant direction.

The story, like it did in early 1990s, grabs your attention. The actors are the reason it keeps it.

Ultimately, with a sensational story and a strong lawyer championing her cause, there's plenty here to sustain Law & Order fans. Even if they already know how this trial ends.

A promising premiere gives way to a duller second episode that forgets its pulpy nature, becoming the TV equivalent of a patrolman's beat. There's enough here to warrant further investigation, though, including a great cast led by Edie Falco.

The most successful shows of the current true-crime boom do more than just lay out the facts, but there isn't much indication that True Crime will be more than a competently produced eight-part Law & Order episode.

Mostly, either the Menendez story was ill-suited for an eight-hour miniseries or the Law & Order approach was ill-suited to telling the story, because although there's absolutely an aspect to the case that is notable and distinctive, through the two hours sent to critics, Law & Order True Crime: The Menendez Murders is mainly a lot of wigs and rich kids behaving badly. ... This didn't need to be an eight-hour miniseries.
Great crime series law and order true crimes the menendez murders gets you hooked it's a great show they got sexual assault by there father

Great crime series law and order true crimes the menendez murders gets you hooked it's a great show they got sexual assault by there father and the mother let it happen that made them motive

…

Expand

I am not usually in to shows like this and they usually bore me however this completely kept my interest somehow it was entertaining while the

I am not usually in to shows like this and they usually bore me however this completely kept my interest somehow it was entertaining while the shows like it dragged I really liked the lead lady mrs falsco is a terrific prosecutor and lawyer you really cant go wrong watching this show its just that brilliant I highly suggest watching it

…

Expand

A compelling TV drama series, especially for someone who is not familiar with the details of the Menendez brothers case. The series is

A compelling TV drama series, especially for someone who is not familiar with the details of the Menendez brothers case. The series is sympathetic to them, and the story is told from the perspective of their attorney, played to a T by Edie Falco. Some TV series go on and on almost endlessly, and you wish they would get to the point. I wished this one wouldn't end.

…

Expand