Network:

TNT

Series Premiere Date:

Aug 13, 2014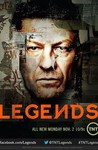 Starring:

Steve Harris

,

Ali Larter

,

Tina Majorino

Summary:

Deep cover FBI agent Martin Odum (Sean Bean) is just returning from an assignment when a stranger plants doubts about who he actually is, in this adaptation of Robert Littell's novel of the same name.

Genre(s):

Drama
Season 1 premiere date:

Aug 13, 2014

Episode Length:

60
Multiple-personality thriller starts a bit slowly Wednesday night, but early signs still indicate a summer keeper for TNT.

In the early going, the series works best as sort of a modern-day "Mission: Impossible," and could actually use more of that show's caper elements.

It's a pleasure to watch Bean fall into his "legends," or fake identities, even as the show pushes the boundaries of what TV audiences might accept when it comes to instantaneous computer heroics.

To its credit, Legends goes a bit beyond the expected stings, as a shadowy figure prompts Martin to doubt everything he knows and question whom he can trust. For the most part, though, almost everything here feels culled from earlier variations on this theme.

It's no fault of Bean's, who is riveting as he occasionally morphs into character before his colleagues' amazed eyes. The rest of the series could use a personality transplant.

The show is off to a rocky start, but there's the chance each week that it might redeem itself because a well-tailored script could rectify most of its issues.

Obvious similarities to the Jason Bourne films and other espionage stories are only part of the derivative drama's problems. The lurching plot turns are preposterous. The supporting characters are thinly drawn. The structure is terribly disjointed. And the dialogue ranges from ham-fisted to stilted.
Legends is brilliant. Sean Bean plays a believable undercover operative assuming the names of criminal legends (fictional based characters)

Legends is brilliant. Sean Bean plays a believable undercover operative assuming the names of criminal legends (fictional based characters) for eg. British arms dealer. I have never been disappointed by any role that has been played by Sean Bean. I'm Looking forward to watching more episodes and hope the show continues to grow and receives good ratings. I

…

Expand

Good show. Like the fact that every episode there is something different with the underlying plot of who the main character is.

I hope itGood show. Like the fact that every episode there is something different with the underlying plot of who the main character is.

I hope it be renewed, only to see Sean Bean acting the show worth to be seen, he is brilliant in everything he does

…

Expand

The Show in its two first episodes is maybe slow and has too many cliches, but it worth give it a chance because in the next episodes begins

The Show in its two first episodes is maybe slow and has too many cliches, but it worth give it a chance because in the next episodes begins to be more interesting and leaves the open gate of too many possibilities, maybe you can see this possibilities the same for others shows or maybe it will take an unexpected turn.... i hope it be renewed, only to see Sean Bean acting the show worths to be seen, he is brilliant in everything he does

…

Expand

Despite what other reviewers are saying, this show is actually not that bad if you're not out to try and kill another Sean Bean character.

Despite what other reviewers are saying, this show is actually not that bad if you're not out to try and kill another Sean Bean character.

Yes, I am no expert on what makes TV shows good or bad or what holes plots have. What I do know, though, is what shows keep me excited for the next episode. And trust me, this one is one of those shows. It's also interesting whenever Sean Bean's character starts describing another one of his legends. His passion for adopting these identities clearly goes beyond what is required to do his job. Towards the end of the character description, he even starts talking like them. Really makes you want to find out what made him like this.

All I hope is they do the character's backstory justice. If they end up botching the reason behind his condition, this show is dead. But as of right now, I'm still glued.

…

Expand

I had to average out the rating to '6' as the first season is worth an '8' and the second season scrapes a '4'.

To be honest, the fact theI had to average out the rating to '6' as the first season is worth an '8' and the second season scrapes a '4'.

To be honest, the fact the show has now been cancelled isn't too surprising, but it's also a shame that the second season went so far away from what was established in the first, effectively retconning the whole premise laid out, and creating a completely new one that wasn't anywhere near as good.

In order to 'review', that distinction is important, and each season needs to be taken separately because they are so completely different in both style and tone.

Season 1 - Sean Bean is Martin Odum, a deep cover agent working for the US government. It's made clear his broad Northern England accent is a relic from his work, rather than his natural accent... This is because Odum struggles to understand who he is. His job, as a deep cover agent, is to make use of 'Legends', the fake identities/backgrounds dreamt up by the department, and immerse himself in the character he creates from the words he reads in the Legends file.
Whilst other agents can maybe work two Legends into a career, before getting to the point of confusion, Odum seems to have an unnatural ability to slip in and out of dozens of characters at will. This makes him a devastating asset, as his undercover work can be made continuous, and he can work several 'cases' at the same time.
Things begin to unravel when a stranger pulls him up, shoves a folder into his hands and just tells Odum he's not who he thinks he is. The folder is a massively redacted set of military mission statements dating back to the Gulf War in the mid 90's, but Odum is has no idea what it all means.
When the stranger is killed, almost immediately after handing him the folder, Odum understands his own life is at risk.
So, whilst continuing the 'day job', he begins his own investigation into his past, culminating in the discovery of a massive conspiracy involving high ranking politicians, corporate kingpins and those in the upper echelons of the US secret service.
The series ends on a revelation that wasn't expected at all.

Season 2 - The story moves to London where Odum is on the run after he's been accused of killing the head of the CIA (which he is convinced he didn't do, but in the narrative of the story it's never conclusively proven he didn't), and is just waiting for the right time to try and clear his name.
Things get moving when a CIA friend (from season 1) turns up with information he's obtained from an old flame working for MI6. This information suggests Odum's past might be linked to MI6, and after reviewing the information Odum sets off to track down those who might have known him (the real him) whilst he was in England.
It leads him to an ex-Chechnyan woman and her teenage daughter who he somehow recognises, but doesn't actually seem to know. She calls him Dimitri, and warns him off telling him to never come near her again.
Concurrently, the episodes flashback into the past. Allowing the viewer to experience a storyline that entangles with the 'current' one. In 2001 Odum 'was' Dmitry, in Prague. Dmitry being a vicious Russian gangster who muscles his way into an ex-Chechnyan gun running group as a facilitator who can make things happen.
Dmitry is being investigated by a CIA agent, and an up and coming local special services officer, and their story is also brought into the present day too, thus spinning multiple storylines through the 2 main timelines.
On top of this there are scenes of a younger Odum at Boarding school in the mid 70's, and at university in the mid 80's, designed to flesh out his character more and allow a better understanding of his motivations.
Ultimately, the storylines all conclude and the series ends with Odum accepting he just is who he is, but still not actually closer to filling in the gaps in his memory.

Why is season 1 so good? Mainly because of Sean Bean's resolutely brilliant performance, taking on several different 'roles' as different Legends, whilst expertly dealing with the machinations of everyone (and everything) around him. The action is fantastic, and the writing is top drawer. The idea of someone looking to discover who they actually are isn't new or 'exciting' as a premise, but it's delivered in a new and 'exciting' way, which was incredibly effective.
Season 2 is so poor because they threw out all the good parts of the first season (most likely because it was so well and intelligently written the 'average' Joe didn't feel spoonfed enough to feel it was worth their time to watch. Sean Bean is playing two roles this time, but because this 'season' is rewriting the whole premise and turning more into a Bourne Identity spy thriller, the context and juxtaposition of the two different 'people' was completely lost.
By the end, when i discovered the show had been cancelled..... As I said at the beginning, it wasn't a shock. I just wish they'd stuck to the original idea of the show, and not messed it all up.

…

Expand

Such a waste of talent. All these actors deserve more. This show is just a string of spy thriller cliches conjured up by a high school student

Such a waste of talent. All these actors deserve more. This show is just a string of spy thriller cliches conjured up by a high school student in creative writing class. Once this show gets cancelled all the writers should find a new occupation. The best thing you can do as a viewer is never watch this show and pretend you never heard about it.

…

Expand

Looked like It had potential first, but then they started inserting clichés and incredibly obvious turnouts minute after minute followed by a

Looked like It had potential first, but then they started inserting clichés and incredibly obvious turnouts minute after minute followed by a massive "sigh" cliffhanger which really killed it for me. I know you need a plot-point but this is the 21th f*cking century and you directors have learned absolutely nothing about distinguishing yourself (avoiding the streamline garbage) from hundreds of years filled with rich cinema?

Just pathetic.

…

Expand