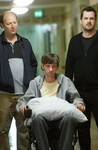 Starring:

Dan Bakkedahl

,

DJ Qualls

,

Jim Jefferies

Summary:

An Australian comic named Jim (Jim Jefferies) seeks to make it in Los Angeles with the support of his best friend Steve (Dan Bakkedahl) and Steve's brother Billy (D.J. Qualls).

Genre(s):

Comedy
Please enter your birth date to watch this video:
You are not allowed to view this material at this time.
It's coarse and sometimes dirty to the touch, but pretty damned hilarious at crunch times. FX just might have the standout new comedy series of this season.

It's a charming series that feels like it has a lot of potential for growth, and not just because its main character has nowhere to go but up.

Obviously Legit isn't yet in the realm of Louie, one of the best comedies on television, but like Wilfred before it, the show is setting its tone early and hitting that aforementioned sweet spot impressively.

This show isn't art quite yet, but it's artful. Tiresome as it sometimes is, there's something to it.

Legit proves periodically funny, and oddly charming. And as elusive as both of those qualities are in primetime, that alone makes it too legit to quit.

The series is a nearly unbearable assemblage of recycled sitcom plots that aims to spotlight Jefferies's specific breed of unashamedly mean-spirited witticisms.
I had heard about Jim Jeffries from other comics but I have never seen his stand up. He was on a podcast and they talked about his show, Legit

I had heard about Jim Jeffries from other comics but I have never seen his stand up. He was on a podcast and they talked about his show, Legit of course, and I was willing to give it a try.

I think it is brilliant. I sure hope he is getting the ratings necessary for the network to sign him for another season or three.

…

Expand

What an edgy politically incorrect show on every level. But it's honest with heart and raw emotions. Love Jim. Great supporting cast with

What an edgy politically incorrect show on every level. But it's honest with heart and raw emotions. Love Jim. Great supporting cast with Dan, DJ, and Mindy. They bring it all to a level of heart, soul, love and hilarity!!!! Give this show time to grow. Can't wait to see what else Jim's life is all about.

…

Expand

So yeah, This show is honestly phenomenal. The writing is fantastic and the jokes are right on target. This will be one of those shows people

So yeah, This show is honestly phenomenal. The writing is fantastic and the jokes are right on target. This will be one of those shows people need to watch

…

Expand

I LOVE THIS SHOW! and I LOVE DJ QUALLS!!! I feel like the first episode Jim was getting his feet wet, but I have seen his stand up (Sweat to

I LOVE THIS SHOW! and I LOVE DJ QUALLS!!! I feel like the first episode Jim was getting his feet wet, but I have seen his stand up (Sweat to God being my favorite) and he is THE BEST STAND UP I HAVE EVER SEEN! IF the show follows the stories in his standup, which I read that it would, than this show is going to be the best ever. In the Pilot DJ was amazing! I think that guy is a great actor, and with him, and Jim's natural ability to be just completely wrong and hilarious, this show is going to be awesome. Not many comedians are story tellers but I think that's what i would classify Jim's stand up as. SO we are in for a funny ride!

…

Expand

This show is great fresh,funny, lovable with a titillating edge that makes you want more, I cant wait till next week to see what adventure

This show is great fresh,funny, lovable with a titillating edge that makes you want more, I cant wait till next week to see what adventure they will come up with

…

Expand

A gross comedy, with a conscience. The show is primarily about Jim Jeffery's helping his 32 year old friends brother with muscular dystrophy.

A gross comedy, with a conscience. The show is primarily about Jim Jeffery's helping his 32 year old friends brother with muscular dystrophy. This is definitely the funniest show FX ha done since Wilfred.

…

Collapse

"don't mind him, he's Australian" .... wow.. just wow.. I'm Australian myself and I don't think I personally know anyone who would act like

"don't mind him, he's Australian" .... wow.. just wow.. I'm Australian myself and I don't think I personally know anyone who would act like the main character does in this show. The cliché jokes used in the first episode were terrible, it was as if the writer didn't think it was worth trying anything new. The whole show seemed like a bad example of how comedy should be done and anyone thinking this is anything like Louie will be sorely disappointed.

…

Expand